Your Guide to Text Giving at Your Church
Question: who actually calls people on the phone anymore?
Answer: Nobody!
I mean, think about it! When was the last time you actually chose to make a call instead of sending a text?
If you're anything like me, your face looks a little like this when your phone actually rings: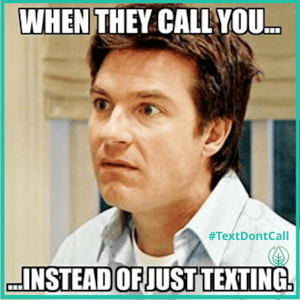 Why am I so shocked?
I guess it's just so rare that it surprises me! And sure, I HAVE to call about certain things. But for the most part, I'm like the rest of the world: I communicate through text.
Even my mom communicates more through text than phone calls!
But texting hasn't just become the way people have conversations these days. People can now use text to do things like place orders, get updates on car repairs, schedule appointments, and fill prescriptions.
And yes, it's even a way that people can give to their church!
A lot of people around the world are using it as a simple way to donate to their local church. And if you're not on that bandwagon yet, we recommend that you join the party!
Like so many other new ways to give (like online giving), we want your church to keep up with trends like text-giving in order to capture as many donations as possible!
Remember, that money will allow you to do things like support more missionaries, buy more ministry resources, and hire new staff.
The good news it that Clover Give offers a great text-to-give option that works simply and easily for your congregation. To further explain, let's break down the what's, why's, and how's behind text-giving for your church.
What is it?
Text giving is exactly what it sounds like: a way for your church members to give money directly to your church via their phones!
Why is it a good option for your church?
Text-giving is a good option for a few reasons.
It's easy to use and easy to understand.

It's a one-time setup that is simple to follow. From there, the process of texting in donations is quick and easy!
Everyone has a phone.

And everyone is texting! This makes text-giving an accessible option for almost every single person in your congregation.
It's fast.

In a world that's busy and hurried, people want things to happen

fast.

Text-giving is the fastest option in the tithing world!

One click and they're done.
How do you get started?
With Clover Give, you can add text-giving to your account for a low monthly fee (only $5).
Once you've signed up, you'll receive a 10-digit phone number assigned specifically to your church. There are no special codes or crazy numbers to memorize. People in your congregation can literally add the number to their contacts in their phones and have it ready for use at any time. They can sign up in less than a minute and begin texting in donations immediately. It's as simple as it sounds!
How do you use it at your church?
Text-giving is a great tool for a number of giving options at your church…
One-time gifts.

When you share the text-to-give number every week at your church, you give people the option to text-in a one-time gift.

This is great for visitors, special donors, or regular attenders who want to give a little extra one month.
Specific giving campaigns.

If you're launching a campaign for a specific fund at your church, text-giving is a great way to do it! People can donate and support whatever campaign you're emphasizing that season.

This also allows regular givers to donate above and beyond to your specific fundraiser.
Recurring gifts.

You can even have your people text in their recurring gifts to your church every month!

If you want a simple way to make giving happen, this is it!!!
Giving challenge.

This one is fun! If you're launching a campaign for a specific thing at your church (maybe to send your students to camp, build a new building, support a missionary, or fund a special event), make a challenge out of it! Separate your church into groups (maybe by Sunday School class, age group, or even by where they're sitting that morning).

The group that gives the most via text that morning wins a prize for supporting your campaign so generously!
Have more questions about text giving? Want to get started at your church? Contact our team at Clover Give today!