The Who's Who Of Your Church Website Design Team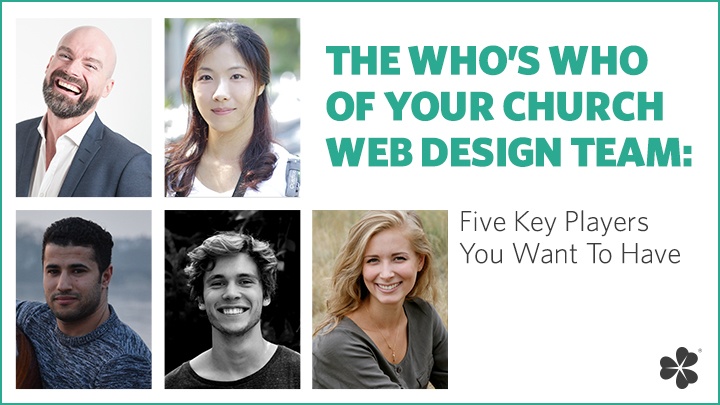 If you've ever been to any live sporting event, then you know one of the most exciting parts of the experience is the announcement of the starting line up (and the snacks, too… obviously).
The lights drop low, the music starts, the spotlight hits the floor, and the players come out one by one. You get a glimpse of the key players on the team—who they are and what strengths they bring.
And we consider this blog the same thing. It's so important to build the right team of people to speak into the design and structure of your website as your building the perfect website for your church (more on how to do that here). This is essential for every church, but especially for those of you who don't have a church website team already assembled on staff.
Who's calling the plays? Who's scheduling the meetings? Who's making sure it all happens? Those are the kind of people you need on the roster.
So turn down the lights, kick up the music, and let us introduce you to the people we think should be on the starting lineup of your web design team!
The Visionary
Who Are They?
Think creative genius. This is the person on your staff who thinks big and dreams even bigger. They're driving the creative, outside the box thinking for your website, and casting new and exciting vision for where you want to go and what you could do with your site.
Why Do You Need Them?
The Visionary is key for your design team because they cast the big picture. You need someone who pushes the rest of the team to think through new, unique ideas. Sure, not all of their ideas are going to work, but some of them will. And the awesome ideas that do work will happen because you had someone on your team encouraging you to think creatively and try new things.
The Task-Oriented
Who Are They?
This is the ultimate do-er on your team. They are a real get-it-done kind of person. This is your planner, your scheduler, your deadline master. They love a spreadsheet, can be trusted with the details, and will keep things moving on time and on schedule—no matter what!
Why Do You Need Them?
Alongside the Visionary, you need the Task-Oriented to take that vision and make it concrete. They will create an easy-to-follow plan of action for your site, make a schedule and set deadlines to help keep the project moving. Though it's not always the easiest role to play on a creative project, the Task-Oriented is key to keeping the ball rolling and making your church website dreams a reality.
The Ministry Expert
Who Are They?
This is the person who knows the ins and outs of every aspect of your church. They're the one who can quickly and succinctly give the details of almost every ministry area in your church. They've got the answers to any and every ministry related question someone might have about your church. In other words, they're the expert!
Why Do You Need Them?
The Ministry Expert can speak in to what's happening at your church. They can give a voice to what's important for visitors to your website to know about your church and what's not. If the point of your website is connect people to information about your church, then you want someone on your team who can clearly speak to that. They're key for you because they can make sure your website accurately portrays the mission and vision of your ministry.
The Tech Knowledgeable
Who Are They?
Now don't panic here! We're not talking Bill Gates or Steve Jobs. We aren't even talking your local, tech savvy IT guy. This person doesn't have to be a tech expert, just tech informed. Think someone who understands the World Wide Web and can navigate the Internet with some confidence. You want a fast learner who already has an interest in technology to get on your team.
Why Do You Need Them?
Well the good news is that at Clover Sites, anyone can become a web design expert. The program is easy to use and quick to learn. But having someone with at least a little understanding and interest in the tech world is huge for your team. The Tech Knowledgeable can take the reigns of web design for your team and not only teach themselves how to use the platform, but teach others as well. They'll speak in to that side of the project for you without requiring you to hire a full fledged tech expert.
The Community Representative
Who Are They?
Think off someone in your congregation who is well connected to your community. An active member of your church who is involved in the happenings in and around the area your church serves. Someone who is in touch with everything and everyone, from local schools and charities to other parents and families. This is the Community Expert you want on your team.
Why Do You Need Them?
Well, if one of the goals of your website is to reach new people in your community, you need the Community Expert to help you do it! They can tell you better than anyone what the needs are in your area and speak to what people need in a church. They're your unofficial guide to what people are looking for in your community and they'll make sure those things and more can be found on your website.