Who Do You Call When You Need Church Website Help?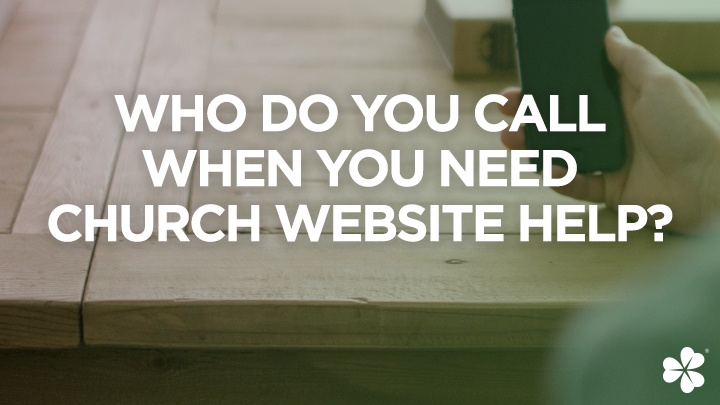 Question:
Who do you call when you need help?
Well, it usually depends on what kind of help you need. If it's an emergency, you call 911. If you need advice, you probably call a friend. And if you need a little help with a product or service, you probably call that company directly, right?
But then what happens?
In this digital day and age, chances are if you're looking for a little customer service or support you're going to spend the next thirty minutes talking to a computer instead of a person. And while that may work for your most basic of questions, the more complex and customized your questions are, the more you need to talk to an actual person!
When it comes to customer service and support, you can't beat personalized, human interaction. That's why we've invested a lot of time, energy, and effort into building a team of real, live people to support and serve you both at Clover Sites and Clover Give. They're experts in the programs, and available to help guide you through everything from the most basic to complex questions and issues about your church website. Trust us when we tell you that one of the best things about signing up with Clover is this team of people you'll have access to for care and support.
Don't believe us? Well, check out just four of our favorite things about the customer care and support teams at both Clover Sites and Clover Give.
Clover Sites
1. Getting Started
As soon as you make the decision to build your site with Clover, our support team is there to help you every step of the way. We'll walk you through everything you need to know about the purchase process, choosing the right design for your organization, and how to get started with the actual building.
2. Designing Your Church Website
Though our templates and designs were created to be simple and easy to use, we know questions are going to come up as you go. That's why our design team is there to help you through the entire design process. If you run in to trouble customizing your website, we have a team of people ready to jump in and get your design back on course.
3. Editing Your Site
Clarity is key when it comes to web content. It's so important to organize all your content to make it easy to find and beautiful to view. Our support team has tips and tricks to help you edit your site to keep your content and design clear and organized for your visitors.
4. Launching Your Site
The best part about building a site is finally being able to share it with your people! A successful launch is crucial to a successful site. If you have any questions about launching your new website, our team has answers to help!
Clover Give
1. We've Got Your Back
Our support team has you covered—all the time! More than just a teach team, the Clover Give support team is a team full of real people who learned the program from the ground up. They're experts in all things Clover Give and are ready and waiting to help you become experts too.
2. Simple to Use
Clover Give is easy to use. We've got great introductory material designed to help you navigate the ins and outs of the program, and it's improving all the time. But even with all that simplicity and instruction, our team is standing by to answer your calls, reply to your emails, and help you out when you run in to roadblocks.
3. Killer Resources
Our support team provides great resources about how the software works and how to set up things like recurring giving, text-to-give, and the on-site kiosks. But we've also got great resources about how to help you help your congregation get excited about using Clover Give.
4. The Extras
Not only does the Clover Give support team have all the answers you need, but they've got a ton of extra things to help you along the way as well. We're there to help with setup and tech support questions as well as online giving best practices advice and expertise. With same day phone and email response time during the week and weekend emergency support hours, you'll always be able to find someone.
To get in touch with support for Clover Sites or Clover Give, contact us:
Monday thru Friday, 8am-5pm Pacific
support@cloversites.com or support@clovergive.com