The Ultimate Guide To Building Your Church Website
In this digital day and age, you know your church needs a website. Or maybe your church has a website, but it looks like something straight out of the 90's with outdated content and graphics. You don't just need any website, you need a great, helpful, and updated website. The kind that makes people want to step out of the digital space and into the actual space of your church. No pressure, right?
For most of us, the idea of actually creating a church website leaves us overwhelmed. The more you dig in and research, the more you start to look like the girl from that scary movie, walking down the stairs backwards with your head spinning in confusion. Not a good look.
But, that's where we come in. We're here to exorcise the demons of web design from your life and replace them with the knowledge and confidence you need to create a fresh, new church website. And this is where you start!
This resource is designed to help you navigate the jungle of creating your website by including every detail to help you from start to finish. We've included:
We promise that by the time you're through, you'll go from head exploding panic to easy, breezy confidence when it comes to building your site.
*Pro Tip: Click on any of the above icons to jump to that specific section.

Why is a church website important?
If you've spent any time at all with a three-year old, then you've probably heard this question on repeat: Why?
Kids at that age are like a broken record, questioning any and everything under the sun. And while the incessant questions may leave you ready to rip out your hair, we think these tiny toddler detectives may actually be onto something. Because before you can really understand all the ins and outs of anything, you have to first understand the why. And that goes for your church website too.
In order to successfully plan, create, and launch a website, you first have to understand the vision—the why. Why is a website important? Why do you need an online space for your church? Why put in the work to build and maintain a website to represent your church online?
While we could probably list a million reasons why a website is important for your church, that would honestly be… well, boring.
We'll leave the top ten lists to someone else. Instead, we'll just hit you with the top two!
When it comes to understanding the why behind your church website, we think it primarily comes down to two things:
1. You need a place to clarify the mission & vision of your church.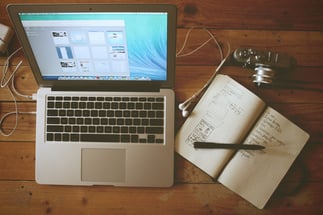 Before people decide to visit, join, or support your church, they want to know who you are and what you represent. They're putting your church's name in the Google search box because they want to get a quick and clear look at what it is your church is all about. So think of your website as the one stop shop to help them find it.
Why do you need a church website? So people can get a consistent understanding of what they'll find at your church. When you deliver a clear and consistent message online, people are more likely to take the step from online spectator to in-person attendee at your church. Check out our blog for tips on how to make sure your church website messaging is clear.
2. You need a place for visitors to get the information they need.
Think about the last time you were looking for a new place in your community—a new salon, a new restaurant, a new store. Where did you go to kick off your search? Well, unless you're still living in the Stone Age, you probably turned to the Internet. And if the website you found for any new place was out of date or nonexistent, you probably quickly moved on.
The same is true for your church. If visitors can't find what they're looking for, they're going to move on from your site too (Find out how to avoid that here).

New people are moving to your community all the time. Residents are looking for new places to attend church. More people than you probably even realize are hitting the web in search of a place to worship in your community, and if you want that place to be your church, then you need a website so they can find you. They need to be able to get a feel for what they'll experience there before they ever set foot in your building on a Sunday morning.
And that's what your website does! That's why it's so important!
Once you've settled on the why, you're ready to move on to the next piece of the proverbial website puzzle: where?
Where are you going to create your site?
We're not talking about the physical space you create it in (though a good coffee shop or office with plenty of snacks is highly recommended). No, we're talking about the online space—the host and server you choose to build and house your church website.
Choosing where to build your site is a pretty big deal. And because of that, there are a lot of things to consider. Does the platform have enough storage? Is the server secure? Is it easy to use? What kind of help does it provide if something goes wrong?
If you're starting to feel that surge of panic rising up in your chest, don't worry! We're here to talk you off the ledge and into the comfort of choosing a web platform with confidence.
For starters, take a look at these ten tips for choosing the right place to build your website.
Then, rest easy! The best news for you is that Clover Sites covers everything you need from a web platform and then some. For an in-depth look at what Clover Sites can (and will) do for you, check out some of our detailed FAQ's here.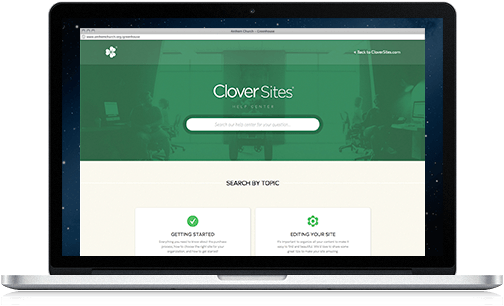 And then to make sure you feel good about the where you've chosen, try a free demo. Want to know what's in it for you? Check out our blog on reasons to try a demo and you'll see for yourself why Clover Sites is the best where for your church website!

Who do you want on your web design team?
Teamwork makes the dream work, right? Well, if the dream is an awesome new website for your church, then you need the team to help you do it. That's the who.

Some churches may already have an entire web design or development team, and that's awesome! But if not, you've got to pull together your own team of experts to help you get the ball rolling. We already told you Clover Sites makes it easy for anyone to build a website, so think beyond just skillset. What else can your people bring to the table?
Who's the Lebron James of creativity at your church? The Steph Curry of content? The Tom Brady of organization? The Peyton Manning of design? The Michael Phelps of ministry?
These are the people you want to fill your roster. These are the ones you want to speak into and assist you in creating your website. The people who understand the mission and vision and have captured the why behind your site—those are your key players. And they will be your sounding board, your accountability, and your all-star lineup for getting your website off the ground.
Pro tip: Avoid overcrowding the table. Too many voices talking at once sometimes means you can't hear anything at all. Limit your team to 4 or 5 core people. If you have to ask more people, just ask for general input -- don't get everyone involved in each decision. And make sure to designate a leader to not only guide the team through the process but to make the final decisions as well!
It sounds simple, but believe us when we say it's one of the most important steps in the process. In fact, we think it's so important that we wrote an entire blog just on building your web team.

What do you need to include on your site?
So you know why your website is important, you know where and how you're going to build it, and you've pulled together who you want on the team to help you do it. Now comes the fun part: deciding on the what.
What do you include on your church website? Of all the information you could share about your church, what do you choose to feature?
As a church leader, you want the people in your community to know all about what God is doing in and through your church. What ministries you have, big events that are coming up, the faces of your staff, ways to get connected, an archive of your sermons, your Sunday morning services—and those are just the beginning!
When you think of it that way, trying to decide what to include on your site can feel a little overwhelming. The trick is to try and find the balance between keeping people informed and inundating them with too much information. To help with this process, we've created pre-written content for you to use on your site. All you have to do is copy, paste, and customize for you site!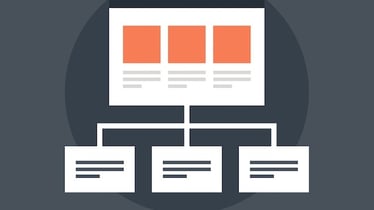 However, the best place to start is with a sitemap. Think of it as a road map—the directions people will use to navigate your site. The categories in your sitemap are the main highlights of what you want to include on your site and will give you an idea of what direction you want to move the rest of your content.
A sitemap is so important that even Google thinks you need to start there. Check out their expert opinion on sitemaps here, then get to work building yours! Make sure to include all the highlights—the top major things people need to know about your church. Ask yourself, "What information is a visitor looking for on our website?" or "What do our regular members come to the website to find?" Think through your content—the what of your site—through that lens.
While every site is (and should) be different, there are a few simple things we think every church website -- including yours -- should have to represent who you are:
Your address and directions to get to your church.

Your schedule - what times are your services and small groups?

Information about what you offer for kids of every age (Check out

this blog

on highlighting your student ministry).

Your

statement of faith

.

Upcoming events.

Where to give - and

options for giving

(in service, online, texting, etc.)

How to contact you.

And pictures! (Visitors love to see actual photos and videos from your church so they'll know more of what to expect)
To find out more about each of these, plus a few more pieces of content your site needs, check out this free eBook: 11 Must Haves for Every Church Website.
If you want to take it a step further, check out what to consider when featuring your church staff online too.
Okay, now comes the big one—the question we're all thinking about when it comes to web design.

How? How in the heck do you build a church website? How do you even start?
Well, with Clover Sites of course!
To get you going, we recommend starting with a plan. You wouldn't build a house without a blueprint, right? So why build your site without a plan or direction? We've got your first five steps covered here.
And once you've got the plan, it's time to put it into action. You've got to roll up your sleeves and dig a little deeper in the platform to discover just exactly how the program will work for you.
At Clover Sites, we call that getting in the Greenhouse—the space you use to put the how to work. It's designed to make even the most inexperienced web user an expert in design and editing. And the best part? It's super easy to use and understand.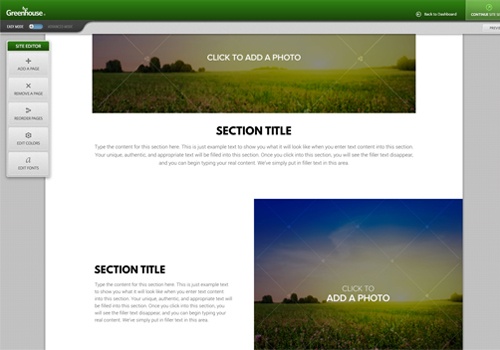 Dig into the details of the Greenhouse here.
And then put all you've learned about how the Greenhouse works by getting started on your site!
Congratulations! You've made it all the way to the end of this content piece, and eventually, this will mean you've made it to the final step of creating your new church website. You put in the work and actually did it. So go ahead and treat yourself—you deserve it!
Then, get ready to put in the last piece of the puzzle: the when.
When do you officially launch your site? When is the right time to make it public? When do you know you're ready?
Well, we've got bad news for you: You'll never be fully ready. Let's just get that out of the way. Things are always changing at your church and new things are always happening. That's what editing is for.
So instead of waiting for everything to be perfect and ready to never, ever change before you launch (we'd be waiting forever in that case), we recommend launching after a few rounds of proofing and testing.
Read through the entire site with your team and make sure the content is easy to follow and understand. Test the links, videos, and other media to make sure they work. Have a few other members of your staff test the site and give you their feedback too.

To help you take it a step further, take a look at this blog post and this awesome checklist to make sure you're all set to go for an official web launch.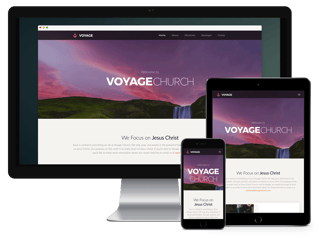 Then go for it! Take your website live and promote the heck out of it! Announce it from stage. Share it on social media. Send an email to your congregation. Put it in the bulletin. Throw a launch party.
Do whatever you need to do to get the word out about your site and celebrate the hard work you put in to get it built and ready.
After all, you made it this far… you've got to end with a party!