Trend Forecast: The Top Five Design Trends For Your Church Website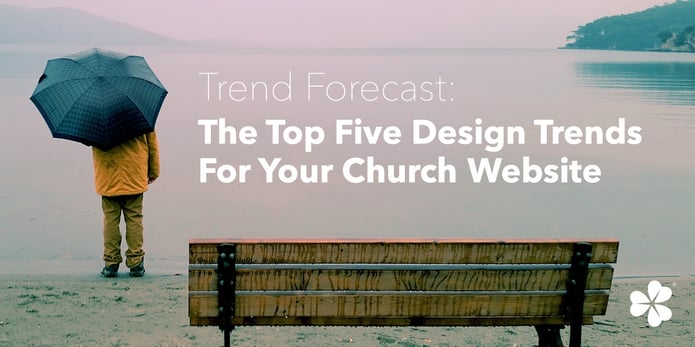 It's time to get out your umbrellas, because the design trend forecast for the coming year is blowing through!
Whether you realize it or not, just like the weather, design trends are changing all the time!
In the same way you spruce up your house or refresh your closet every once in awhile to keep things interesting and exciting, you have to do the same for your church website.
Just picture this…
You're visiting a new church, and you walk into the lobby and find it completely out of date. It's dark and dim, the doors are rickety and broken, the furniture is old and used, and there's no sign of any 21st century technology in site.
It feels like you walked through a time warp!
Chances are good that you're going to start looking for something a little more current ASAP!
The same is true for your site. Like we always say, your website is the digital front door to your church! If that's the case, you need to make sure your site is up to date and on trend.
When people find an engaging, exciting website, they'll be much more likely to visit your church in person to get that same experience.
To help you keep your website fresh, let's take a look at five of the biggest online design trends this year. See if you can incorporate just a few of them to your site!
The Trend: Animation
As technology advances, more and more websites are moving away from just static images or media and turning toward incorporating some elements of animation to their site.
These smaller animated elements are great for engaging visitors and enhancing their overall experience on your site.
The best part? You can incorporate them almost anywhere on your site! From simple animation while a page loads or a user scrolls, to more complex items like a short movie or an animated guide to your site, you can bring the trend to your site almost any way you'd like!
How It Works For Your Church
Don't panic! You don't have to hire a web developer to bring animation to your church site. You can do something as small as incorporating some pre-made animated GIF's or images.
If you want to get more technical, your church could also include an animated logo or home page design as well as an interactive, animated guide to take users through your website.
The Trend: Bold colors
This is definitely the year for bolder, brighter colors to hit your website. Where you may have gone for cleaner, neutral palettes in the past, this is the year to take things up a notch in the color department! The trend this year is to see websites dip their toes into a bolder, vibrant color scheme for a more modern look.
How It Works For Your Church
Clover makes changing your color scheme easy! You can log into the Greenhouse to play around with other palettes or change to a new, brighter template altogether.
And don't worry, we're not saying you have to splash your entire site in brighter hues. Sometimes less is more! You can incorporate this trend in little ways throughout your site, like choosing a different text color, background shade, or even a rebranding of your logo.
The Trend: Mobile access
This one probably isn't news to you! We all know more and more people are accessing websites through their mobile devices.
Gone are the days of desktops or laptops as primary sources. People are on the go all the time, and that means they need mobile access to a site at their fingertips. This year, designers and developers are working hard to make sure that their sites are user-friendly and beautifully done in mobile versions.
How It Works For Your Church
Well, we've got great news for you if you're using a Clover site. You can check this design trend off your list because Clover's already done it for you! ALL of our templates are designed with mobile-compatibility, making them easy to access on any handheld device!
The Trend: Typography
Creative typography has always been a great visual tool online, but this year it's really taking center stage!
Custom fonts are on the rise and a great way to incorporate a little different typography to your site. Another way to play with typography is to incorporate larger lettering, custom-designed logos heavy in type, or contrasting fonts to make the typography interesting throughout.
How It Works For Your Church
A simple way to incorporate creative typography to your site is to update your page headers. Not only will they help you with SEO (search engine optimization), they'll catch the eye of your readers with visually interesting fonts. You can also play with the look of your overall logo by updating the typography or even using some newer, more interesting fonts for special events or promos on your site.
The Trend: Storytelling
This trend is content-focused and a huge turning point for your church website.
More and more, people are moving away from the traditional approach to content and information on their site. Instead, they're moving more towards storytelling as a way to engage the user and draw them in to what's happening on the site.
This kind of story-driven content is great for churches in particular, as stories often provide a way for people to connect. The trend points towards making the visitor of your site the hero and you the guide, pointing them toward your church through stories of how it's impacted other heroes just like them!
How It Works For Your Church
An easy way to incorporate more storytelling to your site is to update your content. Read through your site with a new lens and look for ways you can better tell the story of your church online. Identify places you can use stories to connect with visitors and show them how your church can help guide them to the place they want to be.