Ten Things You Should Know About Church Media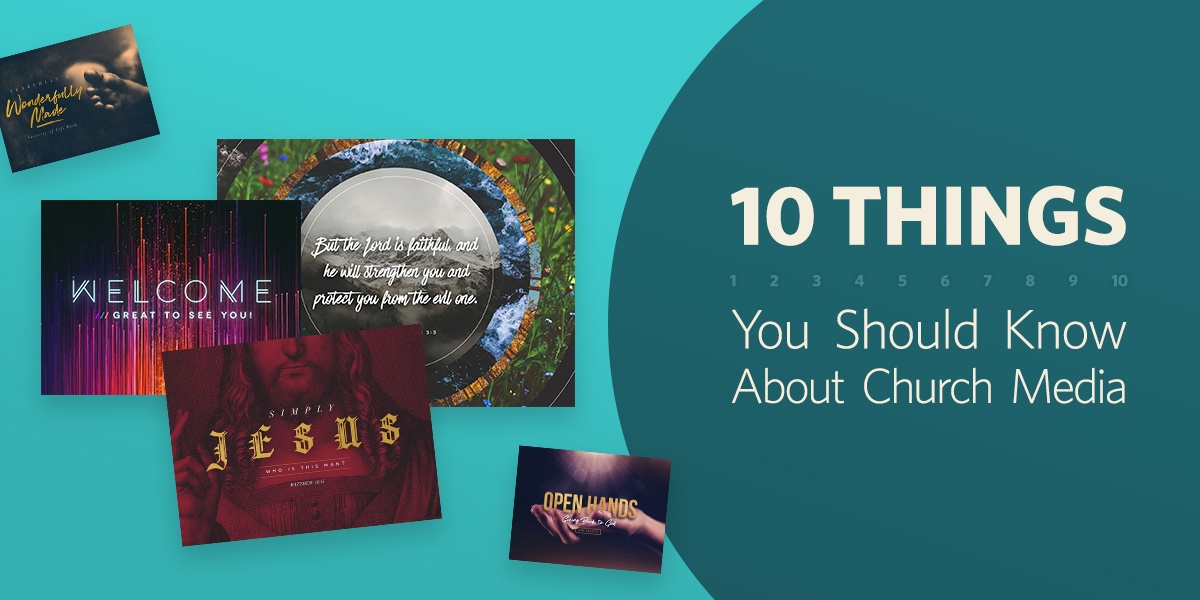 Before we jump right in, I wanted to share some big news with you: Clover Media is live!

What exactly does that mean? As part of our desire to serve you and your church with more than just a great church website, we've been scouring the internet for the best in church graphics and have partnered with Sharefaith to give you access to the best of the best in church PowerPoints, bulletins, flyers, newsletters, worship graphics, animation loops and mini-movies -- all available in a variety of formats.

You probably have even more questions and we definitely have answers. Stay tuned in to the blog to learn more about church media.
The phrase "church media" seems to be thrown around all over the place today, but what exactly does it mean? There may be a lot that you don't know, want to know, and don't exactly understand about church media. But, to break it down, here are ten of the little-understood, seldom-thought-about, and perhaps important-to-know facts about church media.

Ten Things You May Not Know about Church Media
Church media costs money, but doesn't have to cost much.

Our media partner,

Sharefaith, conducted a large-scale research project on local church's use of media. During the survey, they discovered that the average church media budget is just $300 (that's not much). They also discovered that many churches are spending

way too much

on church media.

Like the fact that the average church website costs $3,000 (that's too much). Churches are either budgeting too little or spending too much on church media. Or both. The good news is, church media

doesn't

need to blow the budget.


Church media can save money.

Although church media

costs

money, it also saves a ton of it. Just one feature of church media, like projecting lyrics instead of using hymnbooks, can save a new church over $4,000. What can you do with an extra four grand in the church budget? And that's just the tip of the iceberg. Church media has an astonishing number of money-saving benefits.


Church media connects to the culture.

No questions asked, we live in a media-saturated culture. If you don't believe me, reach out and touch the screen in front of you. If our culture is media-drenched, the church has a role to play in connecting with our culture—reaching the culture and making disciples. Church media paves the way for this kind of disciple-making activity.


Church media enhances clarity.

Have you ever wished that your preaching could be more powerful, impacting, clear, or insightful? Besides the essential ingredients of prayer, Holy-Spirit dependence, thorough study, and the right tools, media can also help. A video illustration, a diagram, a picture…church media provides greater clarity.


Church media improves attention.

One of the reasons for media's widespread appeal is the effect that it has in capturing attention Media, properly done, grabs the attention, making the message of the church more memorable. From announcement slides to Scripture on the screen, you can improve the memorability of your message by using church media.


Church media is essential for effective church marketing.

Despite the baggage associated with the term "church marketing," there is a need for good church marketing—proclaiming the message of the church to those who need to hear it. The means to do this is church media. Church media can take your church website to a whole new level!


Church media takes time, but not much. Graphic designers are great people, but not every church can employ a graphic designer to make stunning stuff for the church. That's where church media through our partnership with Sharefaith comes in. A small army of uber-talented graphic designers already spend their time designing jaw-dropping stuff so you don't have to. Forget enrolling your church secretary in Photoshop classes. Just checkout Clover Media. Do a little comparison. You can either spend six hours designing a new PowerPoint for pastor's new preaching series, or you can take twenty minutes and drop his outline into an already-designed PowerPoint template. Is that a no-brainer or what?


Church media has pitfalls.

Keep in mind that for all its benefits, church media has pitfalls. It's easy to depend on it, to invest too much time or money into it, to try to mimic the world's use of it, to be distracted by it, etc. Use media prayerfully and carefully, recognizing that it does have pitfalls. But by all means, use it!


Church media is compatible with relevance. Relevance is important. However, relevance isn't about rocking better church media. No. Instead, properly using media to deliver the message maintains the relevance of the Christian message to our culture. Media neither detracts from nor enhances the message. Rather, media is a tool—kind of like a speaker or an amplification system—for proclaiming the message.


Church media can improve worship.

Nothing can actually improve the essence of worship, but some things can improve what we do in worship. For example, projecting the lyrics on the screen can improve the congregational singing during worship. Printing a church bulletin can help to keep people informed about church events, or can enable them to follow a Scripture lesson. A church website can provide news, encouragement, and information about the church. What the church is—a worshipping community—is defined by what the church

does.

Media helps that happen.
Church media is a lot but it doesn't have to be complicated. We're working hard to make this tool simple and effective so your church can focus on the mission.