Six Tips for Avoiding the Summer Giving Slump at Your Church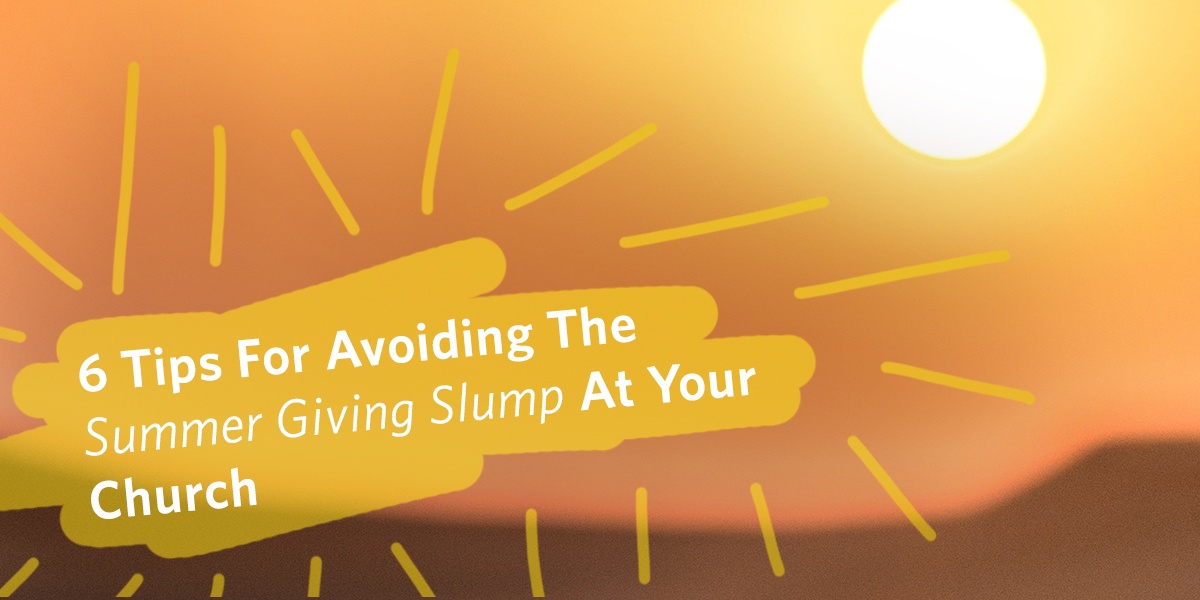 Summer is here, you guys!
But if you're a church leader, you know that summertime isn't all sunglasses and swimming pools!
In fact, you know that summer actually presents one of the biggest challenges for your church every year…
The challenge of giving.
Think about it…
Attendance is far less consistent at your church during the summer.

With camps, vacations, visitors in town, special events, and so much more, week-to-week church attendance is hit-or-miss.
IF YOUR ONLY SUMMER OPTION FOR GIVING TO YOUR CHURCH IS THE TRADITIONAL PASS OF BUCKETS OR OFFERING PLATES, YOU'RE IN TROUBLE!
Why? Because people can't give to your church this summer if they're not there.
That's why you need to make sure you set up plenty of options for giving before the summer season fully hits!
We've put together six tips to help your church avoid the summer giving slump and keep your people engaged and giving to your church this summer.
1. Talk About It.
Congregational giving may be at the forefront of your mind this summer, but it's most definitely not on the minds of your people. They're thinking about a lot of other things. If they're going to remember to give to your church this summer, they're going to need a little help.
That's why making a point to talk about giving is huge for the summer season. Make sure your people know things like…
Their options for giving.

Why their giving is important to your church.

What they need to do to start giving.
Biblical generosity and financial support should be a year-round topic of conversation at your church. The more you talk about it, the more likely your people are to remember it, even when life gets crazy. This is especially true during the summer season!
2. Emphasize Recurring Giving.
Clover Give is a great tool to help you set up recurring, online giving for your church. This is a big deal year-round to keep the funds flowing in.
When your people sign up for recurring giving, they don't have to think about it again. They can customize their giving options, choosing everything from…
The amount they'll give

The frequency of their giving

The date they want their money to be withdrawn
And the best part? Once it's done, it's done! That means that when people are away on vacation or caught up in summer fun, their tithe still comes in. That's huge for the budget and ministry of your church!
3. Provide Mobile Giving Options.
Another amazing thing about Clover Give? It comes with a text-to-give option so that your people can give anytime, anywhere. All they need is their mobile device!
You can't send an offering plate to the beach with your people, but you can send something to their phones! So why not pave a way for people to use their phones to donate to your church via text, app, or more? A simple email blast or text message is a great way to remind people of what's happening at your church. It's also a great way to prompt them to give to the summertime mission and vision of your church.
4. Make It A Mission.
Summer is definitely full of fun for the people in your congregation. But it's also a great opportunity to give back to your community.
With school being out, there's more time for things like camps, short-term mission trips, community events, outreach projects, and Vacation Bible School.
Get people involved by connecting their giving to a specific event at your church. The person who tunes out during the Sunday morning offering might be more likely to give when you connect it to a vision they support. So find ways this summer to connect the gifts and tithes of your people to a specific summer mission.
It will not only increase financial support for things your church is doing this summer, it will also raise awareness about your church's summer events.
5. Keep The Summer Full And Fun!
Listen, we know that people are busy in the summer. But for the most part, they're not out of town more than one or two weeks.
With an eight-week summer, that means that for the most part, your people are still in town and available to attend and give at your church. Do your best to keep the summer full of fun so that your people don't want to miss a Sunday with you! For example…
Organize family picnics after a Sunday service.

Host a free movie night for families.

Put on a block party for your community.

Offer a free day of fun in your student ministry building with games, food, and more.
Whatever you do, pack the calendar full of fun at your church so that your people can't resist attending. The more they're in your church, the more likely they'll be to support your mission through giving.
6. Keep In Touch.
This one is HUGE when it comes to the summer season…
Keep in touch with your people when you don't see them for a few weeks.
A quick email or text to let them know they're missed can go a long way. Remind your congregation that they can watch your Sunday services online, too. This way they'll hear the call to give, even when they're away.
Be careful here to avoid the guilt trip!
There's a big difference between an email that says, "We've missed you and hope to see you back with us again soon," and one that says, "Where have you been???"