Setting Up A Christmas Offering in 6 Simple Steps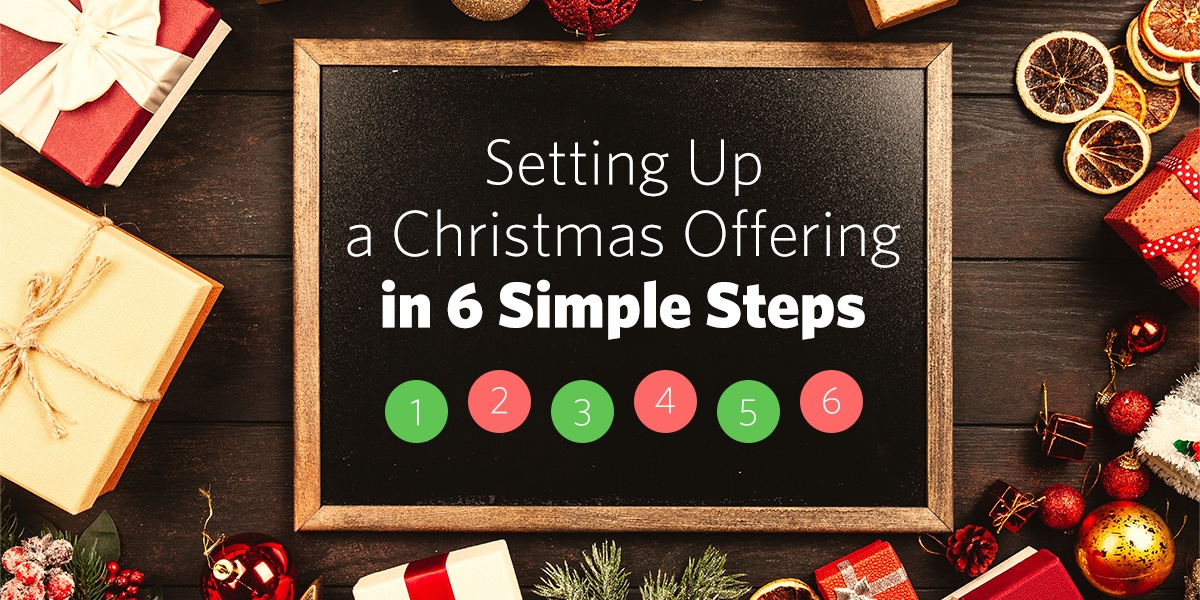 I am so excited for this Christmas season. It's truly one of my favorite parts of the year!
The food

The presents

The Christmas lights

The music

The classic holiday films (Home Alone anybody?). I'm basically a real life Buddy the Elf, you guys!
Yes, the Christmas season is one of my favorites. And in the church world, it's also one of the busiest. More people show up to celebrate the Christmas season at church than any other holiday out there (well...maybe Easter is up there too). That makes it a great opportunity to freshly engage your members in the mission and vision of your church—the heart to reach others for Jesus who came to save them.
That's what we celebrate every year at Christmas, and that's the heart of what your church is hoping to help people understand and embrace.
Believe it or not, the Christmas season is also a great opportunity to ask your congregation to support the heart and mission of your church.
Now before you freak out about the thought of taking up a Christmas offering, don't! Trust me when I tell you it doesn't have to be awkward, forced, or weird. It can actually be a really great and successful thing for your church!
Still not sure? That's okay! I'm here to help!
Here's how to set up a successful holiday-season giving campaign at your church in six simple steps.
1. Determine The Focus Of Your Church's Holiday Generosity Push
Your holiday offering shouldn't be just another push for giving at your church.
The best way to make it successful (and not awkward) is to determine a specific focus for this offering. Determine the focus of your church's holiday generosity before you make the ask.
Maybe there's a specific fund for your building that could be the focus.

Maybe there's a certain need in your children's or student ministry.

Maybe it's an offering for a partner on the mission field or a community organization your church supports.

Maybe it's for a specific family in need this holiday season.
Whatever it is, determine the focus of your holiday giving campaign before you present it to your people. Because an offering with a clearly defined and articulated vision will motivate and inspire your people to give!
2. Pick Your Team
Because this is a unique giving campaign and will be done in a short time, it's important to set up a team to help lead the charge for this specific offering.
If you have a designated team or staff members who are already in charge of your church's giving, then your team is already set to go! But if not, you'll want to designate members of your staff to take charge in planning, executing, and following up on this specific campaign.
3. Set The Dates
Before you start, set the dates for your holiday giving campaign…
Determine the date you're going to launch the campaign at your church

The dates you're going to talk about it

The times you're going to promote it on social media and other outlets

The end date.
In other words, create a calendar for the campaign. Not only does this let your giving team know exactly what to do and when to do it, it gives your congregation a sense of giving urgency because they know that this campaign will end quicker than most!
4. Plan Your Communication
Think ahead of how you're going to talk to your people at your holiday giving campaign. What avenues are you going to use to communicate to them about it?
Your sermons or announcements on Sunday morning?

A video or photo series?

Stories from those who may be impacted?

Social media, email blasts, or newsletters?
Whatever it is, plan how you want to talk to your people about it now. Write the content, create the videos, schedule the posts, etc. This will not only guarantee your people will hear about it, but it will also save you time during the campaign because you've taken the time to plan your communication before the campaign.
5. Focus On Your Members
I know that a giving campaign during the holiday season can feel awkward. With so many people visiting your church at this season, you don't want them to think you're asking them for money as soon as they walk in the door.
We all know the common misconception so many people have about church—that they're always asking for money! You definitely don't want to come off as one of those churches, especially during Christmas! That's why it's key that you focus your giving campaign directly toward your members and regular attenders. Make sure you're clear when talking about the campaign!
This campaign is for your congregation!
Of course, those who are visiting may want to give. So let them respond to what God has put on their hearts! But focusing primarily on your core people with this specific campaign will ease some of that potential awkwardness your visitors may feel.
6. Celebrate The Wins
As with any giving campaign, it's so important to celebrate the wins.
How much did you raise?

What goals did you meet?

What impact did your money make?

What lives were changed?
Those are all big wins that you want to make sure to celebrate at the end of your campaign. After all, what better way to kick off the new year at your church than by celebrating and thanking God for what He did to close out the Christmas season?