Be Found: A SEO Breakdown for Your Church Website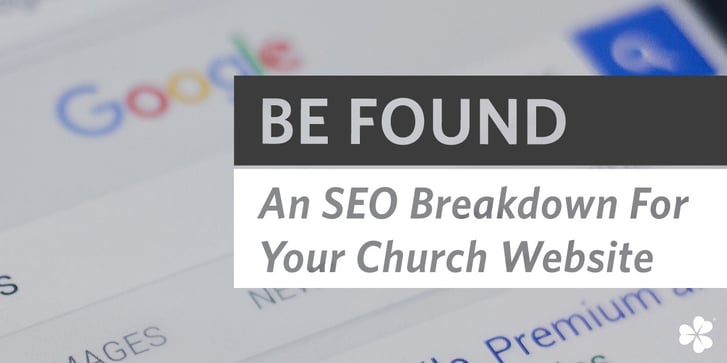 When you want to find information about something, where do you look?
The answer is obvious, right? I mean, everybody knows that the quickest and easiest way to find information about something is the Encyclopedia! I mean, what's faster than going to the library, look it up in the card catalogue, find it using the Dewey Decimal System, flip through the pages to find the right spot, and then read all you can to get the information you need.
…..Or you could just Google it.
Because obviously that's the real answer! When any of us want to know something about any topic in the world, what do we do? We Google! We turn to our phones, our tablets, or our computers to type whatever it is we're looking for in that trusty search bar. If you have a question, I guarantee you that Google has an answer.
And the way people are finding information about anything is the same way they're going to find information about your church; they're going to look online!
But the bad news? Making sure your church will be found amidst the massive sea of church websites online isn't always easy. It can be a little like finding a needle in a haystack. Even if you live in a smaller town with fewer options, the chances of your church site popping up at the top of the list are still pretty slim.
Now don't panic; it's not all doom and gloom over here. Because I, Luke, your trusty tech expert, have got you covered.
This is where SEO comes in.
What is it?
SEO stands for search engine optimization, which is just a fancy, technical term that means there's a way to help get your website found when people search for it. There are ways to optimize the performance of your website on search engine lists. It's a mix of technical web development, creative PR, social media, and written content. And believe it or not, it's pretty important in terms of getting your site in front of new visitors.
Why does it matter to you?
So what does this have to do with you as a church leader?
Well, picture a new family moving to your community. They don't know anyone else in town. That means they don't have anyone to recommend a church. So what do they do? They pull up a chair, take to the computer, and start combing the Internet for a church in their new community. Now if your church is utilizing a few best practices for SEO, the likelihood that they'll find your church first is much higher. Remember, your website is the front door to your church. You've already got a beautiful website, but SEO will help make sure people actually see it and potentially make the move to visit your church.
Should I freak out?
No! You don't have to be a web expert or technical guru to make SEO an option for your church. There are a few things you can do easily to increase your online visibility with SEO all on your own. Trust me, you can do it! I believe in you! And remember, you've always got access to our support team at Clover to help you stay on track should you get a little lost along the way.
Where do I start?
To get you going, here are five things you can do to incorporate SEO into your website.
Location, location, location.
When someone is looking for a new church, they'll probably enter three things into the search engine: city/state, the preferred denomination, and the word "church." If your website only lists your actual location (i.e., your city and state), it probably won't rank that high in the list of search results. Rather than repetitively list the city and state your church is in all over your site, incorporate it to a header or footer on your website. This way it shows up on every single page on your site in a natural, inconspicuous way.
Try to identify some other keywords that people may use to search churches. Think of things like worship, sermons, ministry, children, students—words that people might use to find more information about your church or a specific ministry you offer. Once you've narrowed it down to a few words, try to incorporate them naturally throughout the content on your site. Use them often, but without making your copy sound repetitive. It's a balancing act! For best SEO results, think of adding those keywords to specific areas on your website like page titles, subheadings, and within the text.
Most websites are pretty image or media heavy, and that's a great thing! Visuals really draw people in and paint a picture of what life really looks like at your church. But Google can't read images so on their own they don't do much in terms of SEO. They do, however, provide a potentially untapped option for SEO on your website. Name your images using keywords. Instead of saving them as "IMG13109," save them with your church name and city in the title. It's a good trick to hiding keywords on your website and using your media to help you rank higher in the search engines.
Don't forget the details.
We've covered the importance of location details on your site for SEO reasons, but you can't forget the other details that are relevant to your church. Outside of your location, the next thing people really want to know about is the details of your Sunday services. Keep the times of your worship services listed predominantly on your website for Google to pick up. You can even include that information in the header or footer as well. Not only will it make it easier for visitors to find your church on a Sunday morning, it will also make it easier for them to find it online.
Make it mobile responsive.
More and more people are using their phones to search than ever before. That means you've got to make sure your website is mobile responsive. Google itself has said that mobile responsiveness is a huge ranking factor in their search results. What does that mean? A site that has good mobile compatibility will rank higher than a site that doesn't. The best news for you? A site with Clover takes care of this for you! All Clover templates are compatible with your mobile devices, making this particular SEO trick easy to do!