Save My Ugly Church Website Contest
For more than 10 years, Clover has provided tools so that anyone would be able to build a website for their church. Throughout the years, many of our customers would joke that Clover saved their ugly church website, which got us thinking, "What else can we do to help save church websites?"
We are excited to announce a very fun contest that everyone can participate in, the Save My Ugly Church Website Contest!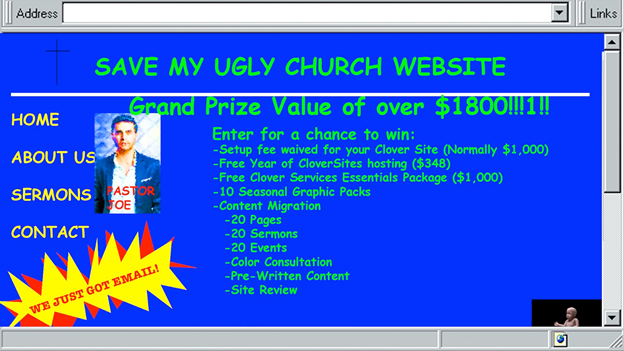 That's right. This is a contest to prove your website deserves a major redesign. We know it's not your fault your current church website isn't... pretty. We want to help.
That's why we're hosting a contest to give away a FREE Clover Site plus a Clover Services consultation package (a total value of $1,800!) to help one, lucky church win a site and fresh design.
---
Details:
Registration continues through August 29.
Voting (yes, you can send all your staff and friends to vote!) closes September 5th.
A winner will be announced on September 6th.
---
Clover wants to help you quickly and easily build a site that not only looks beautiful (just like the community you are building it for) but to be as stress-free an experience that website building can be. The crowd is clapping, the TV cameras are rolling, and we are ready to break down what this extreme church website makeover will look like.
What you'll win:
Worried your site's not quite ugly enough? Take a chance. Everyone who registers will receive a mystery prize once voting closes. It's our little consolation offer for those not voted the ugliest church website.
If you don't have a website, get creative with a church bulletin, Facebook page, or whatever you use to promote your church. Check out these entries. See? It's fun.
After you've entered, you'll want to start asking people to vote. You can
Post your entry image on social media to encourage your followers to vote and share! Use #SaveMyChurchWebsite and #CloverSitesContest to promote your church.
Share the link and info on your website, blog, church bulletin, church signage, and email (all your contacts).
You can even announce it from the pulpit and text message Grandma! It's up to you to get the word out.
Tune in September 6 at 3 p.m. EST on the Clover Sites Facebook Page for the winner to be announced during our Live with Luke series!