4 Reasons Video Needs a Place on Your Church Website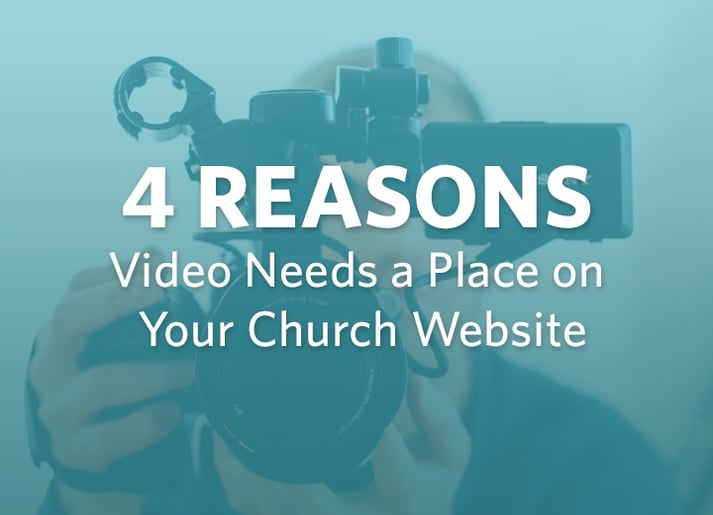 When it comes to your church website, content is key. We certainly think written content is important. However, in a digital age it's not always words that are going to draw people in to your site. In terms of content, words are great. Audio is interesting. Photos grab attention. But video can change the game.
Creating compelling and engaging videos for your church website takes storytelling to another level.
Videos are going to truly catch the eye of your visitors and draw them in to your site. A good video is what's going to get your people to read a little more or linger a little longer on your site. And that means it's pretty important, right?

The good news here is that you don't have to employ an expert cinematographer to create great video content for your site (though it wouldn't hurt to have that person on your team, huh?). With the right equipment and a great media team, you can create short, simple videos to capture life at your church for your website.
Not sure where to start? Here are four easy ways to incorporate videos to your church website.
One: To Share Your Sermons.
This is huge for your church! Posting videos of your sermons and messages is so important for both regular attenders and visitors to your church. For those who are a part of your church on a weekly basis, it allows a place for them to listen again, catch up when they've missed a week, or even share with a friend. For visitors, it gives them a real life look at what they can expect from the teaching at your church on a Sunday morning. And if they like what they see online, they're more likely to show up in person!
Two: To Highlight Your Ministries.
Rather than simply telling visitors to your site about how awesome the different areas of ministry you have at your church are, why not use video to show them? Creating short, simple videos highlighting what's happening in different ministry areas is a great way to take people inside what is happening at your church. It gives a glimpse of what a typical day looks like. By highlighting your ministries on video, you'll put website visitors more at ease before they join the ministry on a Sunday morning.
Three: To Recap Your Big Events.
Hosting a big night for your kids? Looking forward to a major student retreat? Putting on a date night for married couples at your church? Showcase the highlights on video! Next to having them actually attend in person, video is the best way to give people a taste of what happened at your church's big events. Compile a few clips that represent the event and edit them together to give a short look at the way God is moving at the major events at your church.
Four: To Share Important Stories.
The stories of your people are the heart of your church. Hearts moved to salvation, lives changed for the better, families and communities experiencing healing and restoration—those are the stories of God at work in your church. And those stories are worth celebrating! Video is a great way to give people a chance to share a little bit of the story God is writing with their lives as a result of their experience at your church. Use video on your site to highlight baptisms, testimonies, and stories of lives changed at your church. After all, those stories of lives moved from death to life are what church is ultimately all about!