Promote Easter with these 6 Clover Features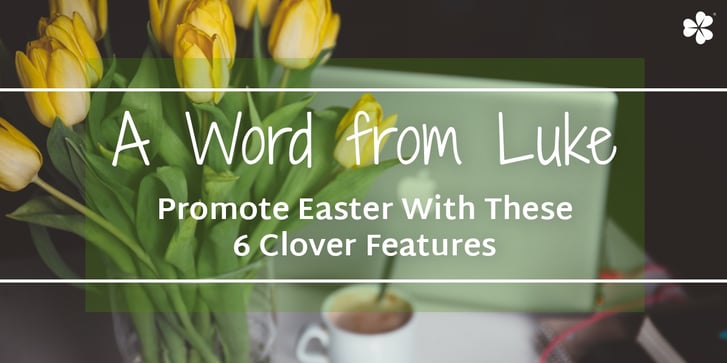 Do you want to know what I'm most excited about this spring?
The arrival of my second child! Yes, that's right, my wife Amanda and I are welcoming a new little baby in April, officially making our son Zeke an older brother.
Now you're probably thinking, "Gosh, I'm so glad Luke isn't one of those guys who comes up a goofy way to reveal the gender of his new baby."
Well, think again, because I'm totally one of those guys. Click here to check out my family's very own Beyonce-inspired gender reveal.
Don't worry… I'll wait!
Okay, now that I've wowed you with my musical parody skills to tell you about my new son on the way, I want to talk to you about the other thing I'm most excited about this spring, and that's helping churches just like yours share what you've got going on this Easter season.
When you work in the church world, you know that Easter is one the busiest, most exciting times of the year. Not only is it an opportunity for your members and regular attendees to remember and celebrate such an important moment in the Christian faith, it's also one of the most popular times for visitors to show up at your church.
Because of that, most churches typically have a lot of extra, exciting programs going on throughout the Easter season.
And that's where I come in!
I'm here to help you make the most of you Clover website by using every tool available to you to promote the events and services you have going on during the Easter season at your church. Whether it's an Easter egg hunt, a Good Friday program, a community meal, a Palm Sunday gathering, or just an extra service on Easter Sunday, Clover has plenty of tools available to make sure you get the word out to your people about every thing happening at your church this Easter.
Psst! We have FREE Easter graphics as part of our Easter Essentials Resource Pack with lessons, social media ideas, a volunteer guide, and more! Download it here.
1) Use Section-Based Editing to Quickly Change a Church Website Section for Easter
Now if you've spent any time building your site with Clover, then that means you spent time in the Greenhouse, our one of a kind content management system. We created the Greenhouse to be easy to use so that anyone could build or manage a website. And that includes you!
One of the best things about the Greenhouse is that it allows users the option to edit their content by section. We call that section based editing (catchy, right), and it's the perfect tool to use when you have new, seasonal things coming up at your church. Rather than being forced to rewrite or reformat your entire site, you can edit just a section of content on any page to include the information about what's going on at your church this Easter. And when the Easter season is over, you just log back in and edit that section. It's quick, it's simple, and it gets the word on your website about any and all happenings at your church this season.

2) Integrate Social Media and Spread the Word about Your Church's Easter Schedule
Social media is one of the best tools to spread the word to your congregation and community about anything going on at your church. If you aren't utilizing some form of social media at your church—Facebook, Twitter, Instagram—then let me suggest you get started on at least one. You have to take your message where the people are and right now, the people are on social media.
When you have big events, extra services, or special programs, sharing them on social media is an easy way to let your people know and invite them to share with their friends. It will spread the word like wildfire, and that's what we want! The good news for you as a Clover user is that you can easily link to all of your social media accounts from your website. You can also share your favorite sermon (or even a past Easter sermon) through the media player.

---
---
3) Use Media Sections to Upload Easter Videos on Your Church Website
Got a new promo video for your upcoming Easter series? Want to share a highlight reel from last year's Easter egg hunt to promote this year's? Have a new Easter song that your worship team wants to share? Need to post your Good Friday sermon?
If you have any media you want to use to promote Easter at your church, then Clover's media sections have you covered. The media section provides you with a space on any page to upload an unlimited amount of high quality audio and video files that you can play directly from your website. And best of all, you can add as many media sections to your pages as you'd like! The options are endless for promoting your Easter season through media on your site.
4) Use Special Video Backgrounds on Your Church Website for Easter
Consider using a video background to promote Easter activities on your church website. We love this new Clover feature and have been really impressed with the ministries that are putting it to use.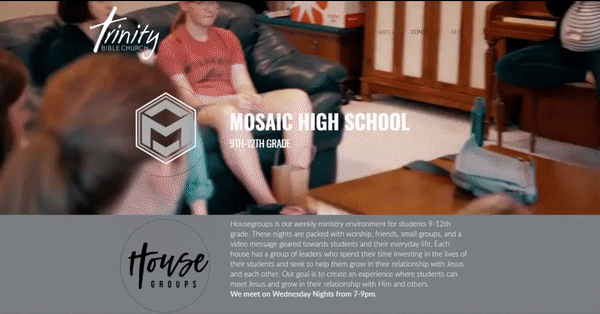 Check out how Trinity Bible Church's high school page uses theirs to promote their House Group Underground program. This could easily be replicated for Easter using film footage from previous Easters. A video background gives a real feeling of what your ministry is like and welcomes site visitors to take the next step: joining you in worship.
5) Use an Events Page or Section to Promote Easter on Your Church Website
If you've got an event to promote of any kind, your Clover site has you covered. We know how hard you work to put on those special events and programs, and that's why we've created a way for you to make sure your people know about them on your website.
An events page or section allows you to share your church's schedule of major events with your community and congregation. You can create and display information about upcoming events, services, meetings, conferences, programs, or anything you extra or out of the ordinary you have going on at your church. And is there any season full of more extra events and happenings than Easter? Utilizing this feature on your Clover site is the best way to get all the information out there to your congregation on your website. And after you've added your events, you can create an Events page for your website to display all the content you've created in one place.
6) Make Sure all Easter Events are on Your Church Website Calendar
In this digital age, everything in your schedule is probably run by your online calendar, right? Every meeting, every appointment, every happening in your life that's outside of the norm is listed on that calendar. It's the keeper of most of the details of your life!
And on your Clover site, your calendar can be the keeper of all the details of your Easter, too. We offer a ton of options to share your church's calendar online. You can link it to your events page or set it up with a third party calendar resource that links or embeds directly on your site. It's an easy way for people to log on to your site and see everything you have happening at your church for the duration of the Easter season.
7. Add a Live Stream Layout and Use it this Easter
Oopsie! We know we said 6 features but we could resist adding this incredible one as a seventh!
Did you know Clover has a Live Stream Layout? A live stream connects those unable to attend in person with your message. It's also a great way for someone considering a first visit in person to preview your ministry.
We love how Hope Lutheran Church and Goshen Seventh Day Adventist Church use their Clover Site live stream layouts during down times. They've added slides to promote upcoming events and opportunities.
Ready to get started live streaming? Check out these 3 Easy Steps to Get Your Church Set Up with Live Streaming by Easter.
Next Steps
Hopefully, these tips will help you prepare your church website for Easter. We'd love to see what you do with your site. Be sure to check out all the great guides we've put together for your ministry in our Easter Essentials Resource Pack. It's brimming with resources for your entire church staff, including a church marketing guide, amazing Easter graphics, a Sunday School lesson, a live streaming guide, volunteer tips, giving scripts, social media strategy, and more!
Don't have a Clover Site for your church yet? Start a free demo today and build your entire site with our easy-to-use section-based editing tools. You don't pay until you publish.