[New Features] Password Protected Church Website Pages & Updates to Caching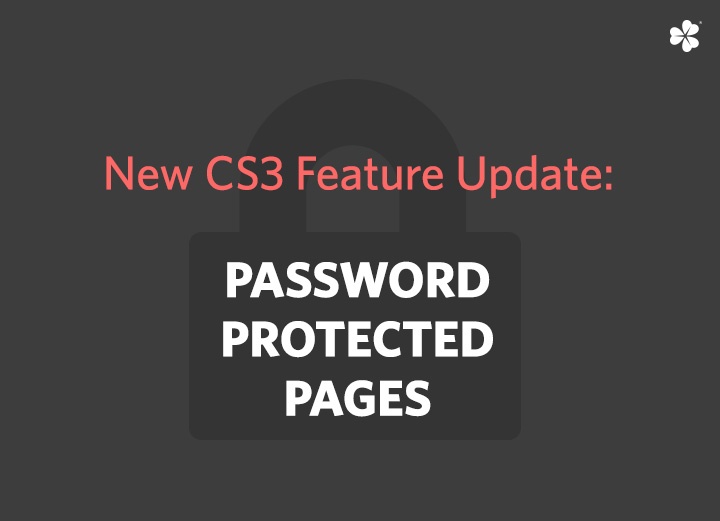 Do you know how brave your small group leaders are? They are opening their homes regularly to both friends and strangers. And they are more than willing to do so. Wouldn't it be great if your church website could help support them? Now you can!
With our new feature release, you can lock public webpages behind a password. Keep your membership directory, youth group information, leadership resources like budgets, minutes, or worship team notes all safe and secure.
Wouldn't it be great if you could keep some of your website pages private? Clover customers can now set a password on pages. The feature is exactly what it sounds like, the page will require a password before the page can be viewed. Password protection was among the top 5 most requested features, and we're excited to roll it out to you.

This release has been live for a short testing period. Our help site is already up and full of instructions, too. Hopefully, this is a great way to help you serve your church and organize your website information.
We've Also Had A Few More Updates:
New Caching System: When visitors load your website for the first time, the server keeps a copy of it so that it can be displayed more quickly the next time. The old system kept the copies as files on the hard drive which caused some disk space issues (some Clover sites were not rendering well at the beginning of the week). The update uses a special database that keeps the copies in memory. It should be faster and provides a platform for future enhancements.
'WWW' Domains: Technically speaking, "myplace.com" and "

www.myplace.com

" do not refer to the same thing. We have removed a limitation and you are now able to use them as different sites. For some of our more robust users, this will help you use "myplace.com" to serve one website and "

www.myplace.com

" to serve another.
Note from the editor:
I mentioned above that Password Protection was on our list of "most requested" new features. And that means we have a list! Y'all have been asking and we've been listening. Let's be honest, we've been through a rough patch with some staff turnover. But we're coming out of the weeds with a team full of rockstars. We have regular meetings where our customer service team meets with the marketing and development teams. We share the feedback you give us and we prioritize to match the vision we all share to serve the church.
Other updates coming down the line: Media Migration, Events, Forms, and bug fixes. More soon!
Next Steps:
If you're still on Clover Classic, now is the time to think again about upgrading. Have you seen how great the new Designs are? We think you'll love them. Check out our newest Design, Voyage, or another popular favorite, Bloom.