Three Part Guide to a Successful Fundraising Campaign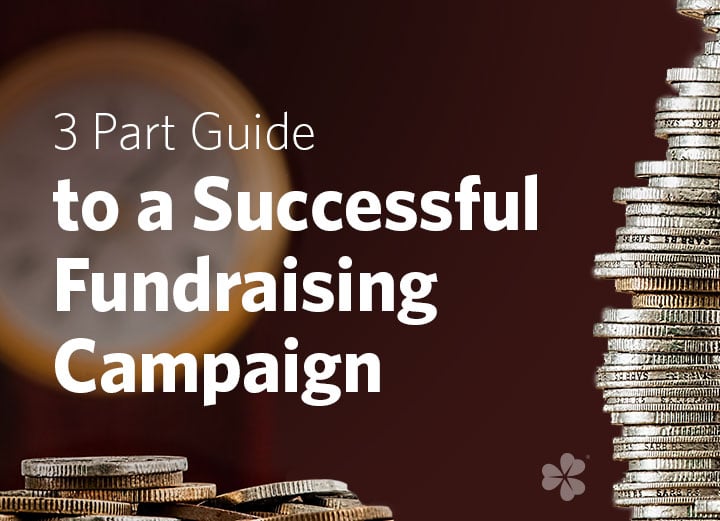 Question: have you ever put together a fundraising campaign at your church?
You know what we mean, right? Not just your typical Sunday morning offering or your routine time for tithe. We're talking about a scheduled and calendared campaign designed to raise support for a specific aspect of your ministry. Whether you're looking to raise money to send your students on a mission trip, hoping to fund the building of a new campus, or simply looking to generate support to give back to a project in the community, you want to make sure you run your fundraising campaign well.
The difference between a good fundraising campaign and a bad fundraising campaign means the difference of dollars and trust for your ministry.
And the difference in dollars has a direct impact on what your church can do as a result. While we all know God is a God of abundance and miracles, we also know that the financial support of your people helps put your vision and mission into action. And that's why planning, launching, and finishing a successful fundraising campaign is so very important.
Do you have a vision for a new phase of ministry you want to kick off at your church? Is there a community project you'd love to fund? Are your students planning for summer camp? That's the kind of event you can launch a fundraising campaign around -- it's not just for buildling funds.
Why? Because campaigns allow you to set aside a designated length of time to focus your energy on raising money for a certain goal.
And trust us, if you enter in to it with prayer and put in the effort to do it well, you'll be thrilled with the results!
Take a look at our three-part guide to help you execute a successful financial campaign for your church.
Part One: Prepare
When there's a need for financial support, most of us want to jump right in, hit the ground running, and start going for the goal right away. While that enthusiasm is most definitely needed in a fundraising campaign, it's not going to amount to much more than hype if you don't first harness that enthusiasm towards creating a plan.
Preparation is key to executing a great fundraising campaign. It allows you time to nail down the schedule, delegate some of the work to other members of your team, plan for how you'll market and communicate the campaign, and pull together all the details so that by the time your campaign kicks off, all you have to do is focus on your people.
Make sure your preparation include things like:
Creating a calendar (a clear start and end date) for your campaign.

Meeting with your team and leadership to develop and share your plan.

Design any logos and graphics for social media or your church website.

Write out all the communication elements (emails, tweets, texts, announcements, etc.) for the campaign.

Networking with potential key donors.
Part Two: Make The Ask
The goal of every fundraising campaign comes when you finally make the big ask. Once you've kicked it off by sharing your vision with your congregation, it's time to ask them to make a financial commitment to your campaign. Because you've done the prep work and laid the groundwork for the campaign, the ask won't take them off guard. People will be expecting it and hopefully, ready to respond with their gifts.
Make sure your ask is clear. Tell your people exactly what you're asking for, why you're asking for it, and leave them with a clear action step they can take in response.
If you're looking to raise a large sum of money to fund or support a project at your church, set small goals throughout the campaign. Setting smaller goals allows you to make new asks throughout the campaign. Think along the lines of, "I want to raise the $500 by the end of the first day." or "I want to have raised at least half of our total amount by the time we hit the halfway point in our timeline." This will not only give you smaller goals to focus on, but also mile markers to celebrate along the way.
Part Three: Follow Up
Whew! You did it! You put in the hard work to plan and prepare for your fundraising campaign. You kicked it off and made the big asks. And now you're here—money raised and campaign over, right?
Not so fast! The third part of a successful campaign actually takes place once the campaign is over. That's the follow up. Your donors made the commitment to your ministry by giving to your campaign. It's so important that you honor that commitment by following up with them to celebrate their giving, share an update on the outcome of the campaign, and let them know the next steps for the ministry they supported.
Write thank you notes. Make phone calls. Send an email update. There are so many ways you can not only thank your donors, but the connective tissue is to share the impact of their dollars in your (their!) ministry.
Believe it or not, the follow up may be the most important part of a successful campaign. All the dollars you raise, all the goals you meet, all the good you do at your church—it's nothing if it doesn't impact the hearts and lives of your people. Following up with those who supported your campaign helps you make a personal connection with the people in your congregation and show them what their money meant to your ministry. It will speak to their hearts, and isn't that what ministry is really all about?