Nine Tips for Being Smart With Your Email Newsletter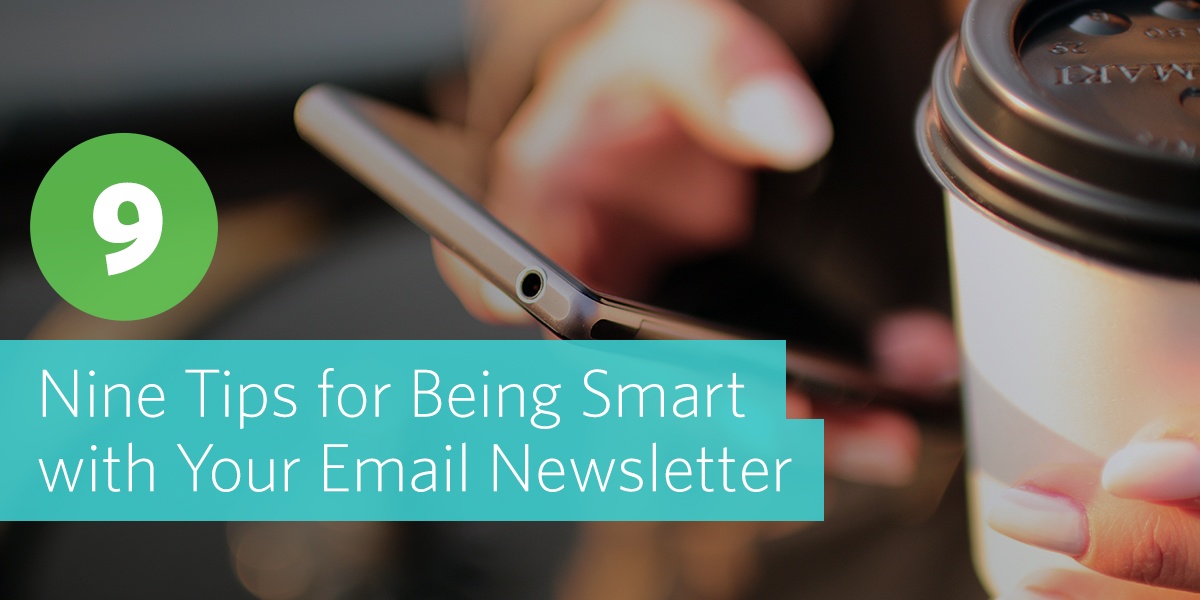 Did you know that you have a great tool at your disposal to reach people almost anywhere?
I'm talking about the inbox, people!
Email newsletters are a great way to keep your people informed. A little prep work on your end, click "send," and all of a sudden your congregation has access to vital information 24 hours a day.
Pretty cool, right?
One disclaimer…
If it's used correctly, email newsletter is an awesome tool. If it's not used correctly, then it will work against you.
How many of you know the feeling of seeing email after email pile up in your inbox? You have to wade through the marketing emails to get to the emails you actually need. Nothing makes you want to hit the "Unsubscribe" button faster than a bunch of information clogging up your inbox.
That's why, if you create an email newsletter for your church, you don't want it to get lost in the shuffle and become part of the white noise of email marketing.
But how?
Let's talk about it! Here are nine tips for creating an email newsletter for your church and using it wisely!
1. Choose The Right Service
There are so many amazing services out there to help you organize your email list and send well-crafted, professional email newsletters.
And the best part? Most of them do the work for you! All you have to do is set up your account and give people an opportunity to subscribe. Most services offer great pre-designed templates. You don't have to be a web expert or a graphic designer: just fill in your content and go from there! (Pro tip: One of the most popular and easy to use is MailChimp!)
2. Clarify The Details
Make sure your people understand the purpose of the newsletter.
Think of the common questions you'd ask if you subscribed to an email newsletter…
What's in this newsletter?

How often will it be sent?

Why should I read it?
By clarifying the details up front, you'll help eliminate skepticism.
3. Let People Opt In
Don't force people to get your email newsletter (if you want to print physical copies and put them in your church bulletin, go for it!). But don't force this into people's inboxes.
Ask people to subscribe during your Sunday morning announcements or on social media. Or, create an option to subscribe directly on your website. But again, let the people decide if they want it or not!
4. Know Your Audience
When it comes to writing your email newsletter, it's important to know who will be reading it. More than likely, the people who subscribe will be insiders who are bought in to the mission and vision of your church. They're looking for things like…
Events (for example, when does registration open for Vacation Bible School?)

Updates (the missionaries we support in Cambodia: how are they doing?)

Changes (this Fall, our small groups are going to focus on personal finances.)
You get the idea.
The best thing you can do is launch your newsletter, keep it brief, and just start asking people, "What would you like us to include in this newsletter?" Don't overdo it (which means don't include everything they suggest!) Just look for common feedback from the majority.
5. Craft A Creative Subject Line
It doesn't matter how amazing the content in your newsletter is. If nobody opens it up, they'll never actually see it! That's why it's important to have a clear and creative subject line.
One simple tip: start paying attention to email subject lines that show up in your inbox. Look for the ones you like, and the ones that make you want to click open (obviously retail sales don't count here!) Then ask yourself what made the headline so effective. That step alone will help you improve your own subject lines!
6. Craft Your Content Carefully
Like we mentioned in step #4, crafting content starts with knowing your audience. Keep the information useful and helpful. Are there big events coming up at your church that your people need to know about? New sermon series, small group launches, student events, special children's ministry events? List those! Are there changes to your staff or update to campaigns? Share the stuff that matters to your audience.
Biblical encouragement and words of wisdom can have a place in your email newsletter as well. Just continually ask, "Is this helpful?"
7. Stick To A Schedule
You want your readers to know what to expect when it comes to the frequency of your newsletter. So whether you release a new one weekly, bi-weekly, monthly, or quarterly, let people know the schedule when they subscribe. Then, stick to it to maintain trust!
8. Test It
Hear this loud and clear: Never, ever, ever, ever hit "send" before you've edited and tested out your email! That's how mistakes get made and missed. Take time to have someone read through and edit your newsletter content. Check for everything from basic misspellings and mistakes to broken links or incorrect information. This helps you avoid the mess of having to go back and correct it! Most email newsletter services offer a test feature so that you can send a test copy of your newsletter to someone for review before you actually send it out.
9. Ask For Feedback
Finally, make sure you take the time to ask for feedback every once in awhile. Send out a quick survey to your subscribers to determine what is and isn't helpful or interesting to them about your newsletter. Ask them about the frequency of it and how often they'd like to read it.
While you may not be able to change every single thing about the newsletter to fit everyone's requests, you will get a good understanding of what is and isn't working so you can make changes accordingly.