Missing Money: How Online Giving Can Help You Find the Funds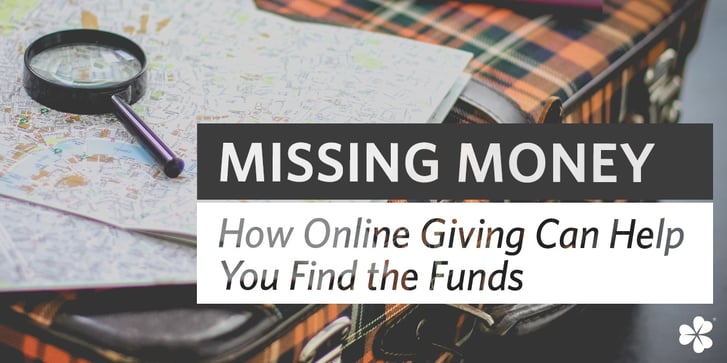 Question: What's the preferred method of donation today?
If your answer is anything other than "digital" at your church, then we've got bad news for you: You're missing out on money at your church.
At Clover Give, we talk to so many churches each and every single day who are struggling to keep up with their budgets. They're struggling to find the funds they need to keep their ministry going and growing. And while there are always a lot of factors that might contribute to this lack of funds and donations, the one thing all these churches have in common is this: They have no digital platform for giving at their church.
No one can deny that checks and cash are hard to come by these days. Any way you slice it, the preferred medium for most things financial is digital. Just think about everything you and your people use digital payment for on a regular basis:
Shopping (hello… is anyone paying with cash at Target?)
The list goes on and on. You name it, and it's being paid for digitally. It's the number one method for all financial transactions today!
So if that's the case, then you have to stop and ask yourself this:
Is digital giving an option at your church?
How have you prioritized online giving for your congregation?
And the even bigger (and possibly more painful) question is this:
How many donations are you missing out on simply because you haven't made digital giving an option at your church?
If that thought hits you where it hurts, then keep reading. We're here to help!
So many church leaders look at their strategy for fundraising at their church and say, "I think we're doing okay!" And on the surface, that may be the case. But when you dig a little deeper—when you realize you may be missing out on a lot of funds that could do a lot of good for your ministry—you have to stop and look below the surface.
If online giving is the preferred method for an estimated 8 out of 10 people and your church isn't offering it, that means there's a chance you could be missing out on 80% of potential funds for your church. And I don't know about you, but I sure think that's a lot!
Maybe you're afraid to take the plunge into online giving for your church because you're worried it will be too complicated. Or maybe you think your people won't actually use it. Maybe you're afraid it won't be as easy as it sounds.
And we get it! But the good news for you is this:
We created Clover Give for people just like you!
Clover Give is made for church leaders to make online giving seamless and simple for your congregation. It's designed to make a way for your people to support your ministry with literally one click.
You want to know how to find the funds you seem to be missing each year? Start by making digital giving an option for your people. And beyond that, make it a priority!
Make a point to maximize donations digitally so you can maximize your ministry.
Let us help you find the funds for your thriving, changing ministry this year by taking your giving where the money is: online!