Meet Luke: An Introduction to Your Clover Expert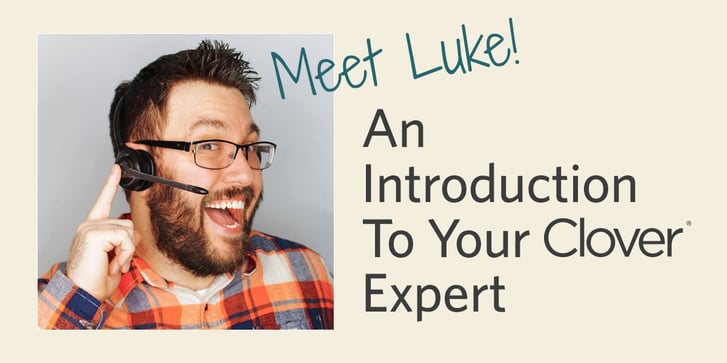 When you're working on creating or updating your church website, how many times have you thought something like this:
Wouldn't it be great to have someone on call to answer all my questions?

Wouldn't it be nice to know someone behind the scenes to help me with my site?

I wish I knew someone who could walk me through this whole process.

Gosh, I want to talk to an expert!



If you've had any or all of those thoughts, then we've got an answer for you:
You're looking for someone like Luke!
Who's Luke, you ask? Great question!
Clover users, meet Luke! He's a longtime Clover support guru, all around great guy, and the one stop shop for tips and tricks to make your Clover experience seamless. In other words, he's the guy you've been waiting for!
You'll be hearing from him in your email and here on our blog as he works to guide you through the process of web design and development with Clover. But before you find him in your inbox, we want to take a minute to help you get to know who he is, what he's all about, and how he can help make your Clover experience better.
Who Luke Is
A small town guy from a small town church, Luke grew up as the son of preacher in rural, farm town church. No really, he actually lived in a converted barn and worked on a dairy farm (#farmlife). Though the odds were seemingly stacked against Luke from the start (he was born with a deformed ear, lazy eye, and the umbilical cord wrapped around his neck), he grew up to be a smart, amazingly talented guy with an imagination, intelligence, and sense of humor to rival almost anyone!
Now Luke and his wife Amanda make their home with their hot chocolate loving two-year-old son Zeke and a new baby on the way. When he's not spending time with his sweet family, you can find Luke filming local weddings on the side, running his own YouTube channel, and snacking on Red Bull, Beef Jerky, and Gummy Bears. If that doesn't sound like a guy you want to know, we don't know what does!
What Luke Does
For years now, Luke has been a part of the Clover team helping churches just like yours design, develop, and launch amazingly beautiful church websites. As a part of our support team, Luke has partnered with countless church leaders to help them build beautiful, easy-to-use websites with Clover's powerhouse resources. After working with hundreds of church leaders, Luke has seen firsthand the impact you can make when you have the kind of website that pulls people in and attracts them to what's happening at your church. And he's part of a support team of people at Clover with sincere faith who really want to help make the site-building process more efficient when you partner with Clover.
How Luke Can Help You
Building a website can be a scary thing for a lot of people, but especially for those who are charged with the task and have very little knowledge about how to make it happen. That's where guys like Luke come in! One of our goals at Clover is to get people to the moment where things just click—where suddenly building, launching, and maintaining a website for your church feels more possible than impossible. That's why we've invited Luke into your inbox and onto the blog to help make that happen for each one of you as quickly as possible.
And he's holding nothing back! From tips and tricks you need to know to make the process both easy and exciting to the answers to some of your biggest Clover question and support needs, Luke is pulling back the curtain and offering you all that and more to make sure that you never feel like you're lost in the trenches of web design when you're working with Clover.
So keep your eyes peeled for more from Luke in the coming weeks. Trust us when we tell you he's the kind of guy you don't want to miss!