Make the Most of Your Ministry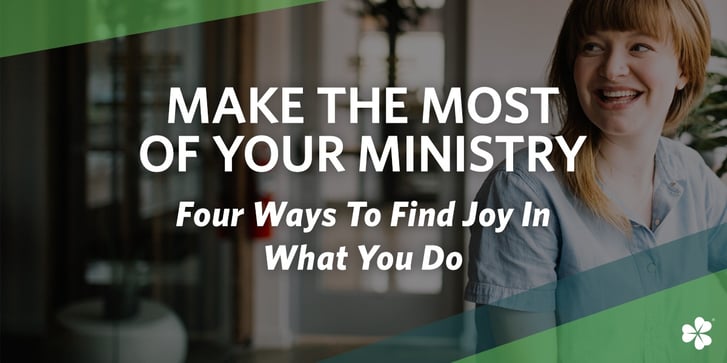 A job in ministry is a job of the lifetime.
It's a calling. It's a privilege. It's an honor. And it's also one of the hardest jobs in the world.
If you're a ministry leader or pastor, then you don't need us to tell you that. You're living it out every single day. And some of those days are the amazing, fulfilling, God inspired days where you go home and think, "Wow, I can't believe I get to do this for a living." And others of those days are the difficult, tiring, challenging days where you go home and think, "Wow, I don't know if I can keep doing this for a living."
But no matter which one of those days you're currently having (and maybe it's a little bit of both), we want to help you make the most of your time in ministry. Because underneath all the details and duties you're dealing with each and every day is an incredible opportunity to serve and lead others toward a growing relationship with God.
While we all know there are some things that are just simply out of your control (you can't change other people, am I right?!), there are a few things you can do each day to help you make the most of this season of ministry and find the joy in what you do.
Choose your attitude.
Even when you don't have a choice about the work you're doing or the people you're serving, you do have a choice in the attitude you approach it with. You can choose your attitude, and that choice can mean the difference between an okay day and an incredible day. Think about it! When you bring a moody, irritable, or less than enthusiastic attitude to work every day, you're going to walk away from the day with a depressing, less than enjoyable workday. But when you make the choice to bring an excited, inspired, and uplifting attitude, your workday will reflect that. You can't control much about your work, but you can control your attitude. You have a choice, and as long as you're choosing, why not make it a good one?
Find the fun.
The work you're doing in your ministry is important. It has the potential to change the entire course of life for the people you serve. So of course you want to work hard every single day to make sure you're giving your best to the mission of your ministry.
But that doesn't mean you can't find a little fun in your work along the way! I mean, does it say anywhere in the Bible that ministry should be boring, stuffy, and devoid of all fun and excitement? Of course not! A life lived for God is marked by things like joy and fulfillment so shouldn't ministry be the same?
Do what you can to find the fun in what you do each day. Whether it's a conversation with a coworker or member of your congregation, an event you're looking forward to, or simply grabbing lunch with your team, find ways to look for the fun in your work. Looking for the joy in your job will make the day-to-day much more fun.
Make someone's day.
As someone who works in ministry, you are in the unique position to serve, care for, and love other people each and every day. You have the chance to contribute to someone's life in a major way. And one of the best ways to make the most out of your ministry is to find ways to make someone's day. Maybe it's as simple as engaging in a conversation with a new visitor. Or helping a busy mother get to her car after church. Maybe it's treating a newly married couple to a meal. Or paying a visit to someone who is going through a difficult season.
No matter how you do it, looking for the chance to make someone's day in your congregation will change not only their day, but yours, too. Your goal should be to have everyone—staff and congregation alike—to walk away from your ministry feeling seen, known, and cared for by you.
Be present.
With so much going on in your ministry each and every day, it's easy to get so lost in the details of the work that you forget about the heart behind it. It's easy to lose sight of the people you're serving and maybe even why you're serving. And when that happens, you can very quickly miss out on the ministry. So make an effort to be present.
Don't miss the moments to interact with your people. Spend time getting to know a member of your team a little better. Put your phone down every once in awhile. Resist the urge to hide away in your office from time to time. Or simply make an effort to stay engaged with the people you pass each and every Sunday morning. Stay present in your ministry so that you don't miss a moment. You definitely won't be sorry that you did!