Keep It Simple: Five Basic Things Your Church Website Should Have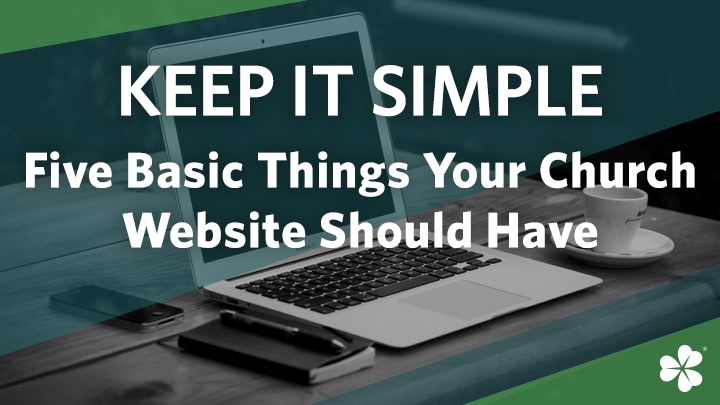 Let's face it: Most of us have a habit of overcomplicating things from time to time. What should be simple and straightforward suddenly becomes lengthy and overwhelming.
Sometime we overcomplicate the process and make things more difficult than they need to be. Take your church website for example.
We get so bogged down with the ins and outs of what's next, new, and exciting that we loose sight of the basics.
That's why the number one rule for your church website should be:
Keep it simple!
You work hard to make an incredible Sunday service for people each week, but if they can't find what they're looking for on your website first, they won't see it. They can't see that amazing video you created if they don't know what time your services start. They can't hear your powerful sermon if they can't find your church. They can't meet your staff if they don't know who they are. They can't bring their kids if they don't know you have a place for them.
All that info may sound simple to you and me, but that's because we know our churches. The visitors you want to attract, the new families in town, the guests who've attended only a couple of times—they don't know any of that.
People need the basics to get them from the computer screen to the front door of your church.
So to help you take it back to the basics, here are five simple things we think you need to remember to include on your church website.
1. Address, Location, Directions
Start with the most basic information first. If people don't know where your church is or even how to get there, they simply aren't coming. If the goal is to make it as easy as possible for people to come to your church (and hopefully grow spiritually as a result), then you've got to make it easy for them to get there in the first place! Have your address, location, and directions clearly laid out and marked on your website. We recommend including all this information on it's own page so users can find it clearly laid out all at together. And don't forget to include you church's phone number on that same page so that those with questions can easily give you a call.
2. Service Times
Most churches have a handful of services on Sunday morning—at least one or two at pretty predictable times. But these days, churches are providing more and more opportunities for people in their communities to worship. Saturday evenings, Sunday afternoons, and even weeknight worship services aren't uncommon. That being said, it's crucial that you include any and all service times for your church on your website. If you have multiple locations, make sure the service times for each are clearly marked as well. That last thing you want is a visitor showing up at the wrong time because chances are they might not show up again after that.
3. Primary Staff Members
Walking into a new place is hard. Walking in when you don't know anyone else is even harder. Of course your volunteers are there to greet and welcome your guests, but it's important that visitors can at least recognize the faces of some of your staff members and leaders. Who's the pastor? Who's the children's director? Who's in charge of the student ministry? Including these faces on your website will help set the minds of potential visitors at ease so they at least know who to expect to see in charge while they're there.
4. Family Ministries
We can't stress this point enough: If families don't know there's a place for their kids at your church, they aren't coming. That's why including the basics of what you offer for families from infants all the way to high school students is key for your website. Where do they take their students on a Sunday morning? What do they do with their young babies and toddlers? What will their school-aged kids be doing? You don't have to give an exhaustive list of curriculum and leaders, but you do have to give the basic information so people know you have a space for everyone in their family at your church.
5. Parking
Okay, this may sound simple, too. And if you're a small to medium sized local church, we understand why. Your parking lots are obvious and easy to navigate. But if you're a bigger church with more people to accommodate, parking can feel like a nightmare, and that's exactly the feeling you want to avoid at your church. If you know your parking situation is a little more complicated, include information that will make it easier in someway for people on Sunday mornings. Do new moms get up front parking options? Do you have multiple handicap spaces? Is there a drop off point that people can use before parking? Do you have multiple lots? Basic information like this will help people move more confidently into your church on a Sunday morning.