How To Talk About Making The Switch To Online Giving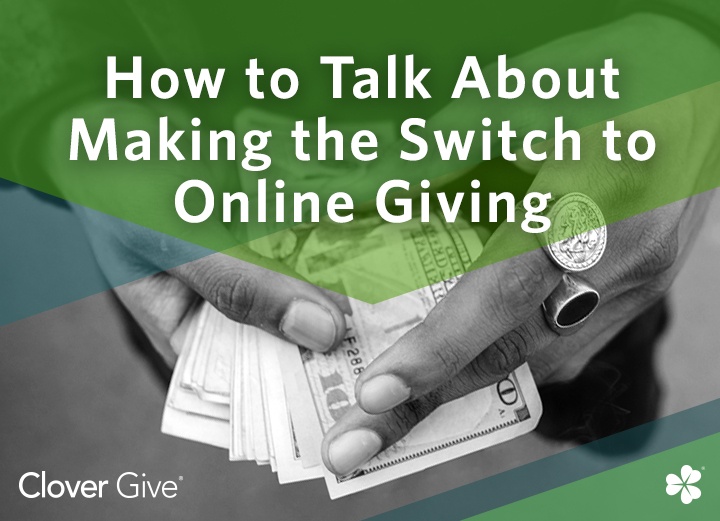 When it comes to money, it's no secret that the world has gone digital.
Think about it. When was the last time you wrote a check to pay for your groceries? Do you even carry any cash in your wallet to have on hand anymore? Are most of your bills set up on automatic or online payments?

These days, managing and spending money is done almost exclusively in a digital space. And if that's true for most areas of life, shouldn't it be true for your church giving as well? You want to give your community the option to give quickly and simply in the same way they do everything else: online (find out more about how to build a great church website here).
Clover Give is an online giving platform that provides your church a professional, easy to use digital giving forum that allows your people to support your ministry in a way that works for them.
But while you may understand the benefits of digital giving for your church, as you make the transition to giving online some people may be hesitant. That's why it's so important that you take the time to communicate to your congregation the basics behind your church's shift to online giving.
When you make the basics—the why, the how, the when, and the what's next—clear from the start, you'll see a much smoother transition to giving online for your congregation. Here's how you can start.
Why
This is the most important communication piece. If you can get your congregation to understand the why behind the change, they'll be much more likely to get in line with the change. Cast a little vision for the shift to your online giving platform. Outline why you think it's valuable not just for your church, but for the individual members of your congregation as well.
Talk to them about the hurdles you're facing in terms of giving, and then explain why giving online helps you get over those hurdles. Make it clear that this change will make giving easier for your staff, your congregation, and your church as a whole. Just as you do when you present other big changes or campaigns at your church, cast a clear vision for the transition to online giving so that they can understand the why behind it.
How
Once you've communicated why you want them to take their giving digital, you've got to show them how to do it. Break it down for your congregation: tell them exactly how this transition is going to work. Tell them all the options for giving they'll have with Clover Give—texting, recurring gifts, kiosks, online donations, and more.
During your service give them clear, simple steps to follow so they can make the switch. This is key! You risk losing donors when you don't go out of your way to make sure they know how to set it up online. Go so far as to sign up one of your staff or regular donors live on a Sunday morning, allowing them to walk through the process step by step for your congregation. It's a great way to show them exactly what to expect and what they'll need to do in order to set up online giving. If you can, send the instructions home on a card or out in an email as well.
When
Give your congregation a date to make the switch. This gives a concrete deadline to sign up and creates a sense of urgency to get it done before then. Once you've got the date in mind, remind, remind, remind! (Remember to keep it cheerful and grateful at the same time!) Announce it on Sunday mornings, send it out in emails, put it on your church website, and share it on social media.
Whatever forms of communication you have, use them all to talk about when the transition to digital giving will take place. You can't sign people up for online giving without their permission so they need to make sure they do it themselves! Of course, they can still sign up after the date you set, but creating a deadline will hopefully encourage the majority of your congregation to get on board beforehand.