How to Engage and Follow Up with Your Visitors Online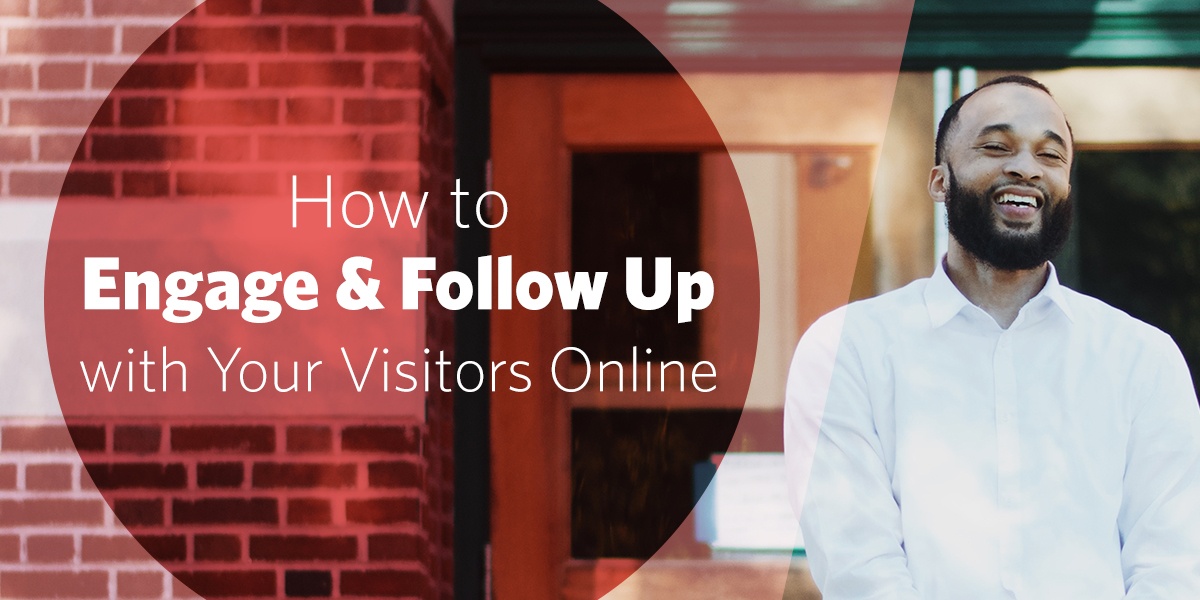 Here's a common misconception a lot of churches have about their website…
It doesn't really connect us with anyone.
Believe it or not, we hear this a lot! So many people think that their website is simply for information, not connection. It's seen as a place where people come, look around, find what they need, and leave.
Sure, that's one way your website can work, but it's certainly not the only way.
In fact, it's not even the best way!
Your church website is one of the best resources you have to connect with visitors at your church.
Think about it…
On a busy Sunday morning, you may not have the opportunity to talk to or connect with every new visitor to your church (and unless they seek you out, they're sometimes hard to find!)
But if you set your website up to be a place where visitors can quickly and easily connect with you and your staff, you'll have the opportunity to engage with them and hopefully compel them back to your church again!
One of the primary goals of your church website is to take people from being simply visitors to becoming somehow engaged with your church.
Rather than leave it up to visitors to decide how to get involved with your church, take the guesswork out of it and give them clear, simple next steps on your website that will allow someone on your staff to follow up with them in person. After all, a personal connection with someone is what's ultimately going to make visitors feel seen by your staff and welcomed into your church on a Sunday morning.
That's why giving them a next step to take on your site is huge!
Next steps are super-important pieces to your site. Here are four ways you can create clear, effective next steps on your church website to make sure you connect and follow up with your visitors.
Know Your Audience.
Next steps will be different based on the person you're trying to reach. In order to create the most effective next steps on your website, consider your audience and how you can best reach them. This goes for regular attenders as well. But for the sake of today's conversation, let's keep the focus on visitors.
Tailor your next steps to talk specifically to your visitors. First, ask yourself, "What do I want visitors to do from here?" Then, create a next step that directs them to do just that.
Use your web content to speak to your specific audience before directing them to take the next step. Tell them why you think this next step is valuable to them and encourage them to take it.
Make It Clear.
Clarity is key here! If a next step isn't clear, your visitors won't take it. So make sure you define…
What the next step is

How they can take it

What will happen when they do
For example, if you're asking visitors to show up on a Sunday and connect with a staff member, spell it out for them! Put something on your website like this…
New Visitor? CLICK HERE to make a new friend!
Once they click, have a page that guides them from there. Here's a hypothetical example of what that page could say…
Thank you for visiting our site! No, really. You're awesome!
My name is Lindsey. I have the privilege of working here at Grace Community Church. This place is like a second family to my family!
(Picture of Lindsey with her family)
I'd love to meet you in person this Sunday! I'll be at a table in the lobby before and after church. There's a sign above the table that says "New Visitors." You can't miss it! I'd love to meet you, give you a free gift, and answer any questions you may have about our church family.
I can't wait to see you then!
Keep It Simple.
You know that old adage, "Less is more?" Well, apply it here! Asking too much from a visitor or making next steps overly-complicated discourages them.
Keeping things simple and straightforward is best for everybody!
Visitors don't need to fill out a long contact form or send an email that answers hundreds of questions. Instead, give them the chance to take a basic next step.
Another example…
Have visitors fill out a quick contact form with their name, email address, phone number (make this optional), and a place where they can type in any questions they might have about your church.
This puts the work back on you and your team. You guys need to OWN the process of following up with anyone who puts their info on this form. Don't make visitors do the hard work: YOU do it!
Follow Up.
We saved the best for last because this is hands down the most important piece of the puzzle!
When your visitors take the step you've asked them to on your website, then you have to take your next step, too.
Your team has to follow-up with your visitors.
This is so important because it makes visitors' next step worthwhile! Remember, following up is all about giving visitors a personal connection to someone at your church—a real face they can engage with on a Sunday morning.
How do you do that? Well, there are so many ways! You can email, call, or schedule a time to meet visitors in person on a Sunday morning. Your follow-up is the thing that will not only help visitors feel comfortable enough to come to your church, but keep them coming back week after week!