How to Choose the Right Stock Photos for Your Church Website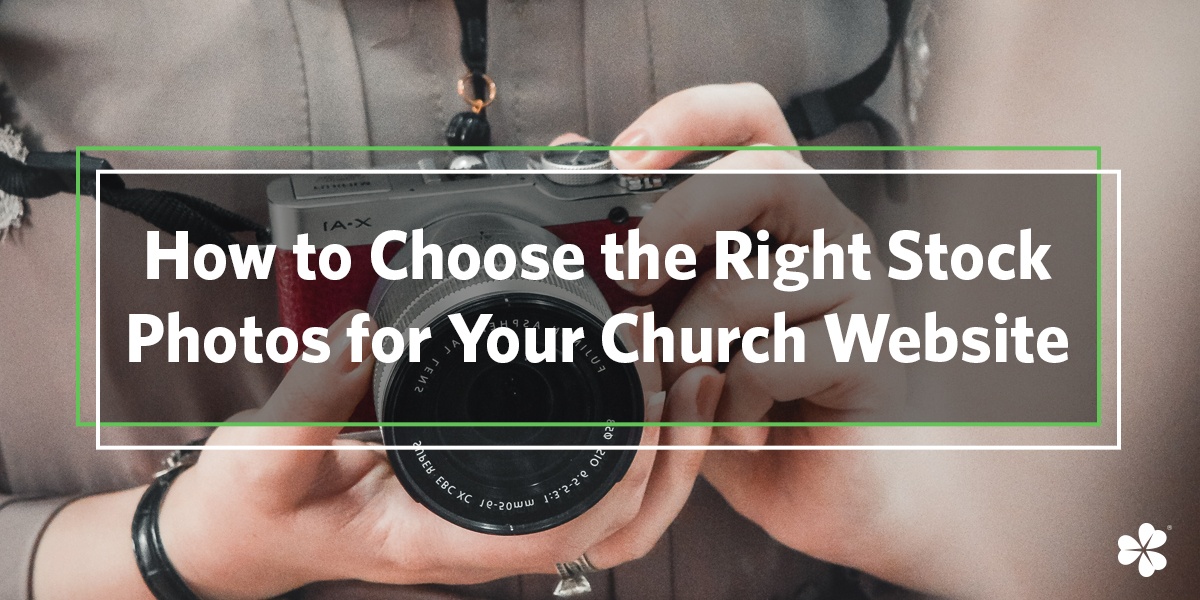 "A picture is worth a thousand words."
You've heard that old saying, right? Well, we think it's especially true when it comes to your church website.
Good photography speaks volumes on your website.
It tells a story.

It paints a picture of the people in your community, your church, and its different environments.

It gives visitors a glimpse into what your church looks like.
That's why having good photography is essential for your church website!
But the reality is, not every church has access to a professional quality photographer who can snap hundreds of pics to find the best 10-30. And not every church has the budget to hire one, either!
So what do you do when you want good, quality photography for your website, but you don't want to break the bank?
The answer: stock photos!

What Are Stock Photos?
Stock photos are photos found online that are licensed for anyone to use…
Sometimes for a small fee, and sometimes for free!
Whether taken by professional photographers or really good hobbyists, stock photos are almost always higher quality than most average photos. They're designed specifically for use on everything from marketing and advertising projects to websites and blogs. All you have to do is accept the terms and pay the licensing fee (if required), and you're all set!
The best part? Stock photos solve the problem of finance and time for your church website when it comes to photography. The pictures are edited and ready to go when you find them. And when there's a licensing fee associated, it's much lower than the cost of actually hiring a photographer!
How To Incorporate Stock Photos Into Your Site
You can use stock photos in a number of ways on your website…
To fill in the gaps.

Though it's not ideal to have every photo on your website to be a stock one, it's certainly a great way to fill in the photography holes.




Maybe you have a blank spot on a page that needs a picture.

Maybe you're looking for a specific photo to include on an event page.

Maybe you need to incorporate some diversity into the photography on your page.

Or maybe you just want a scenic shot to go with a blog.
No matter the need, stock photography is a great way to bring your page to life!
To match your site's look and feel.

If you're using a specific color scheme for your church website or branding, stock photos can come in handy.

You can incorporate stock photography that cohesively matches the look and feel of your overall site.
In marketing materials and emails.

Are you creating marketing materials for a big event at your church? Are you working on a target email campaign? Stock photography is great for both!

You can incorporate photos to help make an impact and visually up the game of the materials and emails you're sending out to your community.
Think about it: people are used to seeing photos on social media. People are accustomed to texting pics to their friends and family. Pictures are used to market everything these days—including our own lives!
On social media.

Like we just mentioned, stock photos are great for social media, too! While you definitely don't want to go the route of

only

using stock photos to make your Facebook or Instagram feed look cool (trust us, people don't like that!), they are great for promotional posts, inspirational posts, and everything in between.
If you need a specific kind of photo for a specific social media post, stock photos are a great option.
To make your site look professional.

We touched on this before, but stock photography gives you the opportunity to incorporate professional quality photos throughout your site without breaking the bank to make it happen.
Tips for Using Stock Photos On Your Site
Before you start plugging stock photos into your website, here are a few tips to keep in mind.
Run a good search.

Stock photography sites often allow you to search by subject or category. You'll get a number of results from your search, but remember to choose your search terms wisely.

Be as specific as possible so you can narrow down your choices.

Run a few searches if need be to make sure you find exactly what you're looking for.
Look for your community.

You want your website to be reflective of the people and community your church serves. So when choosing stock photography, keep your people in mind.

Make sure the faces in your photos represent the diversity in your congregation and that the age groups match the demographics in your community.
Choose your photos wisely.

The goal in adding stock photography to your site is to enhance, not distract. You want them to blend naturally with the other photos throughout your website. So choose your images carefully.

You don't want stock photos that stand out and look obviously like stock photos!

Rather, you want pictures that fit in nicely to what you already have, not taking away from the authenticity of your website.
Where Do I Find Stock Photos?
Great question! Here are just a few places you can start browsing online to find free stock photos for your website.
Clover Media - We may be a little biased here, but a subscription to Clover Media is a great option for stock photos.
Unsplash

- Unsplash.com is a great source for high-quality photos. It features over 550,000 free images for you to choose from for your site.
Negative Space

- Negativespace.co features photos from a community of photographers eager to share their work. You can browse by category or do a custom search.
PicJumbo

- PicJumbo.com offers options for free photos. Users can opt to spend a little more to have premium images sent directly to their inbox to browse. This option allows you to get better quality images for just a small fee.
FancyCrave

- FancyCrave.com features a categorized list of photos for you to browse. It's a little more specific in each category, so you may have to dig a little bit to find exactly what you need.

Pixababy- Pixababy.com offers great variety for your website. What's unique about their site is that it also includes options for free stock graphics, illustrations, and even videos!