Four Keys to an Effective Church Website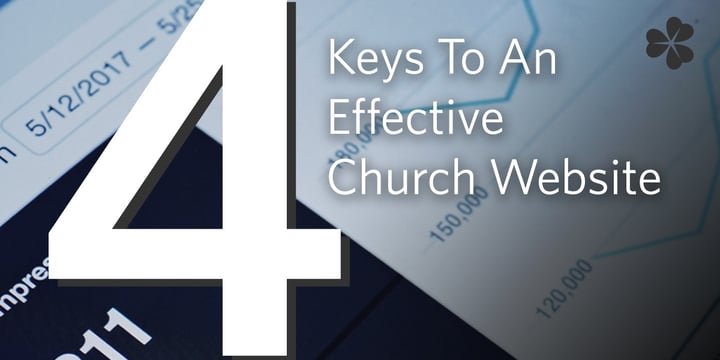 At Clover, we pride ourselves on creating websites that are as unique as your churches. No two churches are the same so no two church websites should be, either!
While the content, layout, mission, and message of your sites will differ from church to church, we think there's at least one thing in all church websites have in common: They want to be effective.
Think about it. No matter how well designed your website is, how well-written the content may be, how organized the layout looks—if it's not effective in reaching your people, then it doesn't matter.
Doesn't sound good, right? Well, we're here to help!
Whether you're creating a new site, redesigning an old site, or just taking inventory of what you have on your current site, it's important to make sure that your church website is effective in reaching your people and sharing your mission.
So how do you do that?
In other words, what exactly do effective church websites have in common?
Well, we've narrowed the list down to just four key things that you can look for on your website to make sure that it's doing all that you want it do. So fill in the blank with us!
Effective church websites…
…know their audiences.
For the most part, everyone visiting church websites falls into one of two categories: potential visitors or regular attendees. That being said, it's important to make sure your website is working to effectively reach each one of them. Effective church websites are both visitor focused and congregation focused. That means that your content and messaging speaks to both groups.
For active attendees and members, your website is almost a secondary source of information. They get a lot of information directly from your church leadership on Sunday mornings, and they typically hit your website to supplement the information they already have or look for additional details. They're motivated, experience site searchers so if the information is there, these people will find it!
For potential visitors, however, your website is the first contact they'll have with your church. So make sure it's effective by painting a picture of what they'll experience there on a Sunday morning. An effective church website makes sure to inform and engage potential visitors so that by the time they make the decision to actually visit your church in person, they'll have all the information they need to feel comfortable.
… combine form and function.
This one is key! A lot of people believe that you can't have a beautifully designed website that's also simple and easy to use. In other words, they believe you have to sacrifice either form or function.
But we're here to tell you that effective church websites do both. You can have it all!
Effective church websites combine beautiful, professional design with easy to use technology and layout. Remember, your site is the digital front door and lobby of your church. People want it to be warm and welcoming while also easy to navigate. Remember that your website is making a first impression, and those that are out dated or overly complicated will give people that your church is the same way. Make sure that your website is effective by making both form and function a priority.
…make next steps easy to find and follow.
The goal of your church website shouldn't end with at your website. In fact, it should end far beyond your website. The goal should be to have people take some sort of next step that encourages engagement with your church. And an effective church website makes those next steps both easy to find and follow.
What are the next steps you want people to take when they visit your site? Make them clear and easy to do! If you want them to follow you on social media, make those icons big enough to see and easy to click. If you want them to visit your church, make sure the address, times, and locations are direct and simple. If you want them to get in touch with you, make sure your contact page is straightforward and quick to fill out.
The easier your next steps are, the more likely your people are to follow them.
…keep the mission in mind.
The mission of your church is the driving force behind all you do. And the same should be true for your website. An effective church website does everything with the mission of your church in mind.
Start by clarifying and naming the mission of your church. What's your goal? What's important to you? What do you want people to know about who you are as a congregation? What's the heart behind your church?
That's your mission! And once you establish that, you want to make sure that your website effectively reflects that. When your website shows the heart of your church, people will feel more inclined to visit in person because they'll feel connected to your mission.