Subscribe
Four Keys to a Successful Email Giving Campaign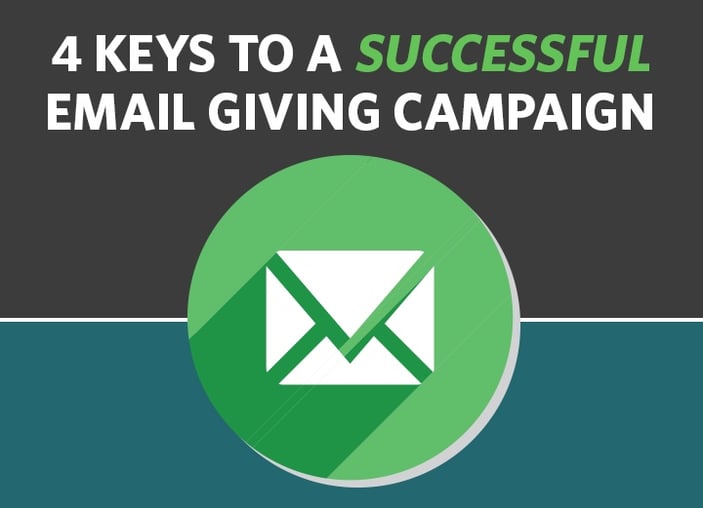 These days, the world has gone digital, and so in turn should the way you communicate to your congregation. Gone are the days when a postcard or even a phone call was the best way to connect with your people. Today, email is the way to go.
While so many churches have and use an updated email list to inform and connect with their people, many don't realize that it also provides an opportunity to make an ask.
Your email list actually represents one of the best opportunities your church has to take up an offering.
It's a captured point of contact for the people in your congregation—a place that catches them where they can think about it, talk about it, and respond easily.
If you're not sure where to start, we're here to help! Read on for just four keys to pulling off a successful email giving campaign at your church.
1. Set up online giving.
Before you can kick off a digital giving campaign, you have to have online giving set up on your website. It's so very important to make giving easy and accessible for your church, and online giving does just that! When schedules change or people travel, they can still give without being at church. When you have regular attendees who serve consistently, online giving gives them an opportunity to still donate even if they don't sit through the service. Sure, you can reach all of these people via email at any point, but without online giving, they can't respond.
The good news is we have an incredible online giving platform all ready to go. We can help you set up anything from automated giving to text donations to one-time offerings online. Check out Clover Give to set up your online giving today!
2. Start with the vision.
When you sit down to send an email about giving, start by casting the vision. Just like you would for a Sunday morning sermon, don't just jump right in and make the big ask. Kick off the email by connecting with your people through emotion and inspiration. Share a story about someone in your congregation or community who will be impacted by the offering. Talk through a passage of Scripture related to giving and generosity. Focus first on making a connection and engaging your people with the vision before you make the invitation to give.
3. Make it clear.
Clarity is key in any giving campaign, but especially one done primarily through email. Make sure that the call to action—the call to give—is clear in your email. Make responding simple and easy by providing a stand out link or button to click. Set it up so that users who want to respond can simply click the link or button and be taken directly to your church website's online giving page. This not only gives them a clear way to respond and give right then, but also gives them an opportunity to set up other automated giving while on your site.
4. Send an email response.
After it's done, don't forget to thank your people for their donations! So many give online but are never thanked or acknowledged. That's why it's so important to take the extra step to show your appreciation. Set up an automated email response to go out to every one who gives through your email campaign. Let them know that they're seen and appreciated by you, their church leader! Keep it short and sweet, simply thanking them for giving and being apart of your ministry. You can also use it as a call to action, prompting them to take another step by getting involved in a ministry, signing up to serve, or setting up automated giving. No matter what you say, be sure to include the most important piece—gratitude for their participation in your email giving campaign.