Five Ways To Serve Your Volunteers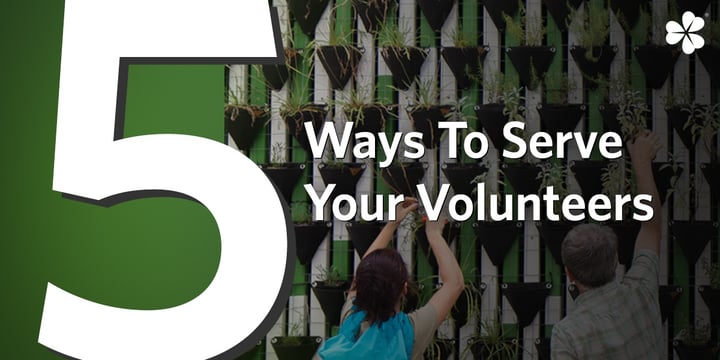 When it comes to your ministry, some of the most valuable people on your team are the volunteers directly serving your congregation each week. Let's face it: You couldn't do what you do without them! And because of that, you need to do your best to treat them well while they're serving alongside you.
As a church leader, one of your most important jobs is to serve and support your volunteers.
So how can you do that? What does it look like for you to create a healthy culture for the volunteers at your church? How can you lead and love them well?
While there are probably a number of ways you can lead your volunteers successfully, we thought we'd get you started with five of what we think are the most important things you can do to pour into your volunteers.
1. Be a friend.
Just as your volunteers are some of your most valuable resources, you and your staff in turn are some of theirs! It's so important to be approachable and available to your leaders while they're serving with you. You and your staff are the ones they're going to turn to for advice, direction, encouragement and prayer, but they're only going to do that if you've made a point to be friendly and help them get comfortable with you beforehand. Simply being a friend and trying to get to know your leaders will go a long way in pouring into and developing them as they serve.
2. Be real.
While it isn't always the easiest thing to do, it's so important for you to be honest with your volunteers. Being real with them about both the good and the bad is essential to creating a safe, healthy place to serve at your church. Talk to them about both their strengths and their weaknesses. Remember, part of being real means practicing what you preach. Share some of your own strengths and weaknesses with them and how you're working on growing as a leader as well. Your transparency will open the door for real, honest conversation.
3. Be ready for conflict.
When it comes to working with other people, conflict is unavoidable. We're all human, we all make mistakes, and we're all bound to find ourselves at odds with each other at some point along the way. Yes, even you and your volunteers are going to come up against conflict. But don't panic! Believe it or not, all conflict isn't necessarily bad. In fact, if you handle it well, it can actually be a good thing. Pray through your approach to conflicts with your volunteers. Go to them in love and encouragement rather than anger or defensiveness. You'll be surprised by the way addressing and resolving conflict can facilitate growth in the hearts of your volunteers.
4. Be willing to give grace.
We can't say it enough—grace, grace, grace! There's nothing better you can give to your volunteers than a healthy showing of grace. You cannot truly lead them at their best if you aren't willing to show them grace when they're at their worst. That grace will go so far for your volunteers and set the tone for a healthy culture amongst your teams.
5. Be for them.
When you're in a position to lead others, you have to also be for others. Champion your volunteers. Celebrate their wins. Encourage them in their accomplishments. Cheer them on as they serve. It's so important in forming not just a relationship with your volunteers, but a culture for your congregation as well. When you and your team make a point to be fans of the people serving your congregation, your volunteers will be more likely to make a point to do the same for the people they serve.