Five Ways To Find & Keep Your Volunteers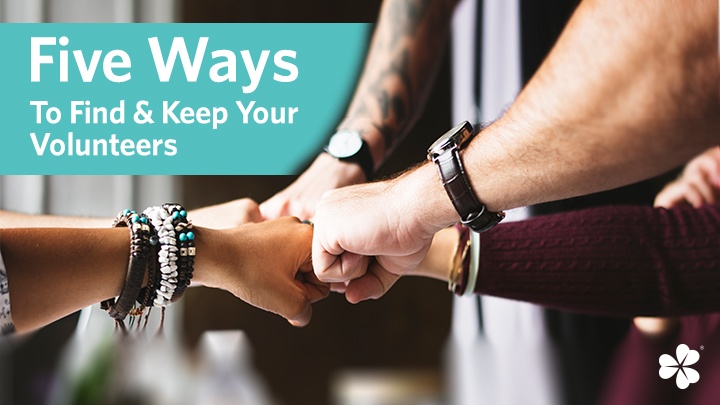 What do you think is the secret to a successful Sunday morning at your church?
A good sermon? Big attendance? A great worship set list? Free coffee?
All that is great, but let's get real, you guys. The real secret to success on a Sunday morning (besides God of course!) isn't any of that.
It's the volunteers.
You simply can't do what you do without the help of the people who willingly give up their time to jump in and serve at your church on a regular basis.
Now, some of you are nodding your heads, throwing up your hands, and having a mini-dance party at your desk just thinking about how awesome your volunteers are. But others of you are doing the exact opposite. Why? Because for you, finding, recruiting, and keeping volunteers is one of the biggest challenges in your ministry.
If that's you, then pick up your head and shake off the discouragement because we're here to help! Check out these five simple things you can do to bring in and hold on to more amazing volunteers in your ministry.
Ask your current volunteers.
No matter how many volunteers you have currently, chances are at least a few of them are amazing. And if that's the case, then those amazing people probably have a few amazing friends or family members, too. If you're looking to recruit people who will serve just as well as they do, ask them! Go to your current volunteers for recommendations for new volunteers. Ask them to give you the name and number of a friend that they think would be a great addition to your ministry. Then, send that person a quick email, shoot them a text, or invite them to coffee so you can talk to them about joining your ministry as a volunteer.
Limit your asks.
One of the biggest hesitations people have about signing up to volunteer is the commitment. They're worried you're going to ask too much of them or want too much of their time. Keep this in mind when you're looking for new volunteers and limit the asks you make of them from the start. Let them know up front exactly what's expected of them as a volunteer—weekly commitments, meetings, major events, and time. Once they agree to serve, limit your additional asks to be aware of the time and sacrifice they're already making to serve at your church.
Don't make them do it alone.
One of the best ways to set your volunteers up for success is to make them a part of a team. They're better together so don't make them do it alone. Making them a part of a team allows them to share the load and support each other along the way. It also builds a sense of community, allowing your volunteers to bond with one another and grow together spiritually as they serve.
Keep it simple.
This is key to keeping your volunteers as a part of your ministry for years to come. And this one falls solely on your staff! Make it easy for your volunteers to do what they need to do by doing what you can ahead of time to make it easy for them. Prepare early, do the work, gather the materials, and over communicate (maybe even create a volunteer page on your church website). Your volunteers are there simply to serve; they don't need to be bogged down in the details. Do what you can to keep it simple and give them what they need so they can focus on the job they're there to do.
Show them some love.
Your volunteers are the hands and feet of your ministry, and that means something different for every area of ministry. Sometimes it means putting out food and serving your staff. Other times it means showing up at football games or leading students on a retreat. Sometimes it means greeting your guests and connecting them to your church. And other times it means holding babies and wiping faces in the nursery.
That just scratches the surface of what your people do for your church each week! They do so much for your church that the best thing you can do for them is show them some love. Choose the best leaders and encouragers on your team to reach out and encourage your volunteers. Cheer them on and make sure they know that you not only see what they do, but you value it as well. Loved volunteers are not only more likely to stay, but they're more likely to invite others to serve, too!