Five Tips for Web Design on a Budget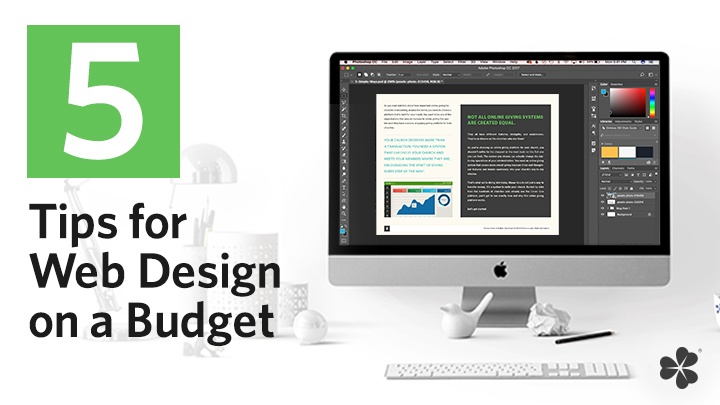 One of the biggest questions people have about creating a website is this:
How much is it going to cost?
And we get it. That old adage your grandparents told you about money not growing on trees? Turns out, it's true! And because making money isn't as simple as ripping it off the trees in your yard (we can dream, right?), we've got to use it wisely.
The good news for you is that not only is Clover Sites easy to use, it's also easy to fit in your budget. We believe that no matter the size of your church or the scope of your budget, you can create an incredible website for your ministry.
So read on for a few tips on how to make the most of your web design on any budget.
Dream first, try it second.
When you're designing a website for your church, don't forget to dream big. In fact, we recommend starting with a little dreaming. Don't think about the constraints you might have—money, time, experience, manpower. Think big first, and then take some of your ideas to your team to see if and how you're able to accomplish them. Don't be disheartened if your first or second or even third idea won't work. It's a chance to not only exercise your creativity in design, but in problem solving with your budget as well.
Collaborate.
Don't be afraid to invite others in to the creative design process. You never know where you'll find a new idea or who will have a new perspective to add. Bounce ideas for your website off your ministry team, coworkers, friends, interns, and your family. Not only will you get great feedback, but you may even come across some other exciting ideas to make your website incredible and affordable.
Do the homework.
Put in a little research to find out what is and isn't feasible on your budget. So many times users are only utilizing half of the resources available to them with our platform. As simple as it may sound, a quick scan of our site can give you a ton of insight. Dig in to Clover's website to find out exactly how much bang you're getting for your buck. Contact our team to ask detailed questions. We're here to help you make sure you're using every aspect of the platform to get the most for your money.
Appreciate, but don't copy.
There's nothing like a little Internet search to help inspire your own web design. Be on the lookout for designs you like in other church websites. Make notes of the things that really stand out to you about their site or things you want to avoid doing on your own site. A Google search is a budget-friendly way to find some inspiration! But, be careful not to copy someone else's design on your website. Remember, you want to represent your church online, not someone else's. Appreciate the aspects of a design you like, and then figure out if and how those aspects can work for your website.
Spend your money on what matters.
Remember, not every purchase is a good purchase, and that's definitely true for your church website. Figure out what things are most important for your ministry's online presence, and budget those in first. Don't waste money on programs you won't use or extras that don't matter for your ministry. Instead, spend most of your money on the areas of design and web hosting that mean the most to your church. That way, you'll make sure that the money you do spend on your website is money well spent!