Five Tips for Developing Your Staff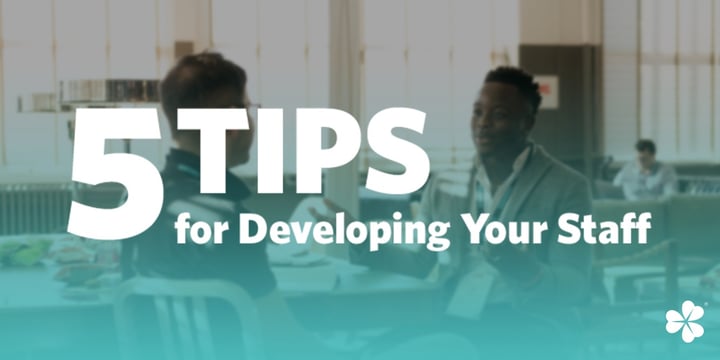 When you're a pastor or church leader, you know that there's one thing you can't do your job without: your team!
Your staff is key to the growth and life of the church.
Think about it! How would you get through a Sunday morning let alone an entire workweek without the hands, feet, and heart of your staff helping to make things happen?
Whether you're working with a team that's been with you for years or growing several new staff members, it's essential that you consistently spend time developing your people as team members, spiritual leaders, and ministry frontrunners at your church.
And we're here to help! Read on for five tips to help you get started on a little staff development at your church.
1) Cast a vision.
Before you do anything else for your team, start by praying and preparing a vision for your staff as a whole. What do you want them to know about your church? What's the heart of your ministry? What are your core values? What do you want them to walk away with having accomplished at the end of the day? Cast a clear, inspiring vision for your team to come around and carry with them going forward. And give them the opportunity to speak into it as well. Giving your staff a say in the vision for your church will help them feel a sense of ownership over the ministry.
2) Meet the need.
You want your staff to feel like their work is important (from taking out the trash to building the church website) and their skills are needed on your team. And more than that, you want them to feel like their time at your church is valuable. Rather than placing your people in jobs or randomly assigning tasks, determine the specific needs in your ministry and staff according to those needs. Where do you need extra help? What parts of your ministry could use extra hands? What part of your church is lacking and could use a little more attention? Those are your needs, and once you determine those, you can hire and develop a team whose skills and talents will meet those needs. Your team members will excel when they feel like they're working in their sweet spots to meet specific needs.
3) Set the standards.
It's important to set the standard for your staff from the beginning. Determine what you expect from your team and clearly communicate that to them from the start. Establish boundaries and limits for your team and tell them why those things are important to maintain. Aim for things like excellence, humility, passion, and respect to be the standards of your staff. And remember, standards are set from the top down. Don't set a standard for your team that you as a church leader or pastor aren't willing to keep yourself.
4) Encourage responsibility and ownership.
There's no better way to develop strong leaders on your team than by encouraging them to be responsible for and take ownership of different aspects of the ministry. This could be as simple as giving them routine jobs or duties on a Sunday morning, to as big as leading a volunteer team or letting them plan and execute a special event. Look at every ministry area in your church and find ways you can give a little more ownership to the people working in those ministries. The key is to entrust your staff to take the lead over something specific so that they can develop a sense of ownership and exercise some responsibility. You'll be surprised at just how valued your people will feel when you trust them to do something a little more in their job.
5) Meet regularly.
It's so important to set consistent times to check in with your staff. Whether it's weekly, bi-weekly, or monthly, the uninterrupted, face-to-face time will go a long way in both developing your staff and making sure they feel valued by you as their leader. Use these meetings to evaluate the highs and lows of the previous season, talk through issues or learning opportunities, ask specific questions, and truly listen to and pray for your people. If your staff is so large that you may not be able to meet with them all one-on-one, make it a priority to at least meet with each ministry team leader regularly and ask them to do the same with their direct reports. More than anything, you want your people to walk away from their time at your church feeling seen, known, and valued by you as a leader and making it a priority to be intentional and available to meet with them consistently is the best way to do just that.