[Guest Post] Five Simple Ways to Market Your Church in Your Community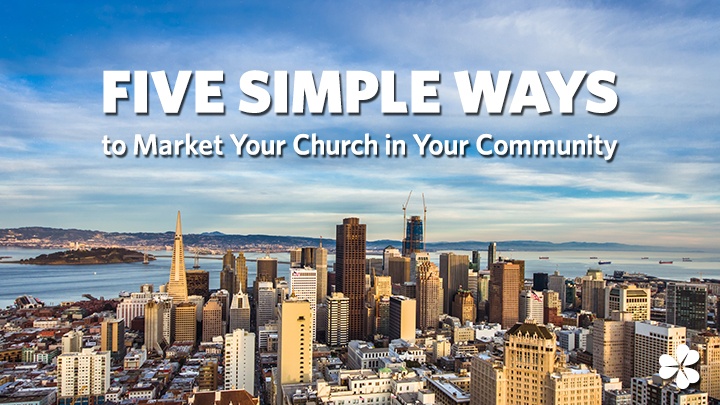 Once upon a time churches were on the public square, an integral part of the community. That's not the case today, and so churches need to work harder to connect with their communities.
Here are five simple ways your church can reach your local community:
1. Be Present in Your Community
Does anyone know your church is there? Be a presence. Show up at parades, local sports games, city council meetings, etc.
If a building is the only presence your church has in your local neighborhood, you're doing it wrong. Don't expect your community to come to you; go to them. Start by simply being present with no agenda. Hang out and listen. Be a part of what's happening in your town.
2. Serve Your Community
Being present in your community is a good first step, but now go further and be a force for good. Get off your pew and do something. Do good work in your community: Clean a park, volunteer with a reading program, help with a bike safety event, etc.
3. Speak to Felt Needs
As Christians, we can agree that people need Jesus. But that's not what they're looking for. Your church needs to offering something that appeals to their felt needs.
Learning about Jesus at VBS is not very appealing pitch. Having fun and learning how to deal with bullies, that's more engaging.
A class on biblical principles of parenting is only going to appeal to Christians. A class exploring how to juggle a busy schedule and be there for your kids will draw people.
After a tragedy you may want to preach Jesus, but a service of prayer and mourning is more in line with people's needs.
4. Offer Inspiration, Not Information.
People don't want more information. They're drowning in it. What they want is inspiration.
When you're promoting your church in your community, don't focus on the basic info details like location and time. That's important, but it's just detail. Instead, give inspiration. Why should someone come to your church? Inspire them to come, and they'll figure out the details of how to come. As a bonus, make sure your church website is inspiring too!
5. People Invite People
More often than not the reason people come to your church is because of other people. Someone invites them. A friend says, "Hey, you've gotta check out my church."
So instead of another billboard or social media campaign, rely on your own people. Encourage and empower your congregation to invite their friends:
Make sure your worship service (or whatever event you're pushing) is welcoming and friendly for first-time guests.
Remind your congregation to be inviting people. Explain that this is evangelism.
Make it even easier by making physical invite cards available and posting shareable content on social media.
For more ideas, tips, and resources to help your church connect, check out Church Marketing Sucks.
Kevin D. Hendricks is the editor of Church Marketing Sucks and runs his own writing and editing company, Monkey Outta Nowhere. Kevin loves reading and writing books, and combined those loves in 137 Books in One year: How to Fall in Love With Reading.