4 Ways to Emphasize Online Giving In Your Church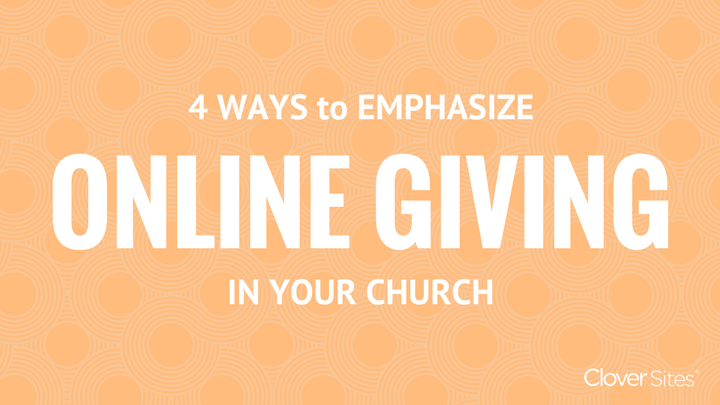 Question:
How much time do most churches allot for people to give?
Answer:
Somewhere between two and five minutes just once a week.
If that doesn't sound like a lot of time to you, that's because it's not! What that means in reality is that most churches only provide the opportunity for their congregation to give during a quick offering time on Sunday mornings.
With that in mind, let's ask some hard questions.
What about people who are out town?

What about people who are serving in your children's ministry?

What about people who are sick?

What about people who have moved, but still consider your church their home?

What about people who forgot their checkbooks?

What about people who don't carry cash?
All those things are really asking just one major question:
How can people financially support your church beyond Sunday mornings?
Well the good news is, we have an answer for you! The #1 way you can expand people's ability to tithe at your church is: Online giving.
Online giving creates an opportunity for people who call your church home to give 24 hours a day, 7 days a week, 365 days a year. That's anytime, anywhere!
Let that sink in for a minute. Imagine how your gifts and tithes might increase if you simply had more options for people to give at their convenience.
Over the last decade, research has shown a major decline in the use of cash. Just 50 years ago, cash accounted for 80 percent of domestic transactions. Today, that number is barely at 50 percent. Checks have fared even worse. That's probably not surprising news to you, but if cash and checks are still the main two ways you're allowing people to give to your church, then that means you're about to face a major decline in your gifts… if you haven't already!
Simply put, if we want people to keep giving to our churches, then we have to make giving easy. We have to create opportunities beyond just Sunday mornings. We have to change our means of giving to keep up with the times. And that means online giving.
By now you've probably heard about Clover Give, our new platform for online giving. It's simple to use, easy to integrate to your site, and a clear solution and some great resources about online giving. If you're looking for a way to set up online giving for your church website site, then Clover Give is the way to go!
But, no matter what onling giving tool you choose, you've got to communicate it to your people! In order to see your giving make a positive impact at your church, you have to emphasize it. You've got to:
1. Emphasize it on Sunday mornings. There's a difference between simply offering digital giving on your site and emphasizing it. Online giving can't just be a thing you have available; it has to be a priority! Emphasize your online options for giving by making it something you routinely and strategically talk about at your church. At some point, you will feel like you're talking about it too much. You're not. Your congregation doesn't think about it as much as you do. It's important that you emphasize it on Sunday mornings when you have their attention.
2. Emphasize it on your website. Don't make it difficult to find online. If you promote it on Sunday mornings, you want your congregation to be able to easily find it once they get to your site. Make the giving option clear onlne. Emphasize it on your homepage so that users can see it as soon as they log-on to your site. If people can find it easily, they'll be more likely to actually use it. And use it again becuase it wasn't difficult.
3. Emphasize it in your communications. One of the easiest ways to emphasize the importance of online giving at your church is through your major forms of communication. Do you use social media to share important news or messages at your church? Use it to promote giving. Do you email your congregation regularly? Include a link back to your church website giving page in your emails -- even just in the header or footer. It's not always necessary to call attention to it, but you should always provide the option. Whatever your primary forms of communication are at your church, incorporate giving into those messages.
4. Emphasize it for yourself. It's the oldest saying in the book: practice what you preach. Apply this same truth to online giving. If you're emphasizing online giving as a healthy practice for your church, then be sure to tell your congregation that you use it as well. Talk to people (from the pulpit or casually) about how you're personally giving online. Tell people how it's made the process easier for you. Draw from your own experiences to show how simple, convenient, and better their giving experience will be once they make the switch for themselves.
And for your church.