Eight Ways to Get Your Church Ready for Christmas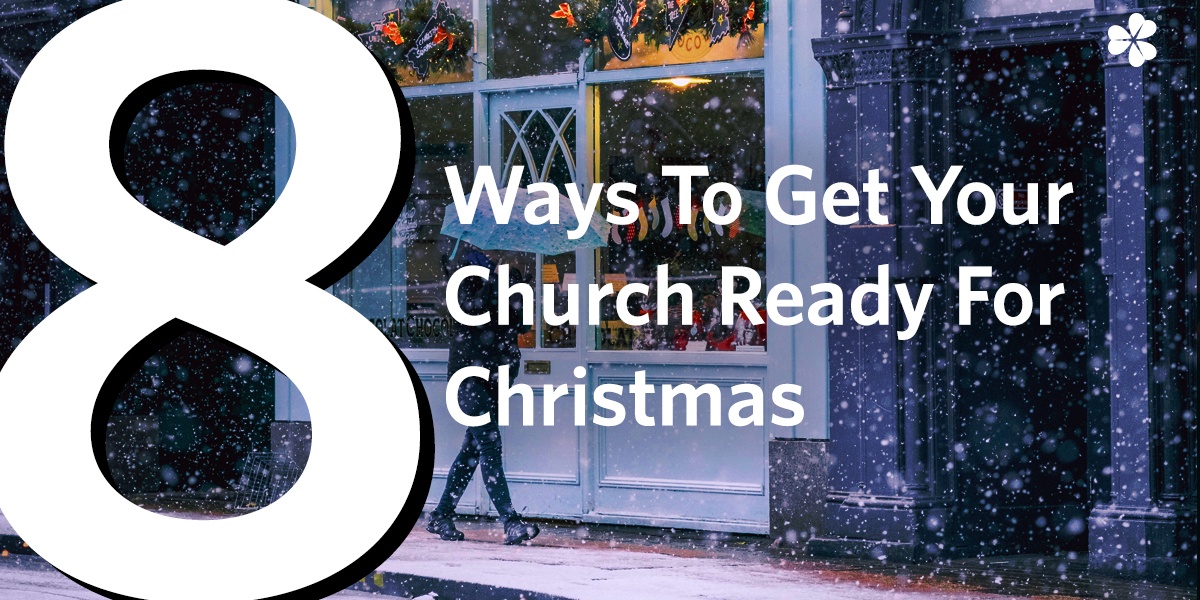 Hello, my name is Luke, and I love holidays!
No, I really do!
To people who know me best, it's no secret that I love celebrating just about any holiday. Case in point…
A fall seasonal celebration? Sign me up!

4

th

of July fireworks? Yes, please!

A birthday party? Wouldn't miss it!

A birthday party for my favorite coffee house? Yes, I'll turn even turn

that

into a holiday!
Do I celebrate church holidays as well? I'm offended that you would even ask!
Easter? Check!

And of course, Christmas!
I could keep going, but the point is…Christmas is coming!
And if you work at a church, then you know that Christmas is a big deal.
With Christmas approaching with elf-like speed, it means that the time for you and your team to get ready is NOW!
From your sermon series and special events to your website and announcements, it's time to make sure that your church is Christmas ready.
As a self-declared holiday expert, I'm here to help! Here are eight things you can do now to get your church holiday-ready this season.
1. Update Your Website
Believe it or not, your website is the place to start when it comes to making your church holiday ready. Why? Because there are so many visitors looking to go to church during the Christmas season. And if someone doesn't invite them to a specific place, they will take their search online! That's why having your website updated with all the holiday happenings at your church is essential.
Take the time to update your website with everything you have planned this Christmas. Then, take a second look at the basics, too. Make sure your links are correct, your church address and service times are listed, and all the primary information about your church is easy to find so visitors can get to it when they find their way onto your site.
2. Plan Your Sermon Series
One of the most important things you can do now to begin preparing for the Christmas season is plan your sermon series.
What is the core message going to be?

What parts of the Christmas story do you want to highlight?

How will you communicate the hope and life brought to the world through Jesus this year?
Spend time now praying about the message God wants you to share this holiday season.
For some of you, maybe it's a group of several one-off messages focusing on Christmas. For others, maybe it's a three or four part series that builds on each other and leads to Christmas. Maybe you have a separate message planned for Christmas Eve or Advent services.
Whatever it is, start planning, praying, and preparing now so that your sermons are set for the holiday season.
3. Don't Forget The Design And Decor
This is the fun part! I mean, who doesn't love some good holiday décor to get your church in the Christmas spirit?
Start planning what design and décor your church needs to get decked out for the holidays!
Maybe it's a set design specific to your Christmas sermon series.

Maybe it's an environment you need to decorate for a special event.

Maybe it's just the lobby and halls of your church that you need to create a Christmas feel for your holidays this year.
Set yourself up for success by thinking through, planning, and even purchasing what you need to create an atmosphere of Christmas at your church.
4. Focus On Hospitality
Remember how we talked about all those visitors looking for a church to come to this holiday season? Maybe they're new to the community. Or it's a family that's visiting members of your congregation. Or it's just someone looking to connect to a church for the holiday season.
No matter who or what brings them to your church this Christmas, make sure your staff and volunteers are prepared to receive them. One of the most important things you can do this Christmas season is focus on hospitality to all who join you, especially your visitors. Making a good first impression during this visit will encourage them to come back and visit again.
Talk to your team about what they can do to make sure both your staff and volunteers are focused on greeting and welcoming your holiday guests with hospitality.
5. Plan Your Special Events
Christmas is a busy season at your church, jam-packed with special events leading up to the big day! Whether it's Christmas plays, concerts, special Advent services, community meals, or Christmas Eve prayer gatherings, your church calendar is going to be full. That's why it's important to start planning, advertising, and talking about those special events now!
Think of these events as great outreach opportunities for people in your community. While some visitors may be intimidated to attend on an average Sunday morning, they may be more at ease to show up for a special Christmas service or event. So post about those events on social media, talk about them in your morning announcements, and encourage your congregation members to invite others!
6. Select Your Soundtrack
Who doesn't love Christmas music? Okay, a lot of people don't (but I'm not one of them!) I operate with a "Buddy The Elf" approach to holiday tunes: "The best way to spread Christmas cheer is singing loud for all to hear!" So make sure you set the soundtrack for the holiday season at your church by incorporating some Christmas music into the set list.
Think of this holiday season as a great opportunity to have a little fun with the music at your church. Create a playlist of classic holiday tunes to play as people enter and exit your services each week. Incorporate some Christmas favorites into your weekly worship set. Or create a fun mash-up to open the service and get your people singing along! However you do it, think about how you can use holiday music to get your people in the Christmas spirit!
7. Don't Forget Your Community
Although there's so much to love about the Christmas season, it's also important to remember that the holidays aren't always easy for everybody. For many, the Christmas season represents emotional and financial strain. That's why Christmas is a great time for your church to remember your community. Take a missional approach to the holiday season and focus on how you can support people in your community who are in need this Christmas.
Start planning and prepping now for how your church is going to support people in your community…
Partner with schools to support families who need help.

Raise money to shop for Christmas presents or send support to global organizations.
This list could go on for days. Whatever your team decides to do, get those plans in place now so that when Christmas rolls in, you're ready to help people who need it most!
8. Pray!
Finally, one of the biggest things you can do to get your church ready for Christmas is to start preparing your heart for what God wants to do. What better way to do that than pray? Ask God to lead you individually, as a team, and as a church body. Don't be cynical about the miracles God may have in store for you this Christmas season!