Five Tips for Creating a Church Budget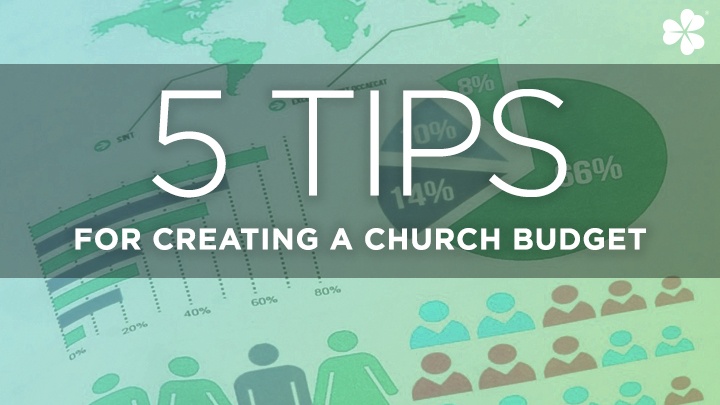 When it comes to being a pastor, one of the worst parts of the job has little to do with actually pastoring. In fact, for many church leaders, the most challenging, painful, and tedious part of the job is creating an annual budget (did anyone else just get a little sick thinking about it?).
While you may hate the process of developing your annual budget, it's not only a necessary part of the job, but also an extremely important part of planning the year for your congregation. Rather than dread planning your budget, why not equip yourself to be ready and do it well?
We've pulled together five tips to help take the stress out of numbers and budgeting.
1. Dream a Little.
Yes, it may sound crazy, but the first step to creating any successful budget is to allow some room to dream. Dreaming doesn't cost you a cent so spend a little time really thinking big before you even start your budget. Once you've landed on a general vision for the year, share it with the others on your leadership team. Invite them to dream with you. You'll be amazed at the big ideas they bring to the table as well. Use an idea board to help visualize your year, even breaking it down seasonally (spring, summer, fall, winter) to help make it more manageable. Remember, sticky notes and index cards are your friends in this process!
2. Break it Down.
Once you've got the year ahead of you laid out, break it down into major events and projects. You're going to want to create a separate budget for each of those things. Tedious? Yes, but it will be much easier and accurate to add up those smaller budgets when you're trying to figure out your annual proposed budget. Breaking your overall budget up into several smaller pieces will make it a lot easier to plan for those individual events and projects as well as track your spending throughout the year.
3. Focus on Cash Flow Over Calendar.
So many times leaders get to the middle of the year and realize they can't make payments or deposits because they haven't received their funds or budgets for the coming year. Try thinking ahead and budgeting for those future year items in your current year budget. This will help you stay ahead of the game and make payments as they are due, helping you avoid the stress of getting behind. This part of budgeting can be a little bit difficult even for the most math-minded of people, so don't be afraid to consult your go-to finance person for a little help.
4. Reference the Past.
Let your records do some of the work for you when trying to plan out what everything will cost for the coming year in your ministry. Go to your finance team for a report of all income and expenses from the last year, and use this as a reference point to get you started for planning the coming year. It will not only help you see the timeline of big budget items or events, but will also help you account for those boring monthly recurring expenses that are easily forgotten about.
5. Be Flexible.
Now that you've dreamed your dreams and come up with a plan, it's time for some flexibility. We all know deep down that the budget of our dreams isn't always the budget of our reality. Be flexible and don't let it set you back when your pastor or CFO says, "Sorry, we just don't have the money for that." Focus instead on what you can afford and give those things your all! Can't afford that new coffee bar you really wanted to buy? I have one word for you to come up with an alternative: Pinterest. Can't afford that international mission trip? Find a local mission you can support instead and make that experience incredible for your congregation.
No matter what you're facing, the bottom line is this: be flexible and willing to make those budget adjustments as they come, focusing instead on what's really important to you and your team and doing your best to make that happen.