Dear Clover Classic, Does Your Church Website Sometimes Look Weird?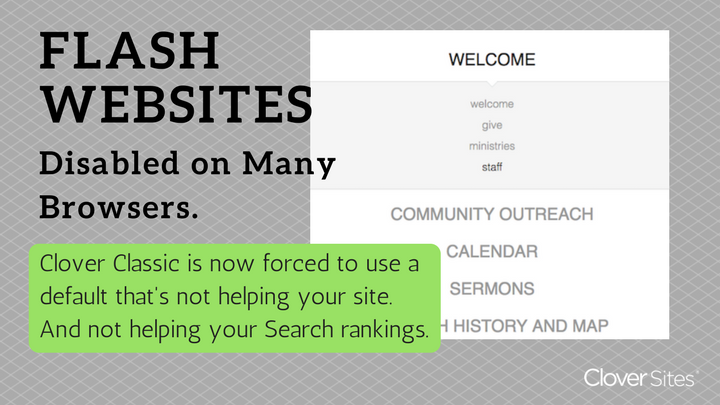 ATTN: CLOVER CLASSIC USERS -- we have good news to help you upgrade your website! [Note: those already using CS3 can ignore this warning.]
Does your website sometimes "go crazy"? Do the menus ever look like the menu in this image? If you're on Clover Classic, it's pretty likely Flash is causing problems for your website viewers and causing problems for search engines, too!
Because this issue is dependent on browsers (Chrome, Firefox, Safari, Internet Explorer) there's not much that Clover can do about it because there's no way to automatically override the browser settings. But YOU CAN fix it anyhow -- and FOR FREE!
The technology we used to build the original Clover Classic (lo, these many years ago) is not widely supported across the internet as a whole anymore. Most web browsers have stopped supporting Flash sites. They now automatically display a rough mobile version of your website. Even on desktops and large monitors, Flash sites are displaying badly and just look "weird." And these non-optimal sites are messing with your search engine results. You need a church website that is properly set up to be mobile-friendly and responsive.
There's a bit of a workaround (below), but that will only work if you can get everyone who will ever look at your website to make that update. The best solution is to take this chance and upgrade your site to the newest version of Clover Sites. It's better, faster, easier, and we've eliminated the upgrade fee!
The new Clover has a much more flexible, robust technology and will be ready to go with you for many years.
Clover Events -- keep your church growing and organized
Clover Give -- streamline and customize your online giving for low, low fees
Many Designs -- built with the church in mind, your new site is pretty, mobile friendly, and ready for whatever you can throw at it.
Clover Sites Support team -- you can still get help from the same great team you already know and trust.
We've made it simple, fast, and FREE. Click here to learn how you can start your site transition today. With a little focus, you could get your new site live before the end of Back to School time!
Your sermons and media can transfer automatically, too!
Some Brief Comments on A Temporary Fix:
Our Clover Sites Classic requires Flash, so you will need to upgrade! There is no short term fix. You can read more here, and check to see if your Flash player is updated here. However, Clover is unable to do anything to truly "fix" the incompatibility of Flash and browsers.
Long Term Fix Next Steps:
If you're still on Clover Classic, now is the time to think again about upgrading for FREE.
Clover Sites makes it easier for the "technical end" of building your church website. Building with Clover Sites makes it easy and beautiful for your congregation to engage with your church. It's also easy and beautiful for your admin teams. It's a win-win.
Have you seen how great the new designs are? We think you'll love them. Check out our newest design, Voyage, or another popular favorite, Bloom.