5 Tips for Clarifying Your Church's Brand Messaging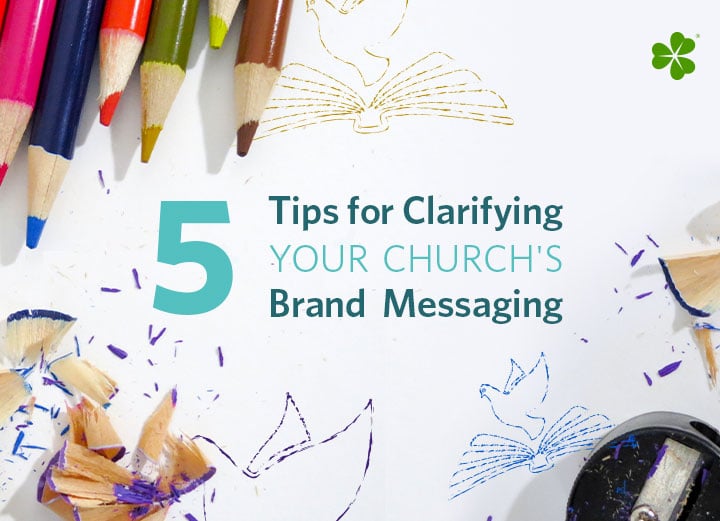 There's nothing more detrimental to a brand or business than cloudy, unclear messaging. Think about it. Is there anything more frustrating than logging on to a church website to find out more about who they are and what they do only to be left more confused than ever after reading their copy, checking out their design, or listening to some of their content?
Believe it or not, what's true for a company is true for your church.
Unclear brand messaging for your church website can leave visitors to your site feeling confused about who you are.
And if they're confused about your church online, they're probably not going to check it out in person. We definitely don't want that! That's why we've pulled together five tips to help you develop a clear and consistent message for your church's brand online.

1. Start By Addressing the Need.
The heart of the church is ultimately for the people it's trying to reach. So rather than make your brand messaging all about you, focus instead on them. Start by addressing the needs of the people in your community. What are the problems in your community you want to solve? What are the issues that you want to help address? What needs do you want to meet? Craft your content and church branding around those things. Address how your church will not only recognize the needs, but work to meet them as well. After all, isn't that the heart of the message of every church?
2. Tell Them Why.
We all know the message of the church doesn't stop with just meeting the needs of its people. In fact, working to meet the needs or trying to solve the problems is only part of the job. Make sure your messaging addresses why you do what you do. Focus on the why—the purpose of your church—alongside the what—the ministries at work in your community. Keep the why at the center of your messaging online so that visitors to both your website and your church leave with a clear understanding of the reason your church exists.
3. Avoid Complexity.
This one may seem obvious, but trust us when we tell you that it's not always our first instinct to keep things simples. Writing long paragraphs full of explanation? Easy. Figuring out a way to make your message clear and concise? Not as simple! Don't confuse clarity with over-explanation in your messaging. Avoid complexity by focusing on the key points in your message. Start by asking yourself if you could define your ministry in just one sentence, what would you say? That's your jumping off point to a simple message.
4. Be Consistent.
Repetition is key here! If you want your staff, congregation, and visitors to understand your message, you have to be consistent. Focus on using similar language and design across the board—both online and in your church. When you're not consistent, you give the impression that you're all over the place. By focusing on creating and using a consistent messaging for your brand, you'll not only be able to clearly communicate it new people but also help your congregation to know and recognize it as well.
5. Consider a logo.
Now while this isn't a necessity for brand messaging, we certainly think it helps! Think about some of the most recognizable logos you know. When you see them, you know exactly who they represent, right? The same could be true for your church! Designing a logo helps make your church recognizable in and around the community. Use it online, in signage, on Sunday morning bulletins, and more to get it in front of your people and make it a part of your messaging. Share your message with a designer or artist and ask them to create a simple visual representation of the heart of your church to contribute to your brand messaging.
Now that you know how to clarify your church's brand messaging, get started with creating a beautiful church website by viewing The Ultimate Guide to Creating Your Church Website.