How to Create Clear Next Steps for Your Church Website Visitors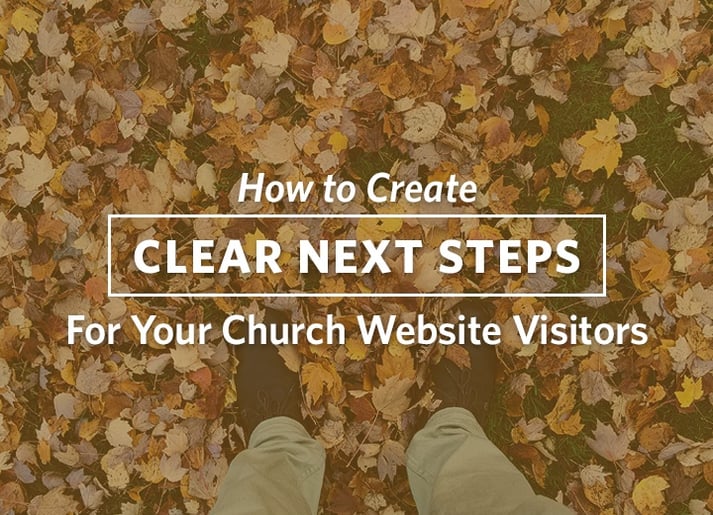 So you've done it… you've put in the hard work to make an incredible website for your church. And what's more, you've done what feels impossible at times and gotten an increase in visitors to your site.
Now what?
One of the primary goals of your church website is to take people from being simply visitors to becoming somehow engaged in person with your church.
Rather than leave it up to them to decide what to do to get involved with your church, take the guesswork out of it and give visitors to your site a clear, simple "next step" that will allow someone on your staff to follow up with them in person.
A personal connection with someone is what's ultimately going to make visitors feel safe, seen, and welcomed into your church on a Sunday morning. But you can't make that connection unless you first encourage them to reach out to you and let you know they're there!
That's a next step.
We believe next steps are such an important part of your site. They're so important in fact that we want to help you make sure you make the most of them on your site. Here are four ways you can go about creating clear, effective next steps on your church website.
1. Know Your Audience.
Next steps may be different depending on the person you're talking to. In order to create the most effective next steps on your website, consider your audience and how you can best reach them.
For example, if your next step is a sign-up for a children's program, direct your ask towards more content for parents and families. If your next step is to reserve a spot at an informative meeting about your church, direct your ask towards more content for new members or visitors.
Tailor your next steps to talk specifically to the audience you're trying to reach.
Use your web content to speak to your specific audience as you direct them to take the next step. Tell them why you think this next step is valuable to them and encourage them to get connected with someone at your church.
2. Make It Clear.
Be sure to clearly lay out for your visitors…
What the next step is.
How they can take it.
What will happen when they do.
For example, if you're asking people to sign up for an email list, let them what kind of email gets sent (newsletters, prayer requests, etc.), how they can sign up (click here, or fill out a form), and what they can expect to be getting in their inbox when they do (monthly or weekly updates).
People are more likely to take the next steps if they have their questions answered for them beforehand. Be concise, but clear in letting them know not only what the next step is, but also why it's valuable and what they can expect once they take it.
3. Keep It Simple.
You know that old adage, "Less is more?" Well, apply it here! Keep what's required simple for those taking your next steps.
No one wants to fill out a lengthy contact form or send an email answering a million questions. Focus on getting only the basic information you need to make the connection. Start simply with a name, a phone number, an email address, and what they're looking for at your church.
Asking too much or making your next steps overly complicated discourages your visitors. Keeping it simple and straightforward makes the next step less intimidating for all. You can learn more about people over time -- as you actually get to know them.
4. Make The Follow Up.
Here's the key: when people take the next step, you have to take yours, too! Don't let their effort be wasted!
Make sure someone on your staff makes the follow-up.
This is so important because it makes their next step worthwhile! It's giving them a personal connection to someone at your church—a real face they can look for and know on a Sunday morning.
That connection is not only going to help them be comfortable coming to your church, but it will help keep them coming back week after week.