Is Your Church Website Mobile Friendly?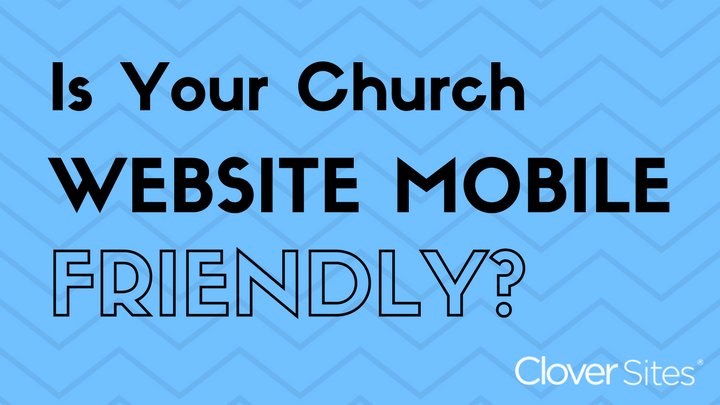 When it comes to accessing information online, think about the primary way you do it. What device do you use most often? When you need to find something fast or on the spot, what do you use?
If your answer isn't your phone, we're shocked!
In this day and age, people are using their phones for far more than communication. Phones have become one of the primary tools to access the Internet and find information when it's needed.
With nearly 50% of all web browsing happening on phones and tablets, making your church website mobile friendly is more crucial than ever before.
Now before you panic and wonder exactly how you're supposed to build a mobile friendly site, let us go ahead and ease your worries: all church websites with Clover are built to be mobile friendly.
All of our websites are natively responsive, which means that your content will automatically flow and fit naturally on each page. That way, it looks amazing and is easy to read whether you're on a laptop, a smartphone, or a tablet.
In other words, Clover sites are built to look amazing on any device, anytime and anywhere!
But, just in case you're still wondering, we've created a quick checklist for you to make sure you're thinking mobile when it comes to your site.
Use a Mobile Friendly Platform.

In the past, when companies designed websites, they often created separate sites or platforms for mobile users. That required pulling out certain content to feature, creating a different layout and format, and narrowing down your entire website to fit a mobile format. If that sounds like a lot of work to you, then you're right!
The easiest way to make sure your site is mobile friendly from the start and avoid the hassle of creating a separate site is to use a mobile friendly web design platform from the beginning. A program like Clover is innately mobile friendly, and so what you see on your laptop is what you'll get on your phone.
Keep it Simple.
This is a great rule for building your website no matter what. Clear, easy to read, and simple to navigate—those are the three biggest things to consider for any website, but especially a mobile one. The last thing you want to do is lose a potential visitor to your church because they had a hard time accessing your site or finding the information they need online.
Think about potential visitors or even members when you're creating your site. What might they be looking to find quickly on their phones? Is that information easy to find and read? When you're looking through your site, try to do so through the lens of your potential users and make sure the web experience is simple for them.
Use High-Resolution Images and Well-Chosen Fonts.
When it comes to your website, clarity is key—and not just with your messaging. Sure, you can craft an incredible message, but if your people can't read or see it, then what difference does it make? That's why choosing the right fonts, sizes, and images is so very important.
Just like on Instagram, hi-res images are extremely important on a mobile device. The better the image quality, the better the user will see it on a mobile device. Having extremely high-resolution images will help you avoid having pixelated or even blurry images when viewed on a mobile screen. The same is true for fonts. Choosing a well sized and easy to read font will make your site easier to read on a smaller device.
Never Stop Revisiting.
Once you've created your site, never stop revisiting and testing it, especially from your mobile device. Visit your site, revisit it, and then revisit it again! Try it from every device you can think of—iPhone, Android, laptop, desktop, tablet, etc. This will help you ensure that the site is clear and easy to use on any device, and if it's not, it will help you see what areas need to be modified to make it more user friendly. And, once your site is fully responsive, don't forget to share the news on social media to gain even more traffic to your site!