Green Thumbs: Lighthouse Church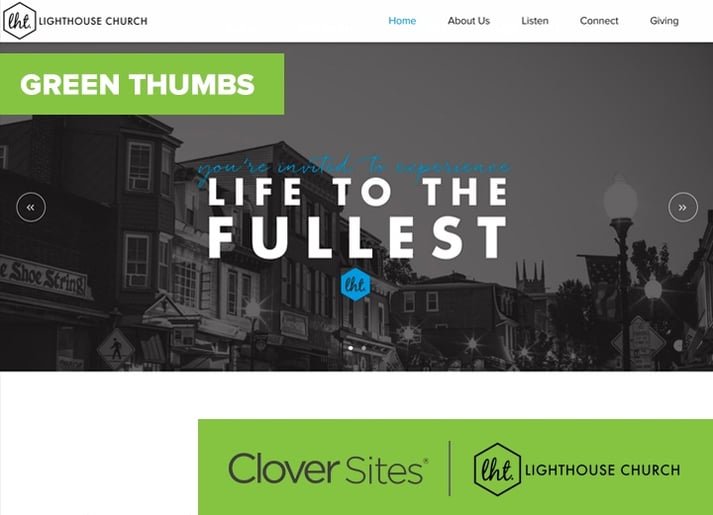 We could tell you a million times over how much we believe in our products at Clover and the impact they're making for churches across the country. But you don't want to hear from us, right? Why would you when you can hear it from church leaders just like you who have made the switch to Clover and experienced the results firsthand!
This month, we'd love to introduce you to Emily McKenna, creative director at Lighthouse Tabernacle in New Jersey.
Her job entails managing all things creative for Lighthouse—including their church website! Take a look at the incredible work her team did with Clover online at http://lighthousetab.com and read on for more from Emily on the difference Clover has made for their church online.
"When you're doing a million things at a church and trying to focus on changing lives and making a difference in your community, the last thing you need on your plate is a complicated website host," Emily explains.
That's why she and her fellow staff members at Lighthouse Tabernacle appreciate the ease Clover has provided them with for creating, launching, and updating their website.
"I've used programs for other projects, but I've found Clover to be much easier to use," she says. "I've actually recommended it to non-church companies as well because it's so easy and still looks professional."
Lighthouse Tabernacle made a complete overhaul of their website with Clover, building and presenting a new, professional and simplified presentation for their church online. For them, the process was clear and simple from start to finish.
"The whole process was easy and efficient. It was pretty easy to get the look we were going for which, to me, is paramount. Other hosts make it a bit harder to get a cohesive look and feel across the board. Even if I wasn't a designer, I could still put together a great look for our site with Clover."
Beyond just the initial creation and launch, the team has found the site to be simple to modify and update along the way. When changes need to be made or new information uploaded, everyone knows what to do.
"If other staff members need to make edits, it's so much easier to explain the process to them," Emily says. "The Greenhouse is so easy to use and a great resource to create an incredible site. It really has taken a lot of the tedious work out of creating a nice website for all of us."
But more than anything, Emily and her team have been thrilled with the overall response to their site. If the website is the front door to your church—the first impression for many—Lighthouse is making a great one online.
"We've gained a lot of new families because of the new website, and that is invaluable to us. Our congregation is more excited to share the site with their friends and family because they're proud of the look and trust that it's easy to navigate. We've even had people in other states and churches ask about our website—something that never happened before we started using Clover!"
These are the kind of results we're simply thrilled to hear!