Green Thumbs: Grace Baptist Church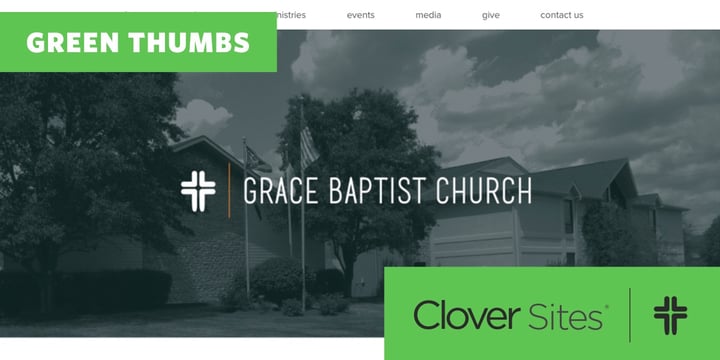 It's that time again: the time when we let church leaders just like you take the mic and share a little bit about how switching to Clover Sites worked for them. Today we're talking with Tiffani Puckett, who works with both the established Grace Baptist Church in Mason, Ohio and the church plant Redeemer Community Church in Loveland, Ohio. She used Clover to create new websites for both churches. Read on for more from Tiffani about how switching to Clover worked for her congregations.
We were using another web design and hosting service for several years, but recently decided to make the switch to something else. We weren't happy with their templates, response time to technical issues, their features, or the lack of mobile options. After looking into a few other companies, I decided to go with Clover both for our established church and our church plant.
I was drawn to Clover first because of the templates. The designs were visually the most impressive to me, but I wanted to get in the system and see how easy it would be to actually use one of those templates myself. I did demos of several templates, and it was all easy for me to do. It made sense.
Beyond that, I talked to the team directly at Clover. The customer support was just great, and their people were so helpful. They helped me work out the things that I didn't quite understand, and I truly walked away feeling like I learned how to use the site and templates for our churches.
They also worked with us on costs. Of course our more established church could make the switch work financially, but our church plant is still getting started. They don't have the money to spend all at once on a website. The team at Clover set them up on a payment plan so that they too could make the switch. I think that's important for smaller churchers or startup churches to know—that they have options to make it work for them!
In terms of designing and creating the site, I have loved my experience with Clover. The advanced mode for editing was really simple to use. And I loved the media section! I think the media options with Clover should be a huge draw for churches. People are looking for your sermons and services online, and Clover offers an easy way to get those things uploaded every week.
Content-wise, it didn't take me any time at all to move our content from our old site to our new site with Clover. From images to copy to media, it was simple and quick to do. And overall, everything with Clover is just neat and new. Our previous platform was dated and cluttered. I do graphic design, and I like a clean site. It doesn't matter if it's a church website or some other business, it should still look good. Clover helps us look good.
I'm really excited for the future of our websites with Clover. We needed a new face life, and I'm really excited about what we got. And if I can do it, anyone can!