Green Thumbs: Coastal Oaks Church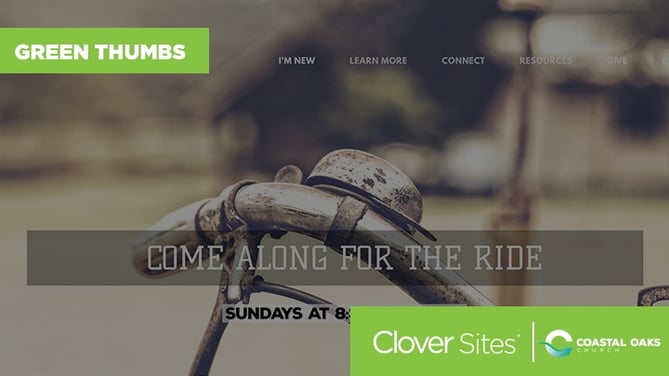 Case Study: Coastal Oaks Church
We love talking to churches that not only made the switch to Clover Sites, but are glad they did! Coastal Oaks Church out of Rockport, Texas is one such church. We talked with Andy Barlow, Associate Pastor of Worship and Discipleship (and budding web designer) at Coastal Oaks. He helped their church design, build, and maintain an incredible church website with Clover, and now he's here to tell you just exactly how it all worked for them. Take a look at their site at coastaloakschurch.org and read on for more on how Andy and his team feel about making the switch to Clover.
How did you feel about your website before using Clover?
Our church website was an absolute mess prior to jumping into a Clover site. We were using a UK-based web template service "geared for churches" with dated designs, zero flexibility and services, and all-around distant customer service. All these things led me to make the switch to Clover. Even the earliest versions of Clover were significant upgrades over our previous website company, and the current version of Clover is light years ahead of where we were.
What was it like creating your site using Clover?
The initial setup took some time—specifically regarding the changing of host servers. Once that was figured out, creating the site was a web-building dream. Along the way I had questions, but the Clover team was always great in responding with swift, accurate answers.
In what ways did Clover relieve some of the stress of creating a great site?
Their resources were great. The Speaking of Clover blog posts and tutorials were great helps when it came to building our site.
What has it been like for congregation members and site visitors?
Our congregation isn't super web savvy, but those that visit our site know that it's laid out in such a way that the most important info is easiest to find. On the visitor side of things, I would say at least 90% of our first time guests who have turned in one of our guest cards since we started using a Clover site about six years ago have indicated they came to our church because of our website. They all say that both in terms of visibility on the web and how nice it looks, the site drew them to the church.
What's been your favorite part of managing your site with Clover?
My favorite part of managing our Clover site is the ease with which updates can be made. Updates go live at the click of a button, and I don't have to worry about anything after that.
If you had to do it over again, would you use Clover again? Why or why not?
If I had to start over today building a web presence for my church, I'd definitely start with Clover. My experience with their affordable, stable products would certainly help in achieving a great site.