4 Ways to Develop Your Church's Social Media Presence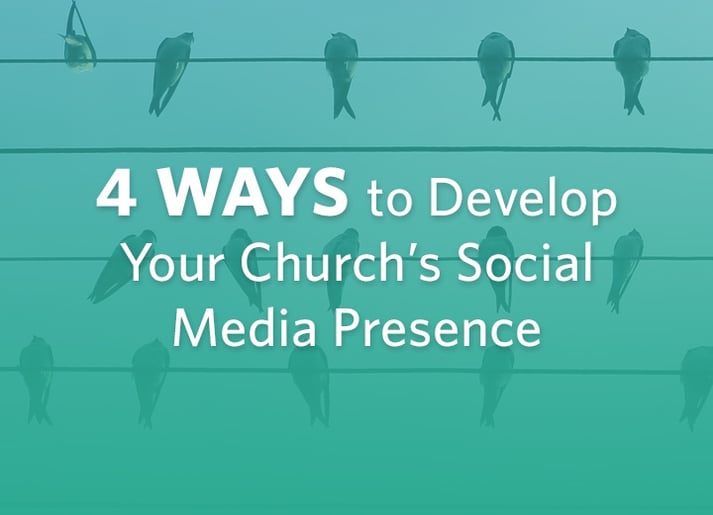 As church leaders, you know better than anyone that staying connected with your people is essential to the life and growth of your church. While it would be nice if you had the time to call every church member to check in weekly, take every visitor to coffee to introduce them, or contact everyone in your congregation personally to remind them of an upcoming event, we all know that's just not going to happen.
Wouldn't it be nice if there were a way you could quickly and easily connect with people on a regular basis to start conversations, encourage them with truth, and keep them up to date on all that's going on at your church?
Enter social media!
What better tools for communicating to your people than the apps most of them are using all the time? Trust us when we tell you that social media can be one of the biggest points of connection for your church.
Developing a strong social media presence for your church can not only help you better connect to the people who are already a part of your church, but can also help you reach potential new members.
Now, before you panic or roll your eyes, stick with us here! We know the idea of building your church's social media might feel overwhelming, but trust us when we tell you it doesn't have to be!
Here are four simple steps to help you develop your church's social media presence:
One: Pick Your Channels.
When it comes to social media, the options are almost endless. Instagram, SnapChat, Twitter, Facebook, Pinterest, GooglePlus—we're exhausted just trying to name them all!
Rather than wear yourself out trying to manage accounts on every channel, set yourself free knowing you don't have to do it all!
Choose one or two social media channels for your church and focus on doing them well!
Not sure which to choose? Think about where your primary audience is and start there.
Is your congregation primarily made up of families? Facebook may be a great place to start. Are you working with a mostly younger crowd? Consider Instagram as your primary social media source.
And the best part? Major social media channels like Twitter, Facebook, and Instagram can be integrated together, allowing you to easily connect and manage all three at the same time!
Two: Put Someone In Charge.
There are two keys to successfully running a social media account:
Consistency

Intentionality
While there are a lot of ways to achieve each of these things, the best way to start is by designating someone on your team to manage social media for your church.
In other words, put someone in charge!
If no one person owns the program, it will show. Posts will be inconsistent, comments won't be noticed, and eventually, your followers will forget about you.
On the other hand, if you have too many people trying to take charge, you'll create an erratic, over-loaded feed that people can't keep up with!
Having someone dedicated to developing and posting content will create a consistent and intentional feel on your social media accounts.
Three: Plan!
Remember what we said about consistency and intentionality being key to your social media success? Planning your posts will help you achieve both!
Stay organized by creating a calendar to help ensure you post regularly on a variety of topics. Think about what makes your church unique, what big and upcoming events you have scheduled, and what topics you're covering on Sunday morning in your sermons or series. Plan your calendar to highlight those things online.
Scheduling your posts around the life of your church helps you not only plan ahead, but also keep your social media presence active and up to date.
Four: Promote It!
In order for your social media presence to be felt, you have to let people know you're there! Just like for big events or new happenings at your church, promotion is key to getting people to show up.
Put links to your social media accounts on your church website and emails. Talk about them in your service announcements. Share them on your own personal social media accounts. Ask your congregation to do the same.
People can't follow you if they don't know you're there! Promote your church's social media to let your people know they exist and grow your influence online. If you have the budget for it, you can consider Google Ads or some paid Facebook placement, but that's a topic for another day!