Building The Welcome Wagon: 6 Tips For Onboarding New Staff At Your Church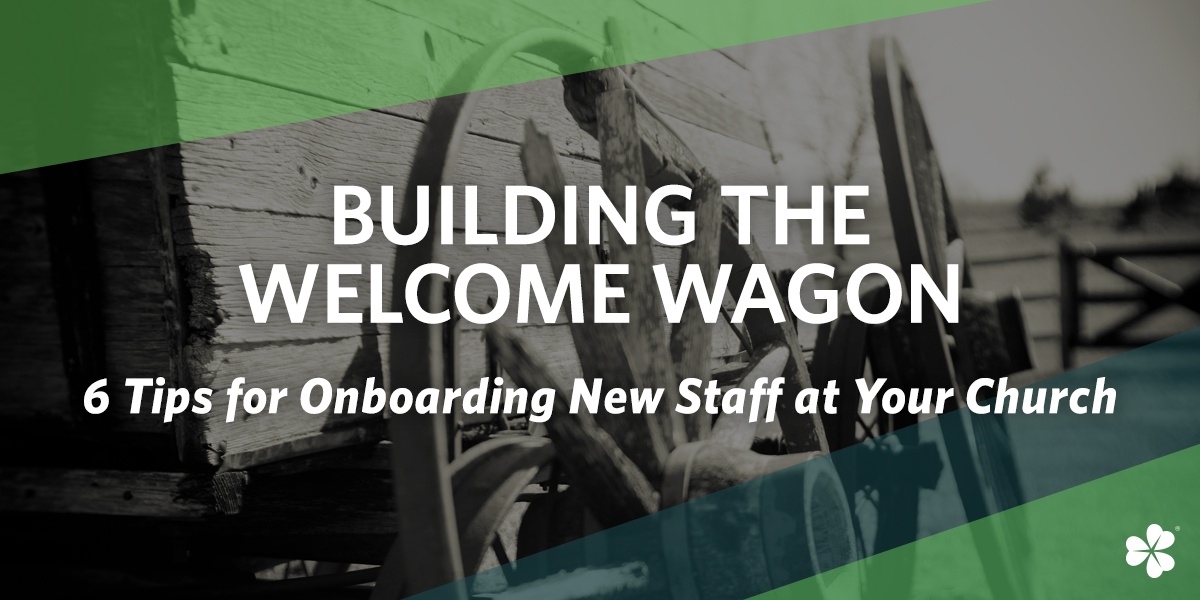 It's always super exciting to welcome new people to your church staff. New team members means new life and fresh perspective coming into your church, and that's always good news!
And it means more help, which hopefully means less on your plate!
It's so important to remember that when you welcome new members to your staff, you want them to feel like they're FULLY a part of the team as fast as possible.
For example…
You want them to feel excited about what's happening at your church.

You want them to get to know their fellow staff members as well as people in the congregation.

You want them to understand

why

your church does certain things the way it does. What's the mission and vision?

You want them to understand what it practically looks like, week-by-week, to work on your church staff.
One of the best ways to make sure that happens is to create a process for onboarding new team members. Onboarding is a step-by-step way to make sure you cover all the bases when it comes to bringing new people on staff.
Here are a few ideas for things to include in this onboarding process…
Reinforce The Mission And Vision.
What makes your church unique? If it went away, what would your community be missing?
Vision is the why behind what you do. New staff members need to understand that. When your staff is unified around a common goal, they will obviously be more effective. It also ensures that a consistent message trickles down to your volunteers and congregation members.
Hopefully the vision of your church is talked about during the interview process. But once the new staff member is hired, make sure you continue to reinforce it, and show specific ways that it informs decisions across the board. If you can document this, even better!
One interesting way to do this is have different staff members talk about the vision of your church during a staff meeting. It will be informative (or frightening!) for you to hear, and it will also give your new hire an insider view of how vision plays out in different areas of your church.
Go Over Systems And Processes.
Just because your new staff members may come from the church world, it doesn't mean they understand exactly how the world at your church works.
That's why it's key to include a walkthrough of systems and processes specific to your church in the onboarding process. For example...
Filing expense reports.

Setting up your work email.

Things like work hours, vacation time, dress code, church calendar, etc.

Code of conduct for staff members.
If you don't have one already, it would be a great idea to develop an employee handbook. A couple of pages in a Google search for "church employee handbook" will give you great examples of what to include in this.
If creating a handbook from scratch seems too overwhelming, at least create a 1-2 page Word document.
Set Them Up With The Rest Of The Staff.
You want your new staff member to feel welcomed by the rest of your team. But don't just assume that your team will do a great job of going the extra mile in this area. After all, they're busy thinking about all the things they have to get done.
So make sure you not only publically announce them and brag about them to your staff, but also walk around with them and individually introduce them to your team members. You may even consider planning something like a staff lunch on the day of your first staff meeting with your new hire. Whatever you do, make sure there are ample opportunities for your current staff to welcome its newest member.
Introduce Them To Your Congregation.
To get a staff member off to a great start, you want to make sure you tee them up to win in the eyes, hearts, and minds of people in your congregation. So introduce them to your church.
But don't just introduce them, introduce them well! Plan out what you're going to say to make a great public announcement about them during a Sunday morning service.
Tell people that your new hire will be hanging around up front after the service. Encourage people to come up and meet them. Also, send a well-crafted email to your church that brags on your new employee (include a picture of the new staff member and his or her family). You could also consider posting a photo and a quick bio of him or her on your church social media channels.
Whatever you do, make sure you go the extra mile to see that people in your church get positively acquainted with your new staff member!
Follow Up.
The onboarding process may be short initially, but don't forget to follow-up with your new team member regularly during their first few weeks and months on the team. Schedule meetings, lunches, emails, and texts to let them know you're available to help them as they continue to make this adjustment. Make sure they feel comfortable asking ANY question they may have (make sure you validate all of their questions; remember, this is a confusing time for them). Assure them that they their questions don't have to be job-focused only. If they've moved to your town to take this job, they'll likely have questions about things like schools, restaurants, doctors, and dentists.
Helping them get established in your community is just as important as helping them get established in their new role at your church!
The simple act of following up will go a long way in making your team members feel seen and appreciated by you as a church leader.
Utilize Your Church Website.
One of the coolest parts about all of this is that you can do some of these onboarding steps on your church website. Clover offers you the option to include private, password-protected pages on your website. Pages like this are great for things like staff bios and pictures, staff policies and calendars, and back-office systems and processes. Plus, it will be a great exercise for your staff to get this stuff documented so that this process will be more seamless in the future!
For more info on how to add password-protected pages to your website, click here.