Behind the Scenes: Our Favorite Features at Clover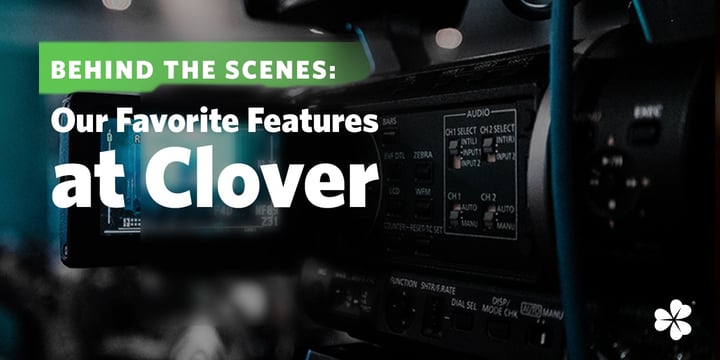 Have you ever been on a behind the scenes tour? The ropes get removed, the curtain gets pulled back, and you get an inside look into what's really happening behind the scenes to make something amazing on the surface.
If you haven't had the experience before, then today's your lucky day! Because the ropes are getting removed, the curtain's getting pulled back, and we're giving you a little inside look into the things that make Clover work so well for churches just like yours!
Our goal is to change the way you think about church websites. Gone are the days when church websites are synonymous with words like "stuffy" and "out-dated."
At Clover, we think church websites can look just as professionally designed and beautifully created as any other website.
And we're going to give you a little glimpse at what we think sets Clover apart to make designs like that happen for churches just like yours. So keep your hands and arms inside the vehicle because this tour is about to begin!
A Variety of Templates
Every church is different, and it's important that your website reflects your ministry specifically. With a variety of templates, we've created plenty of options to convey the unique character, style, and vision of your church. Our goal is to ensure that no church is left without a template that will truly work for and reflect their ministry.
Mobile Compatibility
The world has gone mobile, and fortunately so has Clover! With nearly 50% of all web activity happening on phones and tablets now, having a great experience on mobile is more important than ever. All websites from Clover are mobile responsive—which means they look amazing on any device, anywhere, anytime. You don't have to do anything but create your site; the stunning mobile experience comes with the deal!
Section-Based Editing
One page of your website can hold a number of different media. From text-blocks of content to photos to media elements, each one is edited in a different way. That's why we offer section based editing on every page of your Clover site. You can quickly rearrange sections by simply dragging and dropping, or edit one section at a time with a simple click. It keeps things simple and gives you the freedom to create and edit at your own pace.
Clover Give
Giving is huge for your church and that means it needs to be huge for your website! Convenient giving options encourage first time givers to make a donation and allow faithful regulars to give more easily and consistently. That's why we've made our online giving platform, Clover Give, easy to integrate with your site. With it, your congregation can reach out from wherever they are (website, text-to-give, kiosk, recurring, etc.) and support the worship and work of your church. Plus, with Clover Give all of the pricing is straightforward and easy to understand (you can even check it out here). That makes it easy to let Clover Give fund your ministry on your site!
Media Player
People are looking to your website to catch a glimpse of your church. They want to know what they're going to see and hear on a typical Sunday morning. That's why it's so important to have media available on your website—to share your message anytime and anywhere. We've created the easiest way to get your messages and other media onto your website with only a few clicks. Our media player is beautifully designed and fully responsive so you can reach your people with your messages wherever they are.
The Greenhouse
We've saved the best for last because we're so proud of the Clover Greenhouse. We built the Greenhouse to allow anyone to create and manage a website. You shouldn't have to be a web designer to use a system that makes your website look good. That's why we built the Greenhouse—to make an easy to use, accessible tool for people like you. It was built with real people in mind. And with both Easy and Advanced modes, editing your site is both incredibly simple and remarkably flexible.