Avoiding the Home Page Headache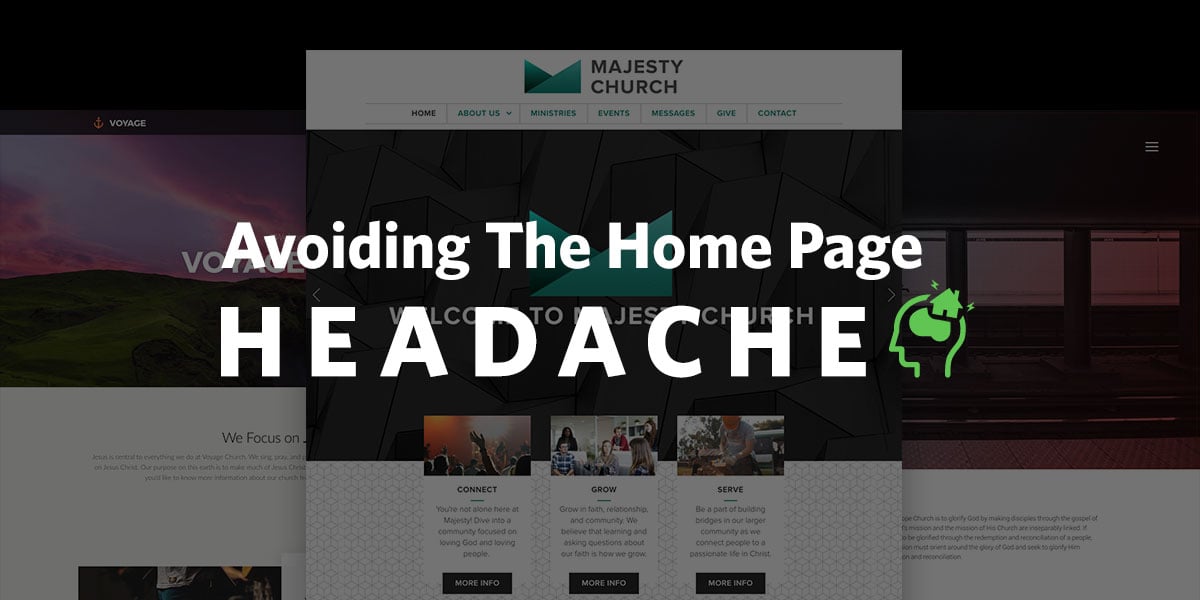 We've said it before, and we'll say it again…
Your website is the front door to your church.
It's the first thing most people see. Before they ever set foot in your church's actual lobby, they'll spend time on your website. That's why you want their experience on your site to be so simple, easy, and engaging that they'll make the move from spectator to attendee at your church.
One goal of any church website should be to move visitors from behind the screen to inside the walls of your church.
And one of the best ways to do that is to make sure your website makes a great first impression! If the website is the front door to your church, then the home page is the front door to your website!
It's the very first thing every single person sees when they get on your site. Which means that it's vital for your home page to operate in a way that attracts, not distracts!
We're here to help you in any way we can!
But before we jump in, here are just a few things to think about when it comes to setting up your homepage…
Remember your audience.
Know that both visitors and regular attenders will check out your site, so make sure your homepage suits both. Here's a simple question (with a complex answer!)…
Does our content speak to both without isolating either one?
Keep it simple.
If the question above ↑ seems overwhelming, this should put your mind at ease…
Less is more on the homepage!
If you go for clear and concise, and avoid clutter and confusion, it's a win for everyone (this goes for both content and imagery!)
Let your sitemap do the work.
Your homepage is just that—only one page! Avoid the temptation to fit every detail of your church on this particular page. Instead, put your sitemap on your homepage and let it direct people to the information they need about your church.
Now that we've covered that, let's talk specifics!
Here are five things to include on your church homepage and five things to NOT include…
Homepage Must-Haves
Call to action for visitors
Your church homepage is an amazing tool for attracting first-time visitors to your church. Be sure that your homepage includes a call to action for people who are new to your site or church. A simple "Visiting us for the first time? Click Here!" to take them to a new visitors page will go a long way!
Service times and location
Don't assume that the details of your church services are obvious. In fact, this is one of the first things people look for on your homepage! Make sure to include times, locations, and your church address (bonus points if you make it clickable to go right to Google maps!)
This one is important! Make sure that anyone on your homepage can quickly understand the mission and vision of your church. People visit your site (and your church) to see if they align with your mission and vision. But they can't do that if they don't know what it is!
If you have a mission statement, this is a great place to include it. Don't inundate people with lengthy content: just give them the highlight reel. Remember, they can click on your sitemap to get more info on another page. The goal is simply to give people a snapshot of what your church is all about.
It's great for people to see that your church is a real place with real human beings. Photos give people some insight into your church's vibe and atmosphere. So make sure you have a couple of photos on your homepage! Include images of people in the lobby, in small groups, or doing other common activities. Pictures of families and teenagers are great, too. Just look for pics that you think best represent your church family!
Don't skip this one! Let people know how to get in touch with someone at your church. A simple "Contact Us" link works great. Whether it's an email address, phone number, or both, having a place to ask questions is super-helpful for both visitors and attendees.
Homepage Must-Not Haves
Keep it short and sweet on your homepage. People are visiting to get a snapshot of your church, so make sure the content of your homepage only gives that. Avoid the temptation to dump everything on your homepage! Remember, your sitemap will take them to the rest. People don't want to scroll to read a bunch of content. They want to get a quick look at your site and go from there.
Remember, the homepage is for both visitors and attendees alike. Too much insider language on your homepage will confuse your visitors. They'll immediately feel like outsiders, and that's the last thing you want!
When someone visits your site for the first time, you want their experience to be easy. You want them to feel like the process of finding what they're looking for on your website is smooth and simple to follow. So avoid complicated navigation and hidden information on your homepage. If they have to scroll too long or look too hard to find something, they're most likely going to give up. And when they give up, they'll probably never get up and go to your church in person.
There are a lot of cool things you can do on your church website. But avoid the temptation to overdo it. Too many pop-up options will deter visitors from staying on your site. Pop-up boxes that ask for email addresses, a video that plays automatically, or even a picture slideshow is probably too much to start. Don't overcomplicate the experience by hitting visitors with too much stuff. Instead, keep it simple!
We've touched on this topic before, but it bears repeating! Most users are visiting your site via their mobile device. So if your homepage isn't mobile-friendly, they aren't going to see it in a good light. Make sure that your website is engineered to be mobile-friendly so that visitors can see and use it clearly. **(Hint: All Clover templates are designed to be mobile-friendly!)