Ask Luke: Answers to Common FAQ's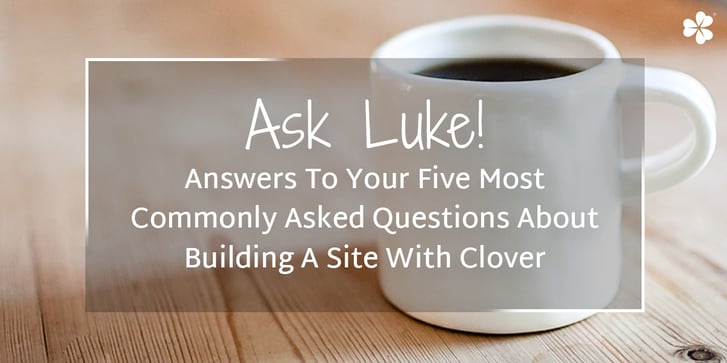 Hi guys!

It's me, Luke! I'm your resident Clover support guy, web guru, and friend to all of you out there who've been assigned the sometimes daunting task of building and maintaining a website for your church.
I've been a part of the team here at Clover for more than eight years now. I've learned a lot along the way about what it takes to create the kind of site that engages visitors and draws them to your church. And now I'm here to share some of those things with you!
Welcome to our first ever Ask Luke segment here on the Clover blog. Today, we're tackling some of the most commonly asked questions our support team gets about building your site with Clover.
If you've got questions that you want answered, submit them to our support team and look for them on our blog or in your inbox soon. In the meantime, read on to hear some of my answers to your biggest Clover questions.
Why is my site not live?
If your website is taking a little while to actually launch, remember that there's a lot happening behind the scenes. It's important to keep in mind that it sometimes takes up to 24 hours for a domain name to properly point to your site. During that period, the domain name's servers are updating, aligning, and connecting around the world to display the change. So for at least the first 24 hours, patience is key!
Once you've passed the 24-hour mark, you'll want to do a little troubleshooting. Start by making sure you're A-record is still pointing the correct IP address: 52.27.100.214. Now if that sounds technical, it's because it is! That's where our team comes in. If you need help here, feel free to give us a call at 805-527-8900. There you can talk to one of our support guys who will walk you through the process and help you troubleshoot as you go. Or if you're feeling brave and want to try it on your own, check out this helpful article to take you through the process step-by-step.
How do I add media (video, gif, or image) to my site?
Who doesn't love a good video or a compelling image on their site? We know you do! That's why here at Clover we've tried to make adding media of any kind to your site as simple as possible.
Any section on a Clover site has an image box option that allows you to upload and place any image within that box. That's the quick and easy way to make it happen.
Creating a media player is a little more complex. However, it does allow you to upload your audio and video easily to your site so it's worth the trouble. To create a media player in the Greenhouse, you'll simply click the "Edit Sections" button in Advanced Mode. Then choose the "Add New Section" button, select "Media Section," and save it to your site.
Once it's there, all you have to do is add your media. Simply click within the Media Section you've added to your site and drag and drop the file or upload it to your site directly from your computer. You can edit your media item's information from there, including a title and description.
How do I create a form?

One of the most important functions of your church website should be to capture the information of the people who stop by. You can't follow up, get in touch, or send more information if you don't have a way for them to let you know they were there. You can use forms for everything from submitting prayer requests, signing up for events, or asking for more information about a ministry at your church. They're multifunctional and crucial to your site.
And believe it or not, adding a form to your site isn't as hard as you may think. Just head into the Greenhouse and choose the "Forms" icon under your site's name. Choose the "Create A New Form" button in the bottom left corner to begin. Here's where it gets fun! You can either choose one of Clover's available form templates or create your own from scratch. Simply drag and drop the items you want included in your from the right column to your form. Once you've added all the ones you want in your form, click on the gear icon next to each to edit everything from titles to information included.
Not sure you've got it all right? That's where the preview option comes in. Click "Preview Form" in the bottom left corner to make sure everything is as it should be before saving and publishing it to your site.
Can I set up email notifications for forms?
As soon as people ask me about adding a form to their site, they always follow it up with this question. I mean, what's the point of collecting information if you don't know where it's going or who's going to see it? That's why Clover makes connecting your online forms to your email quick and easy to do. You can enable notifications to an email when a form is submitted, and every single piece of information from the completed form will be included in your inbox.
To start, go to the editing page of your form and select "Form Properties" from the bottom left corner. Go to the "Email" tab and enter the email address you want to receive all the information collected on that specific form. To enter multiple email addresses, simply separate them with a comma and no extra spaces. Double check all your spelling and spacing to make sure every email is entered correctly.
From there, you can customize everything from the subject line to the sender to the body of the email. Keep in mind that the only person seeing any of the information above is the staff member at your church who will receive your form's information so don't worry about making it too official and fancy. The most important thing to do is make sure you select every placeholder you want included in the body of the message. In other words, what pieces of the form do you want that person to receive? Click on those placeholders to ensure that information will end up in their inbox when the form is received.
To finish, simply save and publish and get ready to see your inbox explode with all the people wanting more information about all the cool things happening at your church.
Can I move, change, or edit the sizing of a logo area on my site?
Chances are your church has some sort of logo. You know, something that people see and automatically associate with your church. It's a staple of your brand and mission as a church. So that definitely means you want to include it on your site!
I've got some good news and bad news and then some more good news for you here. The good news? Every single Clover template includes a place for your church's logo to be featured. The bad news? The logo placement is specific to the design template you've chosen. That means it can't be moved or resized within your site.
But remember, there's more good news here! If you don't love where your logo ends up in the design template you've chosen for your church, there are plenty more Clover templates to choose from. If you find a theme that offers a better fit for your logo, then give us a call. Our team will help you switch your site to the new template totally free of charge! Free stuff? If that's not good news, I don't know what is!
Have a support question you want answered? Looking for more information about how to navigate Clover for your church? Contact our support team today for help!