An Online Giving Tool Comparison: Finding the Best Fit for Your Church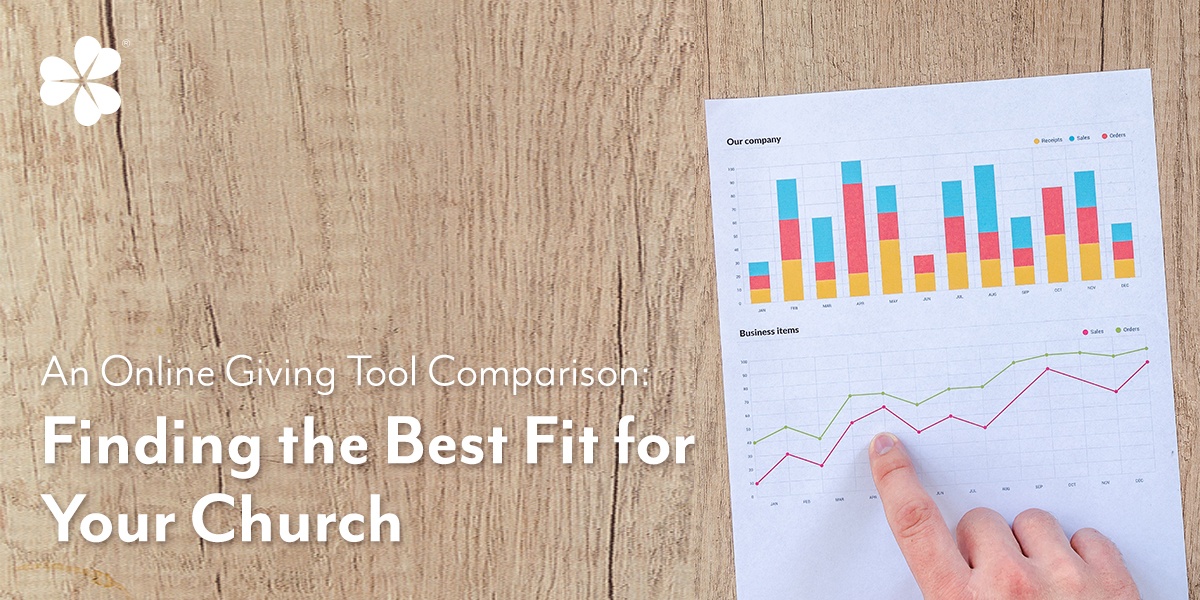 Fact…
Your church needs the financial support of your people to keep going and growing.
We all know that's true, right? Great!
Another fact…
Digital giving is the best way to reach your people.
We've said it before: the trend in giving is going digital. More and more people are giving their money online. As a result, churches are looking for a way to help their people do just that in an easy, simple way.
Even though we have an online giving tool of our own (Clover Give)—and we're obviously biased towards it! —we want to help you make a decision on the online giving software that's best for your church staff and congregation. It's a really big deal! At the end of the day, we want your church to find the right fit for its specific needs.
With that in mind, we've created an online giving comparison tool to help you get an honest (and hopefully objective) look at some of the top online-giving platforms out there right now.
See which one is the best fit to keep the funds flowing in online at your church. (Hint: We hope it's ours!)
PayPal
STRENGTHS:
When it comes to recognizing an online giving software, PayPal certainly wins in name alone. Anyone who has given money or paid in the digital world over the last several years knows PayPal to be a trusted source through which they can send their money.

Most people in your congregation probably already have a PayPal account, which makes the onboarding process super-simple.
WEAKNESSES:
Though they charge no fees to set up, PayPal's routine transaction fees are some of the highest out there.

There is no text option for giving through PayPal, but there are other routine digital options such as mobile card readers, online donations, and even Facebook donations.

The program offers an easy "Donate" button to be added to your site. But once taken to the giving page, there's no option to incorporate your church's specific logo or branding. So while the platform is recognizable in name and function, it loses the personalization of making sure users know they're giving specifically to

your

church.
Pushpay
STRENGTHS:
Quick and simple to use, Pushpay is an online giving tool that works for givers on the go. They pride themselves on making giving as quick as ten seconds.

The platform recognizes the increase in mobile devices as the primary source for any and all digital functions, and they've made their mobile app the focus of their platform.
WEAKNESSES:
Though easy to use and simple to sign up for, the downside is that PushPay requires users to give through their own mobile app. There's no option to use your church's app or even branding through PushPay, which could scare users who aren't sure where their money will end up.

PushPay does rank as one of the highest in cost, with a monthly fee of $99 to use. While this may work well for mega churches with bigger budgets, PushPay could be difficult to afford for those needing a less expensive option.
SecureGive
STRENGTHS:
SecureGive is the first church-specific software provider for online giving, proving it was ahead of the curve when it comes to the digital giving game.

They also created the first giving kiosk for churches.

They offer great mobile app features and branding, making integrating SecureGive to your church's existing mobile app easy.
WEAKNESSES:
SecureGive runs into problems, as the kiosk remains their primary focus. For big events or major giving pushes this may work well, but for day-to-day giving, it's not as feasible.

In terms of cost, the savings are minimal.
Clover Give
STRENGTHS:
As an online giving platform, Clover Give is both well designed and easy to use. The software allows for one-time gifts and specific donations, as well as the option to set up recurring gifts.

Additionally, givers will feel comfortable using the software because it can be branded with your church's logo and information, allowing you the comfort of knowing that your information is secure.

The options to give are endless (online, text, kiosk, check processing, etc.).

Price-wise it rates low at only $10/month, and it has lower percentage transaction rates.
WEAKNESSES:
Sometimes, the abundance of options can confuse new digital givers.

Clover Give was created to work well with a Clover-designed website. So while users with other platforms can certainly use the program, the onboarding may be slightly more complicated for them.
So there you have it—a rundown of some of the best online giving software out there for your church!