7 Steps To Pulling Off A Successful Year-End Offering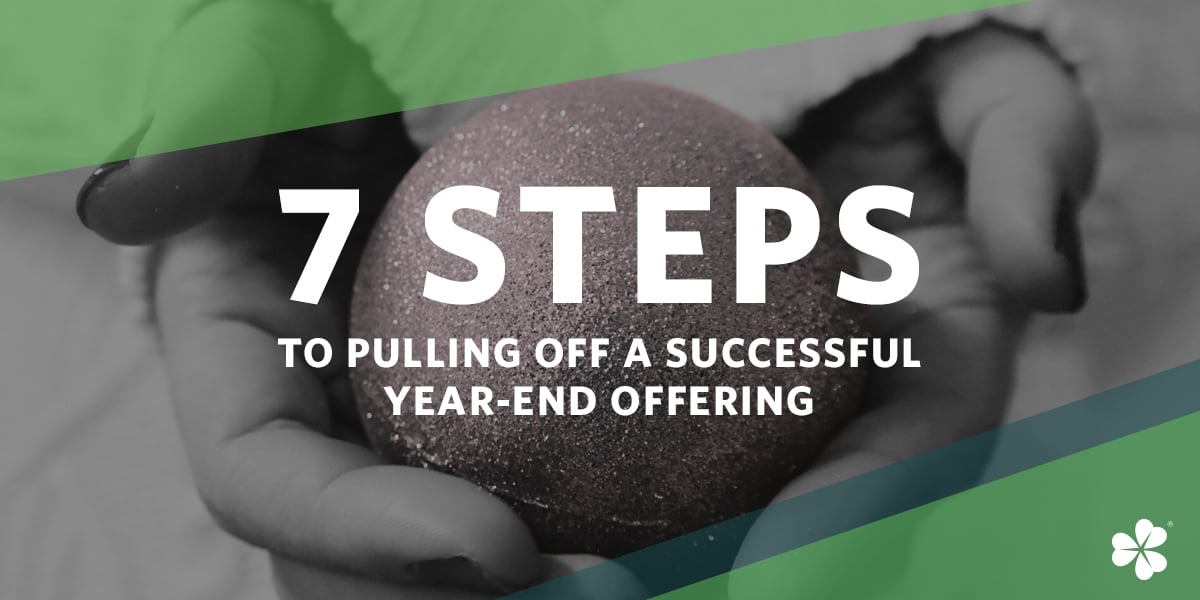 We're fast approaching the end of the year, people! It's amazing how fast a year goes by!
The new year is peering around the corner, but first we have to make sure we handle the busy, year-end season at our respective churches.
There are a lot of things that permeate the air during the year-end season, but one of the most prominent sentiments is generosity.
Think about it. Is there any other time of year when people seem more open-handed and ready to give? (Can anybody say tax break?) It seems like the month and a half leading up to the new year is when people are most likely to respond generously. You just don't find that the rest of the year.
That being said, it's a great time to tap into that spirit of generosity and do a year-end offering at your church. It gives your congregation an opportunity to respond to God's call right there at your church—putting their funds toward supporting the mission and vision of your church.
With so many other people, programs, and organizations asking for your congregation's money this time of year, you have to be intentional with your ask. If you want your year-end offering to be a success, here are seven things you can do to make sure your final push is a win.
1. Designate A Purpose
First things first, you have to create vision around your year-end giving. Don't just let this be another traditional Sunday offering or fundraising push. Instead, find a specific purpose for it. That's your why when you ask your congregation to give!
Your purpose (your why) is what you're trying to do or accomplish with your year-end offering.
Maybe it's a chance to catch up on your budget before the close of the year.

Maybe it's an opportunity for your church to give to the community during the holiday season.

Maybe it's a push to fund a specific program in your church.

Maybe it's a preparation fundraiser to help you launch a new initiative next year.
Whatever it is, make sure you connect the offering to purpose! Connect your congregation's generosity to the why behind the offering.
2. Establish A Goal
A lot of churches ask for a year-end gift without much expectation. After all, if people give anything, you're happy, right?
While that's true, setting a goal for your year-end offering can actually help more people give! It will inspire and motivate people to give because they're aiming at something specific.
So go for it! Give your year-end gift a goal. Pick a specific amount you want to reach by the end of the year and tell your people about it.
3. Set It Apart
Remember, you want your year-end offering to be different from other giving options at your church (in fact, you want it to be different from other generosity campaigns during the holiday season!)
In order to do that, you have to do something to set your year-end offering apart. Maybe it means giving this campaign a catchy name. Or maybe it means creating a specific brand or logo for it.
Whatever it is, do something that makes it feel a little more like a unique, one-time opportunity. This will make it feel bigger than a typical offering!
4. Create A Schedule
The most successful initiatives at your church typically have one thing in common: they're organized. Think about it: when you create specific to-do lists and timelines for giving campaigns, don't they seem to go better?
That's because they're thought out and planned out!
Your year-end offering is not different. Creating a schedule for your year-end offering will not only keep your team on track, it will a create strategy for the entire campaign!
So think through a calendar from beginning to end of your year-end campaign! Think through ALL the steps of the process—the meetings, announcements, communication, slides, videos, and more. Schedule them out before you get started so that you have a playbook to follow as you more through your year-end offering.
5. Make It Happen
This may be the most important step in the process!
After all the thought, planning, and scheduling, it's time to actually do something! Let your people know that it's time to give!
The biggest key is to clearly invite people to give! Remember, you're not asking people for something: you're inviting them to be a part of something bigger than them! Clearly invite people to generously respond to what's happening at your church. Give them a vivid opportunity to help and impact other people!
6. Point Them Online
The goal of the year-end offering is, of course, to raise a specific amount of money for a specific purpose at you church.
But another great win in pulling off an awesome year-end offering is to set up your people to give online. Point your people toward digital giving during the offering. As they give online for this campaign, give them the option to sign up for recurring, digital giving. It's a great way to inform and motivate people to tithe digitally in the future.
Show people that in the same way their gifts to your year-end offering will make a difference now, their consistent, predictable, online gifts can make an impact in the future of your church!
7. Show Your Appreciation
Don't forget to close your year-end offering by showing appreciation for people who gave to your church. Because this end-of-year season is marked by a pull to give to a lot of different causes, you want to make sure that you stand out with your gratitude!
So send a note, make a call, write an email, buy a gift, shoot a text—do whatever you can to say thank you to those who participated! Your response to generosity will actually motivate people to give again! It will help you win in future giving campaigns!