7 Proven Ways Video Will Help Your Holiday Ministry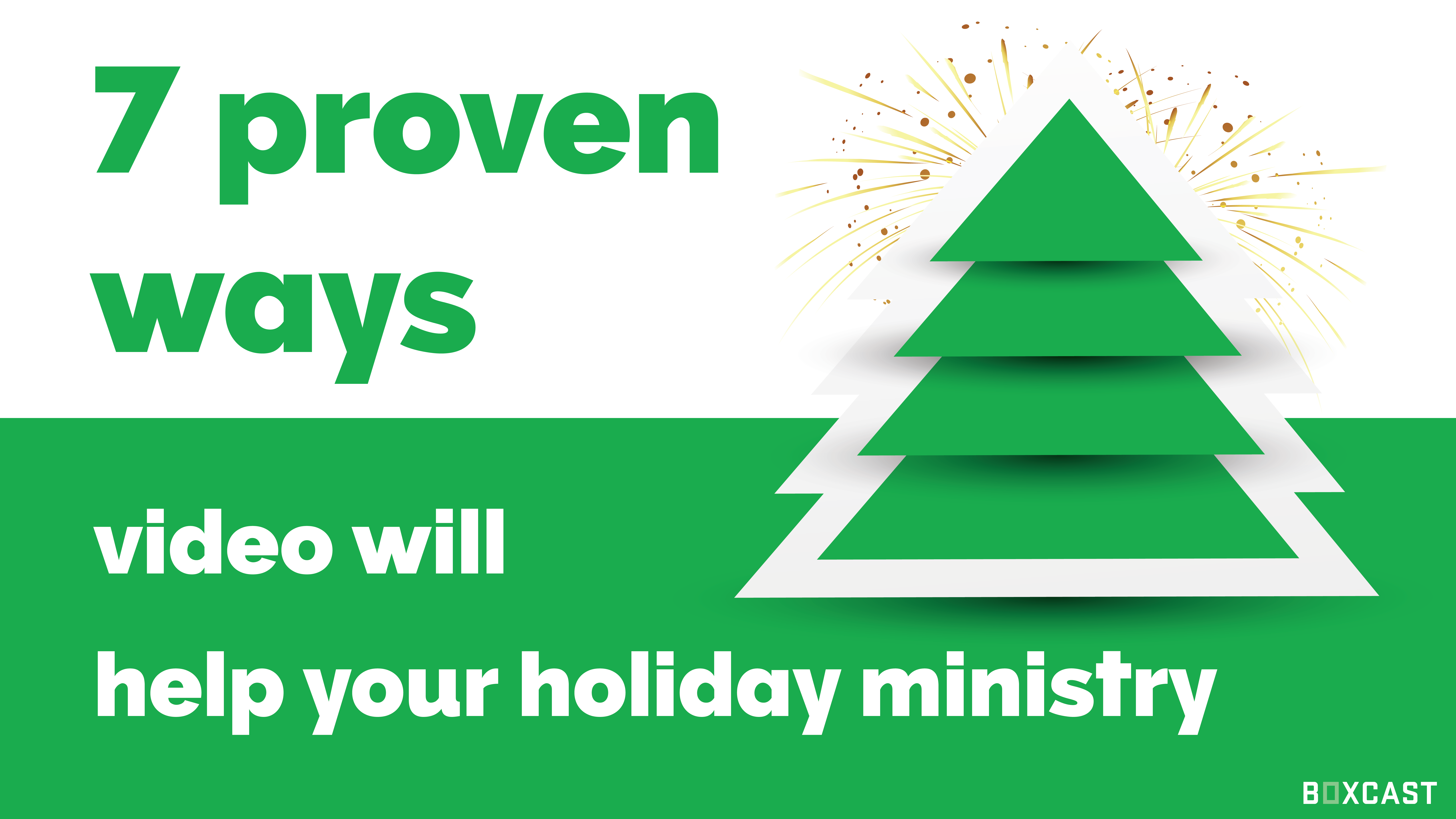 Churches today that don't use video confine their outreach potential and limit their overall impact.
More than ever, people are giving their attention to the screens in their hands. Churches who use video to get on those screens open themselves up to a highly relevant avenue in which to influence people for Christ.
So, "When might the best time be for a church to start up a video ministry?", you might ask…
"Um… How about now!?"
So without further ado, here are seven specific ways in which video can help expand the outreach and impact of your ministry this holiday season.
Reason 7: Assimilation & SEO
Embedding live video on your website helps more people find your church.
It's as simple as that.
Search Engines rank and present relevant websites to a person based on their search criteria. The sites that make that person's first page and the top of their list are made up of the highest quality content.
Christmas and Easter are two of the highest assimilation opportunities for your church and your rank on Google could be the difference between you reaching 50 new people instead of only 5 new people.
Nothing will boost your Search Engine Optimization like embedded video content. Could your ministry use an increase in your online presence?
Reason 6: It's the Most Wonderful Challenging Time

The holiday season brings the highest rates of divorce, family conflict, and sickness.
There are so many wonderful things about the end of the year, but for many people out there, November and December are some of the hardest months to get through.
When life is good, it's easy to coast through the day without a care or even a deep thought. When trials come, however, people's hearts are more likely to soften and ponder deep questions as they search for truth and hope.
In the coming months, some of your members will be sick at home or in the hospital. Others will be dealing with loneliness, relational conflict, or even depression. Video content can help reach these folks in their homes and hospital beds so that you can better comfort them in the midst of their season of trial or private struggle.
Reason 5: Live Video = 3x Engagement

According to Facebook, people watch live video three times longer than other forms of video content.
My dad used to always say, "It only takes a little more time to do something right the first time." In other words, he wisely would remind my sisters and I that there's a difference between merely doing a job and doing it the right way, and that usually only takes a little more effort.
As far as video is concerned, the data is out there that there's something special about live video. Perhaps you've been posting archived sermons for months or maybe even years. Archived content is great, but there's just something unique about live video that fosters an even more significantly high level of engagement.
So if you want to triple the impact of your video ministry over the holidays, perhaps consider transitioning to a live video ministry. Remember, there's a difference between merely doing a job and doing it the right way.
Reason 4: Rejoice, Ye Weary Travelers!

With the holidays come travel. Lots and lots of travel...
Many folks within your congregation will be away during both Thanksgiving and Christmas weekends visiting family. They might even be out of town during other portions of the holiday season because of family vacations during school breaks or business travel.
Whatever the cause might be, travelers need the church too. You pour your heart out into your ministry to touch the lives of the people who can make it to your building. But for those who are away because of travel, offering them live or archived video to stay connected to home and your sermon series is really special.
Many of these folks are regular financial contributors to your ministry, as well, so offering them a convenient way to stay plugged into your church when they're away is a really nice gesture.
Reason 3: "New-School" Invitations
For a number of decades, many churches have gotten into the habit of inviting people in their communities to visit their church during the Christmas season. Sometimes door hangers are left, postcards are sent, or even carolers knock on doors, sing songs, and hand out an invitation in person.
Though certain activities in our ministries may have been relevant and practical for a number of decades, our world is constantly changing and so our activities should adapt to the culture so that they can have the greatest impact.
To get a bit more specific, if you're going to invite your community to check out your church during the holidays, perhaps consider doing it in a new, creative, and more effective way.
Consider changing the text on your post card to read, "We're not inviting you to church…" and then go on to explain that they'd probably feel much more comfortable looking your ministry up online and tuning into a few videos of what a typical Sunday morning might look like in your building. In other words, you're inviting them to watch your service online to become comfortable with you before visiting in person.
This type of warm, thoughtful and non-threatening invitation will likely resonate with way more people and in the end result in more holiday visitors during the following weeks. The only caveat to this approach is that you need to have a video ministry to effectively pull this off… another reason to stream.
Reason 2: Baby, It's Cold Outside!

Whether you live in a cold or warm weather climate, sometimes folks just can't make it to your church building because of inclement weather.
Sure, blizzards snow people in for a day or two but hurricanes and rainstorms can be equally as debilitating when it comes to Sunday morning travel. Sometimes folks just can't make it to church because of what's happening outside and it's during these moments that having a video ministry can be particularly powerful on a widespread basis.
Archived video is a great tool, but live video on Sunday mornings is a wonderful resource when it comes to staying connected to your congregation and continuing to serve them all winter long, regardless of weather forecast.
Reason 1: Efficacious

God's Word is powerful and it has the ability to transform lives.
In a nutshell, that's a summary of the doctrine of the efficacy of Scripture. In other words, the Bible is unlike any other book because it literally has the ability to change someone's heart.
Take Jesus' parable of the 4 soils, for instance. In the story, Jesus presents the Bible as the seed which is sown into 4 different soils. The seed contains life giving power within itself. We're in the story too, and we're presented as the sower of that seed. Our job in the story is to liberally sow God's life giving Word all over the soil, leaving room of the Holy Spirit to till the ground and foster spiritual growth wherever He pleases.
Bringing this back to the topic of video, one of the most practical ways that the church can fulfill Jesus' parable from 2,000 years ago is to start up a video ministry. I mean, at it's most basic level the action of streaming one's ministry online is just another way of sowing God's Word throughout the world.
The story of Christmas is the foundation of the gospel message. I'd like to challenge your church to consider starting up a video ministry. Doing so would enable you to distribute God's Word as widely as possible so that it can go out into the world and efficaciously give life unto the growth of the Kingdom and fulfillment of our Lord's greatest commission.
What Do I Do From Here?
There are countless reasons for churches to begin streaming but around this time of year there are even more than normal. Put simply, churches who use video will maximize their outreach and widen their impact, and Christmas provides an even larger opportunity for impact online.
Now, every church is different and every church setup is unique. If I can personally be of help, I'd love to chat about what it would look like for your ministry to get things up and going. Simply set up a free 1 on 1 consultation with me here and I'd be happy to connect. We're even doing a special promotion this holiday season that I'd love to tell you about it.
Finally, if you've found this article to be helpful and would like to dive deeper into this subject, then feel free to check out our recent webinar on how video will help your ministry around the holidays. Hopefully you'll find the content even more compelling and enjoyable.
All in all, thanks so much for reading and as always, happy streaming!
~Brett