5 Stats You Need to Know About Your Church Website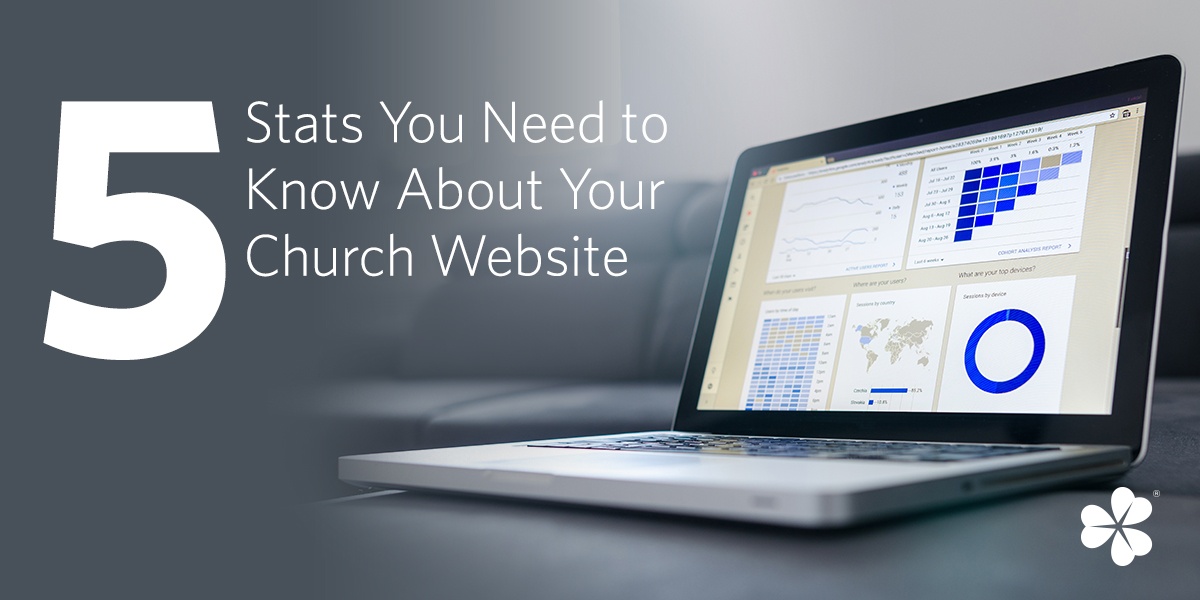 So you did it…. You created a website for your church. It's launched and live, right there on the Internet for any and all to see.
Great job! You should pat yourself (and your team) on the back!
But now what?
Well, if you're anything like me (and I think you probably are!), you want to make sure your website is actually doing well. You want to know that people are actually visiting it. You want to know where they're coming from, what they're looking at, and how much they are actually interacting with the pages on your church website.
In other words, you want to make sure your website is doing what you intended it to do: drawing people in to learn more about your church.
How do you do that? By learning how to track and monitor a few specific stats about your church website.
Most of you probably just read that and felt a little like this….

The idea of having to figure out how to find, interpret, and monitor any kind of stats about anything, let alone your website, leaves you feeling like hiding!
Well, the good news is that it doesn't have to be that way. By the end of this post I hope you can think about your website stats and feel a lot more like Captain America…

The truth is, you don't have to spend all day looking at your online stats. If you're reading this blog, that means you (yes, YOU!) have the ability to know how your site is working for the people who visit in just a few minutes. How? By finding simple stats and tracking the success of your site.
If you're working with a Clover site, we encourage you to connect it with Google Analytics so you can see the stats I will discuss. And like always, if you need help, you can always contact our support team.
But for now, it's time to put on your web statistician hat (is there such a thing?) and get ready to take a look at five of the most basic stats you need to know about your church website.
INCOMING TRAFFIC
The first stat you want to know has to do with incoming traffic to your site. In other words, how many people are visiting your website everyday?
Those numbers are important because it gives you an idea of exactly how wide your audience is. If the numbers are bigger than you hoped, that's great! It means you're really reaching people. If those numbers are smaller than you wanted, then that gives you an indication that perhaps you need to step up your online marketing game.
Beyond just the basic number of visitors to your site, it's also a good idea to know exactly how people are finding your site. Typically, people find your website in one of three ways…
They type the URL directly into their browser.

They find your website as the result of an online search.

They're referred to your site from another website, blog, or social media link.
All of these are important to know because they tell you exactly how your site is being found. They give you clear action steps to take to increase the chances of your church being found online.
For example…
If your direct visitors are low, maybe your URL is hard to remember or not being shared enough at church.

If your search numbers are low, maybe you need to update your content to include more SEO (search engine optimization).

If your referral numbers are low, think about where else you can link your site to increase the chances that others will find it.
INTERACTIONS PER VISIT
Knowing how many people visit your site and how they found it is just the first step. From there, it's important to find out exactly how they're interacting with your site each time they're there. No, I'm not talking about weird, Internet spy games (although that sounds cool!). I'm talking about tracking the average interactions people have with the pages on your site.
Finding these stats will show you what people are doing once they get to your site. That means you can see:
Which parts of your site people are interacting with.

Which parts they're missing.

The amount of time site visitors spend on each page.
The goal in knowing this information is two-fold. First, it shows you what's working when it comes to drawing people in to your site. Two, it shows you what you potentially need to do to get people more engaged.
CONVERSION
Once you've figured out exactly where and how people are interacting with your site, you want to know how many of those people are taking the available next steps. In the web world, it's called conversion. Why? Because it means you're converting someone on your site from being just a visitor to an active, engaged participant.
In other words, did they move in the way you hoped and dreamed they would move? Whether it's:
Signing up to be on your email list.

Submitting an application to a specific ministry program, class, or volunteer opportunity.

Asking questions or submitting prayer requests through a "contact us" form.

Giving online.
This list could go on and on! Whatever next steps you offer, tracking the conversation rates will help you see just how many people respond. The cool thing about tracking conversions is that you can break it down to be as specific as you want it to be:
You can find out if the "converting" people are new or return visitors to your site.

You can find out exactly what path they took to get to your site.

You can learn which areas of your site

aren't

working and need some work to get a better result.
BOUNCE RATE
This one is huge when it comes to knowing how your site is working for people. It's basically the rejection calculator for each of the pages on your website.
The bounce rate basically tells you the amount of time a single visitor is on your site before they bounce out! A high bounce rate tells you one big thing: people are leaving your site quickly! If you ask me, that's not good news.
If you can figure out exactly which pages on your site have the highest bounce rates, you'll be able to know which pages you need to re-visit, revise, or remove altogether. Remember this: the goal isn't just to have a website: it's to hold people's attention with it!
PAGE VIEWS
Most of the things we've discussed on this blog are somewhat similar to each other. Page views are no different. Knowing page views essentially gives you a snapshot of where people are spending the most time on your site.
With page views, you get an idea of just how often visitors are successfully accessing the content on your site. When a page has a high number of views, that means it's working: people are taking in the content, interacting on the page, and hopefully converting towards a next step. When a page has low views, however, it's obviously an indicator that something isn't working. And like we've already discussed, if a page isn't working, it means that you need to revise the page or promote it more consistently.
By taking a look at your overall page views, you'll know which pages to focus on as you look to improve your site, and which pages you can successfully capitalize on moving forward!
We could talk about site stats for days (yes, there's a lot more to know that could help you!) But for now, let's just focus on these. And like I always say, if you want to discuss any of them in more detail, just give us a call (no really, I mean that!)