5 Keys to Unlocking Better Small Groups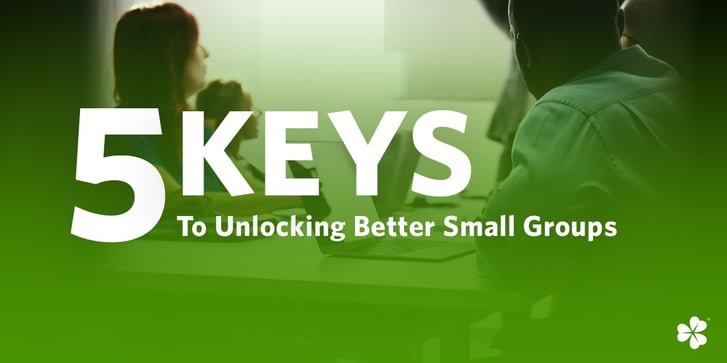 Our goal at Clover is to do one thing:
To make ministry easier for churches.
And while most of the time that means helping create and manage beautiful, professional church websites online, it also means sharing a few ministry tips and tricks that we've learned from church leaders along the way.
This month, we pulled our resources together to come up with the top five things you can do to impact a major area of ministry in your church: small groups.
One of the best places for people in your congregation to connect with each other and with God is through small groups. Those moments spent side by side with other members of your congregation have the potential to be the catalyst for some pretty powerful life change. That's why we want to do what we can to help you empower your leaders and unlock the best possible small group ministry at your church.
1. Help your people understand the why.
For your small groups to have the best impact in your ministry, you first have to understand why they're so important. Small groups allow your people the opportunity to directly connect with one another. They're designed to build deeper relationships. The hope is that the relational foundations laid during small groups will be the catalyst for continued conversations and stronger relationships outside of the group.
Those relationships are the reason—the why—behind small group ministry. And helping your people understand that is key in unlocking better groups at your church. Keeping the why at the center of your focus is so important when it comes to developing small groups at your church.
2. Make safe spaces.
The second key to unlocking better small groups is to do what you can to make small groups a safe space in your church. Small group should be a place where members feel open and honest to share what's going on in their hearts and minds. Because of that, there are no greater threats to the success of small groups at your church than things like gossip, disrespect, and judgment.
It's essential that you as a church leader do what you can to set the tone for small groups at your church by making sure you prioritize the safety of the groups for your congregation. Make sure they know that what's shared and said in small group will be protected and treated with respect. Make this the standard from the start and hold your groups to this standard, creating a safe space for people to connect in honesty at your church.
3. Equip your leaders to navigate the conversations.
Conversation is key to small group success. People can be timid at first, hesitant to speak up or share their thoughts in a group setting. And that's totally understandable! But if no one is talking, the group isn't going anywhere. That's why it's important that you help your leaders understand how to navigate the conversations happening in their groups.
Give them the tools they need to keep the conversation moving. From icebreakers to start the night to a list of questions to help spark conversation to advice on how to handle silence, the best thing you can do for the health of your small groups is to equip your leaders to guide the conversation.
4. Create opportunities for community.
The more time they spend together, the more likely your people will be to connect with one another. Beyond just the hour or two they spend in small group each week, create opportunities for your congregation to spend time with each other as small groups. Host special events designed specifically for small groups to participate in. Create service opportunities for small groups to sign up for together. Encourage them to get together with other small groups from your church once a quarter. Whatever you can do to encourage and foster community within your small groups will go a long way in helping the ministry as a whole be successful.
5. Make yourself available.
The last key to unlocking better small groups for your ministry actually has little to do with small groups themselves. In fact, it's actually more about you—the leader. If you want your small groups to be successful, it's important that you make yourself available to your people. From offering support to your leaders to making visits to individual groups from time to time to championing the ministry from stage on a Sunday morning, you as a church leader are key to keeping the life of small groups going at your church. Remember, the main goal behind your small group ministry is relationship. What better way to encourage and foster that for your congregation than by modeling it yourself?