4 Steps to Online Giving Success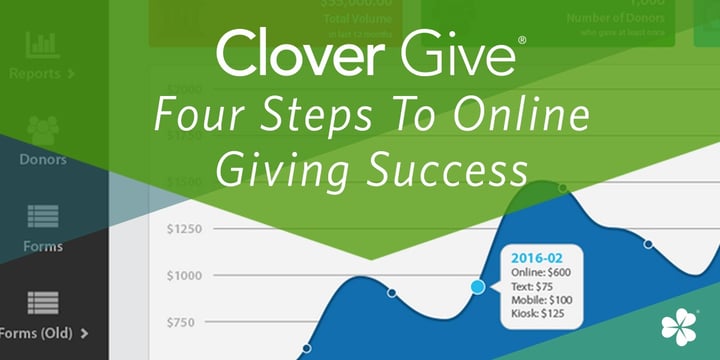 If the thought of switching your church to an online giving platform has you feeling a little less than enthusiastic, we understand. Making a change like that is a pretty big deal! And on paper, it sounds like something that will require some serious tech support from start to finish. The idea of working with one of those typical IT guy is enough to send even the most excited online giver running for the hills!
If that's how you feel, then we have good news for you:
Clover Give is exactly what you're looking for when it comes to online giving.
It's easy to use, simple to follow, and most importantly, can help your church better reach your giving goals! We created Clover Give to allow you as church leaders to provide your congregation with an accessible tool that allows them to give quickly and easily, anytime and anywhere.
Our number one goal for Clover Give: To encourage your congregation to reach out from wherever they are and support the worship and work of your church.
And we've seen the benefits! Churches using the Clover Give platform see an average increase in overall giving of 32%. They've probably seen a lot less stress and headaches, too (though we don't have the statistics to back that up).
Not convinced yet? Then check out the easy, four-step process that is Clover Give, designed specifically to make online giving a simple success at your church!
Step One: Get your church involved.
We have great resources to get your congregation involved and on board with Clover Give. And the best part? You don't have to do it alone! Our team is ready and available to walk you through the entire setup process. From technology issues to security questions, we've got your back!

And we also know a thing or two about the best ways to explain Clover Give to your congregation. It's our goal to help you get your congregation involved by making sure they feel comfortable and secure as they support your church. Once you're setup and ready to go, we've got a whole library full of resources to walk you through the timeline to rollout Clover Give to your congregation.
Step Two: Give in many ways.
Clover Give is designed to allow your congregation to support your church no matter where they are or what method they prefer to use. You can meet their giving needs anywhere because the technology can keep up! It's simple to follow and includes plenty of giving options, even for those less than tech-savvy members of your congregation.
Online Giving:

Clover Give integrates seamlessly with your church website, and makes it easy for your congregation to support your church — no matter their technological skill level. You can add prominent, clickable buttons for giving on your website, and drive traffic to your customized giving page.
Text Giving:

You can add text giving to your Clover Give account for a low monthly fee. When you do, you'll receive a dedicated 10-digit phone number specifically for your church — no sharing or special codes to memorize. Members can easily sign up in one minute and begin texting their donations to your church.
Kiosk Giving:

With giving kiosks, members and visitors can give directly while they're in your building — or anywhere you have wi-fi. Manage your signup forms for volunteers, mission trips, VBS, and more. Trust us, it's easier than the self-checkout at the grocery store.
ACH/Check Processing:

Don't worry, you can still accept the forms of payment that work for your church and your congregation. We offer the option to use the perfect combination of credit, debit and/or ACH (eChecks) that will fit your church's mission.
Step Three: Keep it organized.
Every church is unique. No church is exactly like the other, and that's why a one-size-fits-all approach to giving simply won't work. That's why Clover Give provides an online giving solution that's as unique as your church. With flexible giving options, your members can give easily and regularly and feel in control of their giving.
And on your end, it's organized! The powerful control panel will help you stay organized and manage the data from your online giving. Whether you need your giving records to help tell a story, to export to another system, or to simply show to your fellow leaders, we've made it easy to find, keep track of, and read.
Step Four: Drive engagement.
So far, our churches that have made the switch to the Clover Give platform have seen great results. With that 32% increase in giving we told you about, it's safe to say their congregations are engaged in the program, and it's working for them.
One of the best ways members have stayed engaged in online giving with Clover Give is by setting up recurring gifts. Members set the frequency at which they want to give and have the option to give to multiple funds on the schedule that works best for them. It's a hassle-free solution to keep your members engaged in giving without the worry of keeping up with it each and every month.